Utah is Rich in Aviation History Marker
Introduction
The 130th marker in the Sons of Utah Pioneers series, this marker commemorates the history of both military and civilian aerospace milestones in Utah. The marker is located in Sand Hollow State Park and the series of markers were created to show the significance of pioneers settling in the West. This marker is located next to a concrete arrow that was an aid to navigation, and the marker commemorates the 1926 commercial flights by Western Air Express between Salt Lake and Los Angeles, the first regularly-scheduled flights in the American West.
Images
This historical marker is located next to a concrete arrow next to a water tower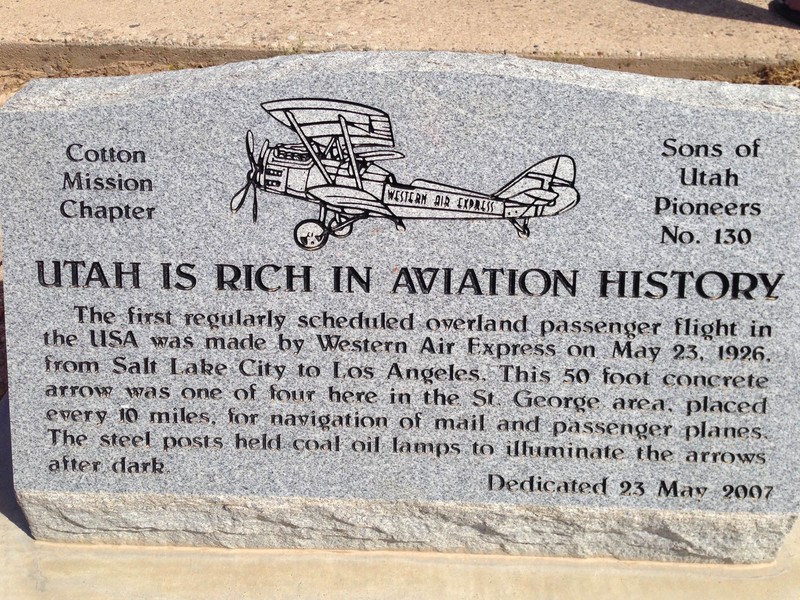 Backstory and Context
Commercial aviation began in 1918 with an airmail flight route from Washington, D. C., and New York City. Over the next couple of years, this expanded to many cities including Chicago, Cleveland, and Omaha. When San Francisco was added to the service, a connected stop for refueling was created in Salt Lake City. This airstrip was hard to see when it was a first created. A pilot had trouble finding the airstrip to land so official lit a fire to alert him of their location.
Woodward field was dedicated to a pilot who crashed in a snowstorm. At 106 acres, Woodward field was one of the largest Post Office airfields in the United States. This airfield had many runways, and hangar big enough for eight planes, and an office building. This airfield was later renamed Salt Lake City Airport. One characteristic that made this airport stand out from others were giant concrete arrows. These arrows were movable and provided guidance for pilots in the sky. These arrows were typically around 50 feet long and had lanterns that made them visible at night.
Originally, the Post Office transported mail with assistance from the U. S. Army. This changed with the Air Mail Act of 1925. This allowed government contracts to be auctioned off to private carriers. Early private companies included Varney Speed Lines and Western Air Express. Because of these companies, Salt Lake City became a major connection stop.
Many Los Angeles businessmen were unhappy with the mailing services in their city. This led to the creation of a route between LA and Salt Lake City. Soon after this route was created, the first passengers were carried from California to Utah. Carriers were allowed to have passengers on planes as long as they gave priority to the cargo.
In the late 1920s aviation rapidly expanded in Utah. Many routes now included Salt Lake City in their stops. Passengers quickly became a major part of flight. In 1931, three airlines formed together to create United Airlines, the first airline dedicated completely to passengers.
Salt Lake City Airport had a major role in the advancement of airmail and now passenger flights. This airport also provided major economical opportunities that were previously unavailable in Utah.
Sources
Davey, Charles S. The Beginnings of Commercial Aviation. Utah Division of State History. November 01, 1995. Accessed February 26, 2018. https://heritage.utah.gov/history/uhg-beginnings-commercial-aviation.
Kirchner, Bill. Utah is Rich in Aviation History. The Historical Marker Database. September 02, 2012. Accessed February 26, 2018. https://www.hmdb.org/marker.asp?marker=59016.
Monuments. National Society of the Sons of Utah Pioneers. Accessed February 26, 2018. https://www.sup1847.com/monuments/.
The Air Mail Act of 1925 (Kelly Act). Aviation Online Magazine. Accessed February 26, 2018. http://avstop.com/History/needregulations/act1925.htm.
Additional Information