South Dakota Cultural Heritage Center
Introduction
The South Dakota Cultural Heritage Center is the headquarters of the South Dakota State Historical Society, whose mission is to preserve and promote the state's rich historical and cultural heritage. It is divided into five departments—Archaeology, Archives, Historic Preservation, Museum, and Research and Publishing—and all are located here for except the Archaeology department (and the Archival Microfilm Unit). Visitors to the Center would be most interested in the museum, which features two exhibits. One is called the "Spirit of the 70's," which highlights the cultural, historical, and political trends of the 1970s in the state and the country. The other is called "South Dakota Experience," which explores the state's history from its early inhabitants to today. Specifically, this exhibit showcases the history and culture of the Dakota, Lakota, and Nakota peoples, as well as the explorers, settlers, miners, and others who shaped South Dakota's past.
Images
The South Dakota Cultural Heritage Center is the home of the South Dakota Historical Society, which operates a museum here.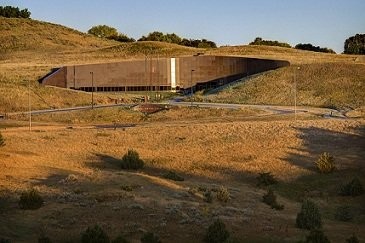 Backstory and Context
The museum contains 33,000 South Dakota-related historical and cultural items. Highlights include a world-class collection of Lakota materials and an important collection of objects related to European arrival on the northern plains.

The South Dakota Historical Society's roots date back to 1862 when the Old Settler's Association of Dakota Territory was founded. The organization became officially affiliated with the state in 1901 and moved into the capitol building. It moved to the Soldiers and Sailors Memorial Building in 1932. It moved into the current building in 1989.
Sources
"About Us." South Dakota Cultural Heritage Center. Accessed February 26, 2018. http://history.sd.gov/aboutus/aboutus.aspx.

"Museum Collection." South Dakota Cultural Heritage Center. Accessed February 26, 2018. http://history.sd.gov/museum/collection.aspx.

Photo: South Dakota Cultural Heritage Center
Additional Information