One Ocean Diving
Introduction
One Ocean Diving is a collaborative foundation that focuses on the research of pelagic marine animals. More specifically, sharks. Founded by Ocean Ramsey, with a desire to educate the planet about them, the pelagic shark program serves the effort of conserving and building a voice for these misunderstood animals. Located in Haleiwa, HI, this organizations goal is to inspire people to interact and be more involved with not only sharks, but also sea turtles, whales and rays through education and first-hand encounters. On-board the "Pono Kai" which is docked and launched off of North Shore Hawaii, anybody can experience the one on one time with these incredible animals. With a mask, a snorkel, and some fins, you can be gliding through the waters with some of the planets most important animals.
Images
One Ocean Diving has a check in booth where participants will check in before their departure.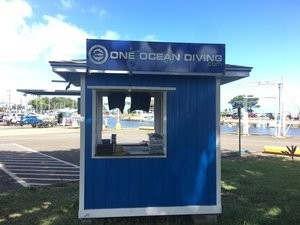 One Ocean Diving provides a safe and natural way to get up close and personal with some of the planets most misunderstood animals.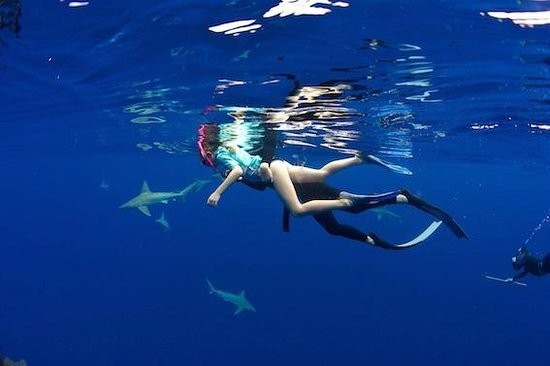 One Oceans Free Dive boat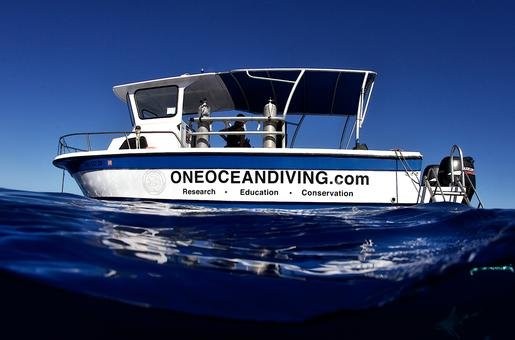 Backstory and Context
One Ocean Diving is an interaction program located on the beautiful North Shore of Hawaii. The first and only cage-less diving program in Hawaii was founded by marine biologist, Ocean Ramsey and her crew of conservationists, scientists, divers, and researchers. Ocean Ramsey specializes in shark conservation and has worked with over 30 different shark species all over the world. She travels internationally to spread her word about marine research. She studies the behavior of sharks year-round especially the aneurisms and psychology of them when interacted with people. She is also a free-dive instructor with the ability to dive up to 175 feet underwater and can hold her breath for 6 minutes and 30 seconds. Her research consists of tagging great whites, Black tips, and more. After Ocean and her team safely tag the shark, they're able to keep track of the animal with advanced technology. Ramsey provides a deep love for our finned friends and wishes to teach the rest of the planet about the importance of pelagic sharks. Pelagic means open water and is the correct term when talking about marine animals.
This program provides boat tours to the great blue Pacific Ocean. Home to thousands of marine animals that are vital to our ecosystem. This site is located in the ocean and does require a boat to get there so if one is prone to sea sickness, try considering a different tour. The rates are $150 per person if one is interested in joining the dive. $80 just to tag along for the ride. Anybody (above 4 feet tall) is welcomed on the vessel to watch and learn or actually swim with the oceans biggest, most unique fish. Shark sightings are guaranteed but so is safety. This program has a 100% safety record meaning everybody who boards the boat also gets off the boat and home with all limbs attached. Captain and crew members always monitor divers and interactions just to be safe. The marine biologist on board will inform guests of the sharks and different kinds of animals you encountered along the way too. This gives everyone the opportunity to chat with professionals and hopefully change their view about the beautiful animals.
Before heading out on a trip of a lifetime, all aboard going to need a few things. Grab two towels, two is always better than one. Bring some biodegradable sunscreen. Try to stay away from the other stuff that has a lot of chemicals, they can be extremely harmful to the underwater ecosystem. Biodegradable sunscreen can be found at any pharmaceutical store or any local Walmart. Sunglasses! The sun beats down heavy in Hawaii, especially when you're in the middle of the ocean with no shade. Millions of UV rays beating down and reflecting off the surface of the sea straight into your eyeballs won't make anybody a happy sailor. Grab some snacks and water. Although these resources are provided to divers on the boat in case of an emergency, it's always best to have your own. When on the water, dehydration is almost guaranteed, and it takes up a lot of ones body energy, so definitely grab something to munch on along with that fresh H20. A camera isn't a need but a want. When experiencing this once in a life time opportunity, everyone is going to want to bring home the memories. It's not every day you get to swim alongside jaws. Lastly, a change of clothes. The boat offers a fresh water shower system to get all the sticky saltwater off after a dive.
One Ocean Diving gives people the chance to experience something most people could never dream of. This program wants to teach people about the misunderstandings of pelagic sharks and spread the awareness of them. The world sees them as dangerous creatures, which is something they are not. Providing these tours will educate the public about the importance of them and will hopefully change the perspective they have on the human race because they are in-fact graceful creatures. They rule the sea and without them, the oceans system will deteriorate.
Sources
Ramsey, Ocean. One Ocean. Conservation- Research- Education- Diving. www.oneoceandiving.com.


Additional Information