Battleof Aldie
Introduction
The battle of Aldie took place on June 17, 1863 in Loudon County, Virginia. It was part of the Gettysburg Campaign that occurred during the civil war. As Major General J.E.B. Stuart's cavalry and General Robert E. Lee's infantry pushed north through the Shenandoah Valley, the pursuing Union cavalry of Brigadier General Judson Kilpatrick encountered Colonel Thomas Munford's men near Aldie. This resulted in a fight of four hours, in which both sides mounted assaults on each other. Brigadier General Kilpatrick was reinforced later in the afternoon, while Colonel Munford was ordered to retreat west towards Middleburg. This battle was the first on a series of small battles which deprived the Union from locating Lee's army as it pushed up north into Pennsylvania.
Images
Map of the Battle of Aldie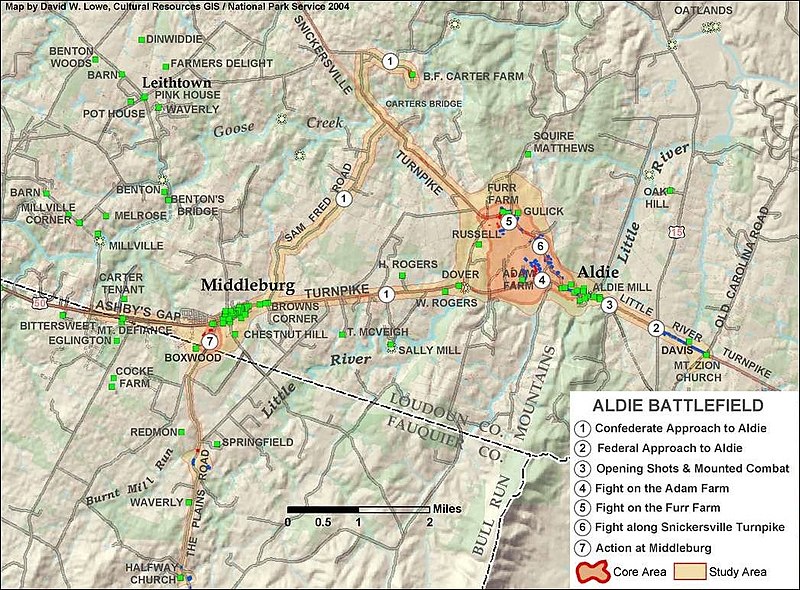 Marker on site of battle in Aldie, Virginia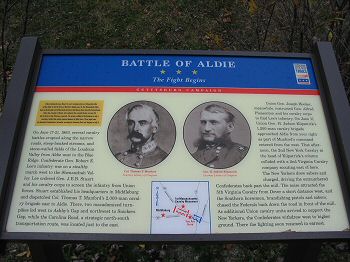 Marker honoring the 1st Massachusetts cavalry which was decimated during the battle.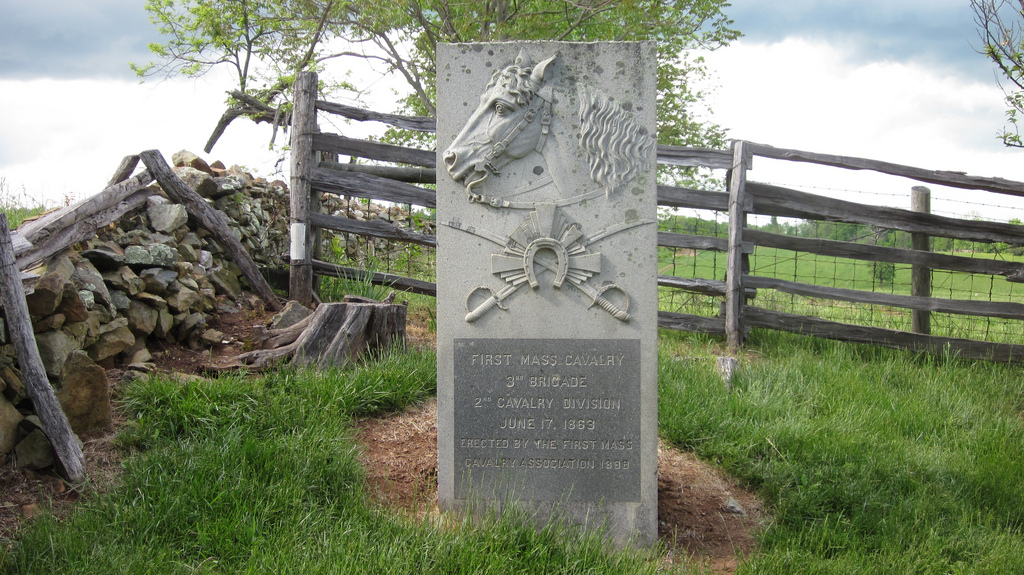 Backstory and Context
Tensions arose between Union commander Joseph Hooker and his cavalry commander, Brigadier General Alfred Pleasontson, as the latter had been unable to break through Major General J.E.B. Stuart's cavalry. This was a crucial step to gain access to the Shenandoah Valley and locate General Lee's army of Northern Virginia, which had been on the move since the battle of Chancellorsville in early May. In order to be able to break through Stuart's shield, Pleasontson ordered Brigadier General David Mcm Gregg's division to push westward from the Manassas Junction towards Aldie, which was tactically important as it was the intersection of three important turnpikes that led to several different parts of Virginia.
Sources
"Aldie." Civil War Trust, Civil War Trust, www.civilwar.org/learn/civil-war/battles/aldie.

"Battle Summary: Aldie, VA." National Parks Service, U.S. Department of the Interior, www.nps.gov/abpp/battles/va036.htm.
"Cavalry Battles of 1863."
Www.visitloudon.org
, Loudon Convention & Visitors Association, www.visitloudoun.org/things-to-do/civil-war/the-story/cavalry-battles-of-1863/.
Additional Information