Beginning of 1899 Frederick Douglass Monument Unveiling Parade
Introduction
In 1899 there was a parade in the honor of Frederick Douglass. The parade was to reveal the new monument to Frederick Douglass. The parade was well anticipated with many people lining the streets. It was a rather large parade with much fanfare. The Governor of New York at the time, Theodore Roosevelt, attended the parade. The parade procession was made up of six divisions, some containing military personnel, policeman, and veterans. There were also boys from a boys' school involved. The order for a gun salute was called and the parade began its march. They marched from Spring Street and South Washington up South Washington to West Main street, then to the Rochester court house. This entry is part of a public history project developed by the RIT Museum Studies program in celebration of the bicentennial of Frederick Douglass's birth (February 1818). The items shown in this entry are taken from a scrapbook that is one of two in the collections of the Local History and Genealogy Divisions of Central Library of Rochester and Monroe County Library. http://www.libraryweb.org/~digitized/scrapbooks/rsc00001color.pdf http://www.libraryweb.org/~digitized/scrapbooks/rsc00002color.pdf
Images
Screenshot of Plat book of the city of Rochester, New York from Library of Congress. See https://www.loc.gov/resource/g3804rm.gla00154/?sp=8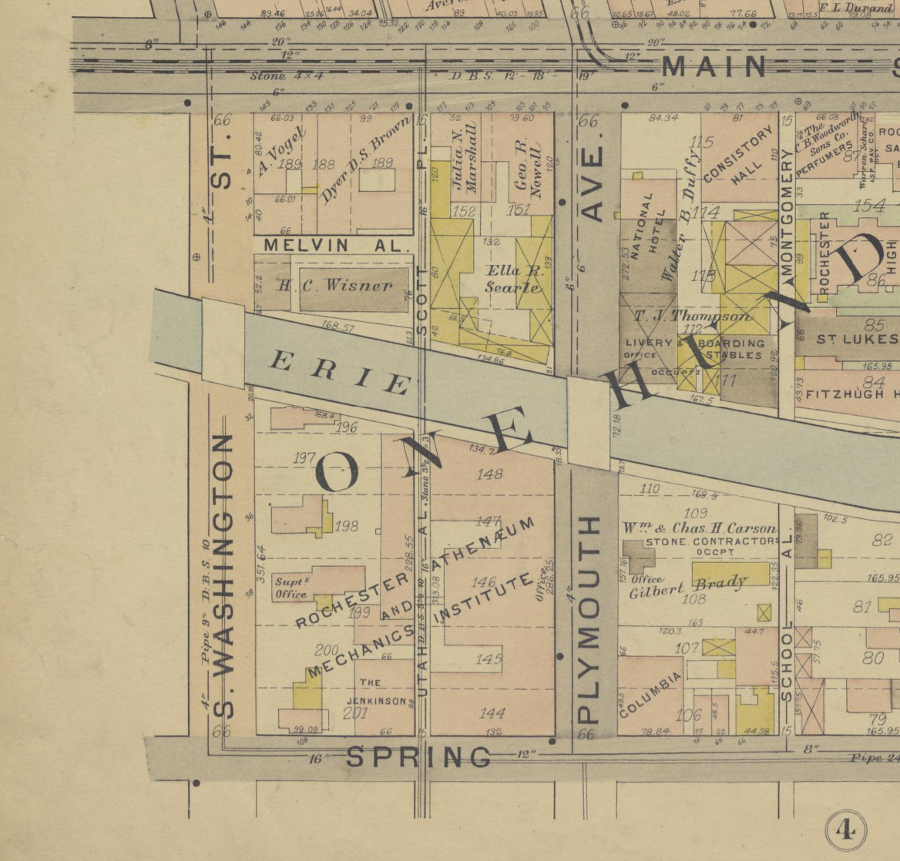 Backstory and Context
In 1899 there was a parade in the honor of Frederick Douglass. The parade was to reveal the new monument to Frederick Douglass. The parade was well anticipated with many people lining the streets. It was a rather large parade with much fanfare. The Governor of New York at the time, Theodore Roosevelt attended the parade.
The parade procession was made up of 6 divisions, some containing military personnel, policeman, as well as veterans. There were also boys from a boys school involved.The order for a gun salute was called and the parade began it's march. They marched from Spring Street and South Washington up South Washington to West Main street. They then processed the Rochester court house.
This entry is part of a public history project developed by the RIT Museum Studies program in celebration of the bicentennial of Frederick Douglass's birth (February 1818). The items shown in this entry are taken from a scrapbook that is one of two in the collections of the Local History and Genealogy Divisions of Central Library of Rochester and Monroe County Library.
http://www.libraryweb.org/~digitized/scrapbooks/rsc00001color.pdf
http://www.libraryweb.org/~digitized/scrapbooks/rsc00002color.pdf
Sources
Library scrapbook p17-19: http://www.libraryweb.org/~digitized/scrapbooks/rsc00002color.pdf
Please see the digitized scrapbooks related to Frederick Douglass in the Monroe County Library Collection:

http://www.libraryweb.org/~digitized/scrapbooks/rsc00001color.pdf
http://www.libraryweb.org/~digitized/scrapbooks/rsc00002color.pdf