Essanay Film Company Chicago Studios
Introduction
The Essanay Film Company was a major producer of American films in the 1900s-1910s. The studio was founded by George Spoor, a film distributor, and Gilbert Anderson, an actor featured in The Great Train Robbery. Construction on the studio began in 1908 and lasted until 1915. Famous actors who worked in the Chicago studio included Gloria Swanson, Charlie Chaplin, and Wallace Beery.
Images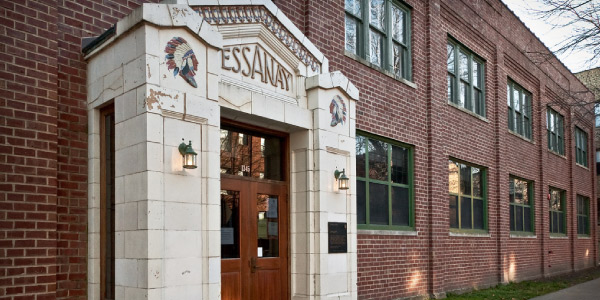 Photo of the Essanay Studios entrance by Robert W. Kruger.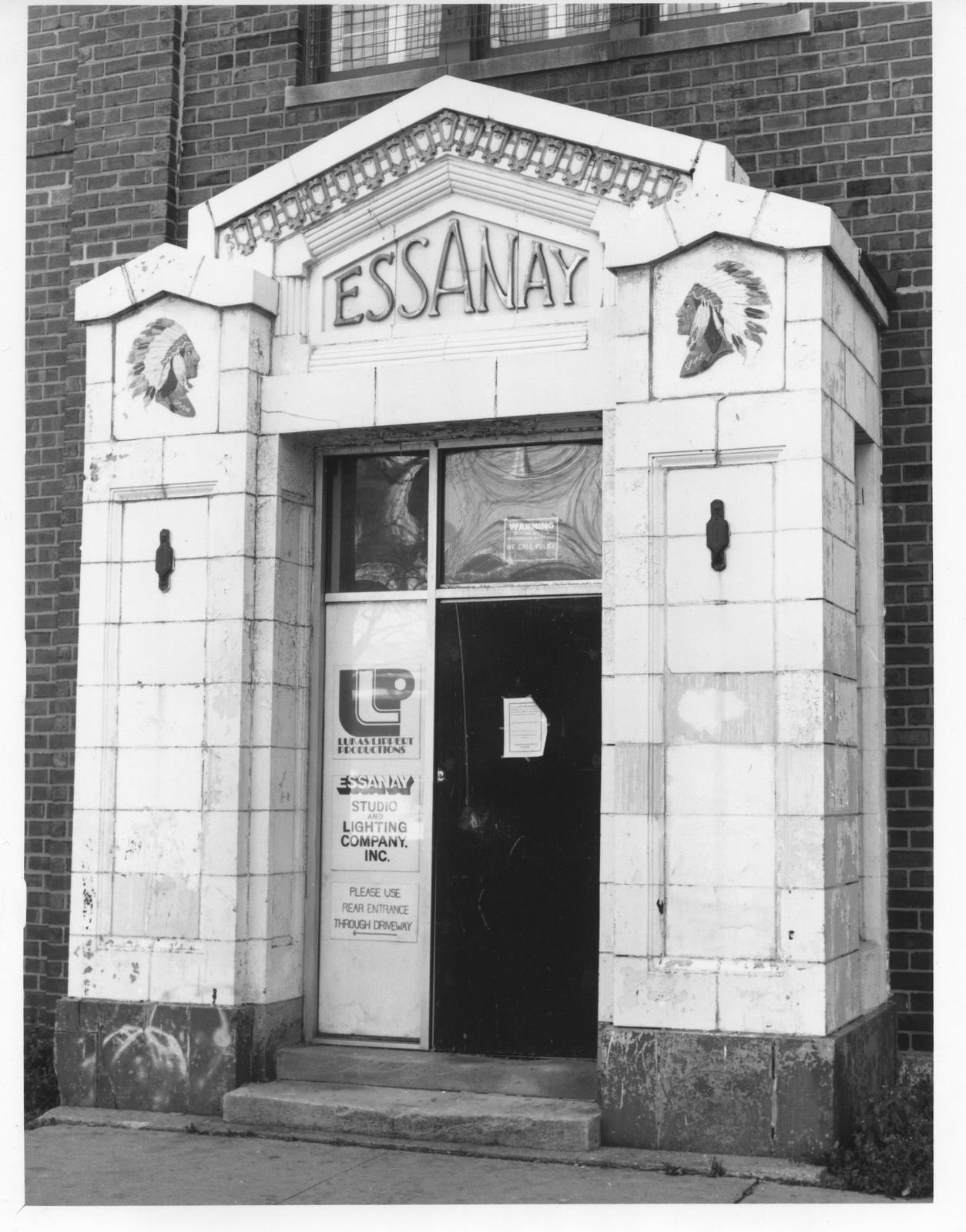 Backstory and Context
The Essanay Film Company was founded in 1907 by George Spoor and Gilbert Anderson. The men's initials (S and A) were the source of the company's name. Spoor had experience working at a film distribution company before starting Essanay, while Anderson was an actor who notably appeared in The Great Train Robbery. Their first film together as partners was An Awful Skate, shot on the streets of Chicago. It became a hit, and soon, Essanay would be producing one-fifth of all the United States's movies, mostly Westerns and comedies. Construction on the Essanay studio began in the winter of 1908 and continued off-and-on until 1915. In all, Essanay comprised of several brick buildings dedicated to different aspects of filmmaking. The company's logo, the head of a Native American, designed by Spoor's art-student sister, adorned the main doorway.
Essanay was also home to actors who would become major stars. The glamourous Gloria Swanson got her start in bit parts of Essanay comedies, sometimes acting alongside future-husband Wallace Beery. Comedic actor Ben Turpin received the first onscreen pie in the face in an Essanay film. Francis X. Bushman was the studio's biggest draw, often playing the leading man in romances. Even co-founder Anderson acted, under the name "Bronco Billy." Perhaps the most-well known performer to work for Essanay was Charlie Chaplin. Chaplin made only one film in Chicago, His New Job, before finishing out his time with the company at their studios in Niles, California (built in 1913).
Actually, Essanay made most of their over 2,000 films at their studios in Niles. Only 215 survive. The Californian studios closed in 1916 while the whole company shut down in 1917. There were many causes that brought an end to Essanay's success: poor management in Chicago, Chaplin leaving for Mutual Film in 1916, and Spoor and Anderson beginning to butt heads. Two former Essanay employees bought the buildings in Chicago for their Wilding Pictures company. Later, it was given to a non-profit television group, who then sold it. Today, the Essanay lot is home to St. Augustine College. However, there are current efforts to restore the building, beginning with the terra cotta entrance. Preserving the whole studio and creating a museum dedicated to silent film is predicted to cost three million dollars.
Sources
Wilmington, Michael. Essanay Studios. Chicago Tribune. Accessed February 14, 2018. http://www.chicagotribune.com/news/nationworld/politics/chi-chicagodays-essanaystudios-story-story.html.

Essanay Film Company. Chicagology. Accessed February 14, 2018. https://chicagology.com/silentmovies/essanay/.

Loerzel, Robert. Reel Chicago. Chicago Magazine. May 19, 2007. Accessed February 14, 2018. http://www.chicagomag.com/Chicago-Magazine/May-2007/Reel-Chicago/.

Plan to Restore Essanay Silent Film Studio in Chicago. Chicago CBS Local. November 07, 2013. Accessed February 14, 2018. http://chicago.cbslocal.com/2013/11/07/plan-to-restore-essanay-silent-film-studio-in-chicago/.

Phillips, Michael. When Chicago created Hollywood. Chicago Tribune. July 22, 2007. Accessed February 14, 2018. http://articles.chicagotribune.com/2007-07-22/news/0707200533_1_skate-silent-film-awful.

The Essanay Film Company. Niles Film Museum. Accessed February 14, 2018. http://nilesfilmmuseum.org/?tv=5889760833830912.

Krueger, Robert W. Essanay Studio. Explore Chicago Collections. Accessed February 14, 2018. http://explore.chicagocollections.org/image/chipublib/58/gh9bq0n/. Photo Source.

Uptown Landmarks. Explore Uptown. Accessed February 14, 2018. http://exploreuptown.org/uptown-history/uptown-landmarks/. Photo Source.


Additional Information