Frederick Douglass Community Library
Introduction
The library was originally opened in 1927 as the South Avenue Branch Library. The current building was built in 1986 and was renamed in honor of Frederick Douglass in 2016. The library is located in a spot close to Frederick Douglass's farm home, the last home where he lived in Rochester. The library is a branch of the Rochester Public Library system located in downtown Rochester. It is located next to School 12, which is also named after Frederick Douglass. The library services the area surrounding South Avenue and provides many free services for its patrons. This entry is part of a public history project developed by the RIT Museum Studies program in celebration of the bicentennial of Frederick Douglass's birth (February 1818). The photo is part of the Monroe County Library collection. See https://catalogplus.libraryweb.org/?section=resource&resourceid=1115934761&currentIndex=0&view=fullDetailsDetailsTab
Images
The library, shown here in 1996.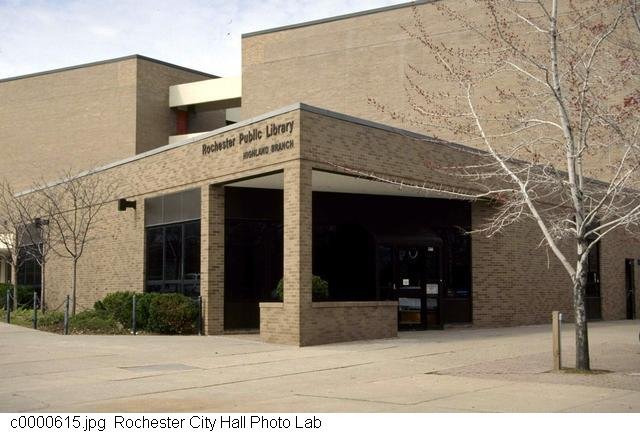 Backstory and Context
The library was originally opened in 1927 as the South Avenue Branch Library. The current building was built in 1986 and was renamed in honor of Frederick Douglass in 2016. The library is located in a spot close to Frederick Douglass's farm home, the last home where he lived in Rochester.
The library is a branch of the Rochester Public Library system located in downtown Rochester. It is located next to School 12, which is also named after Frederick Douglass. The library services the area surrounding South Avenue and provides many free services for its patrons.
Sources
Frederick Douglass Community Library. Rochester Public Library. https://roccitylibrary.org/location/frederick-douglass/.

Rochester Public Library, Highland Branch, Rochester N.Y [slide].. Monroe County Library System. https://catalogplus.libraryweb.org/?section=resource&resourceid=1115934761¤tIndex=0&view=fullDetailsDetailsTab.


Additional Information