Interference Archive
Introduction
Interference Archive explores the relationship between cultural production and social movements. It is housed in an open floor-plan storefront space, filled to the ceiling. The collection includes a number of different kinds of media artifacts (pamphlets, posters, etc.), which provide information and illustration about the histories of radical political movements around the world, with 40 percent of the archive coming from outside the United States. In addition to its primary purpose as an archive and library, Interference Archive also functions as a multipurpose community center, gallery, and events space. Past events and exhibitions have covered prison reform, the Asian American movement in New York, underground newspapers, the anti-nuclear movement, and Art+Feminism edit-a-thons.
Images
Kevin Caplicki, Josh MacPhee and Molly Fair at the Interference Archive. Credit: Michael Appleton for The New York Times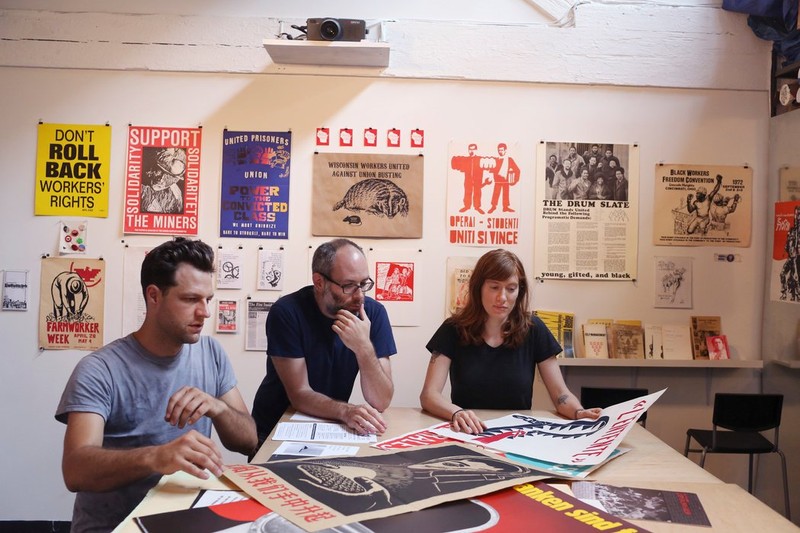 Historical newspapers and journals. Credit: Interference Archive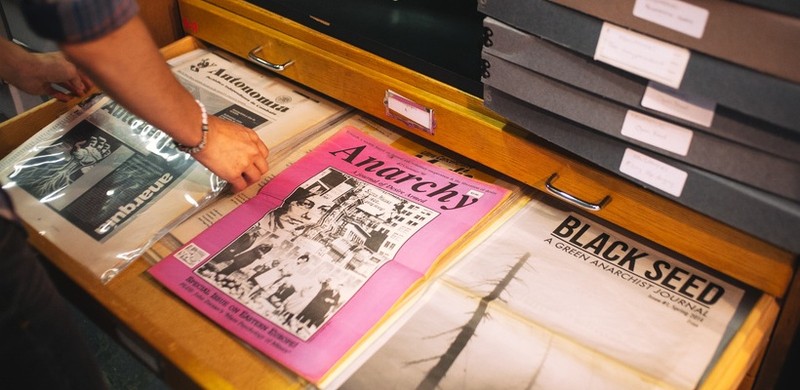 Backstory and Context
Interference Archive was founded in 2011 by Kevin Caplicki, Molly Fair, Dara Greenwald, and Josh MacPhee. The initial collection grew out of the personal accumulation of Dara and Josh, who amassed an extensive collection of materials including books, prints, music, moving images, and ephemera through their involvement in social movements, DIY and punk, and political art projects over the past 25 years.
Together with Molly and Kevin's skills, knowledge, and commitment, they envisioned turning these personal collections into a public archive, with open-access to materials for the communities who created them, and with archival work conducted by movement participants with firsthand knowledge of its historical context.
Since 2011, Interference Archive has launched 16 exhibitions and held more than 100 public events. They have seen a direct correlation to the growth of the community alongside each exhibition that they mount. They have also seen an increase in donations of unique material to the collection as the profile of Interference Archive grows. This increases the ability to meet the goals of their mission, providing better access to materials generated by social movements and more resources for people who visit and use the space.
Among the materials are posters, fliers, pamphlets, zines, stickers, T-shirts, books, graphic novels, newspapers, games, videos, leaflets, buttons, audio recordings, and other ephemera. The topics it covers includes ACT-UP, Occupy Wall Street, Arab Spring, Code Pink, Pink Bloque, Rock for Choice, Latin American art, nature, ecology, feminism, punk rock, criminal justice, prison reform, apartheid, anti-nuclear movement, squatting, anarchist book fairs, May 1968 events in France and Dutch anti-fur activism.
In addition to historical materials and preexisting cultural products, the Archive occasionally commissions artists to produce original work.
The owners and volunteers take a pointedly nontraditional approach to archivism. In selection and acquisition, no priority is given to particular movements, media types, or well-known artists. Instead, it positions itself as a commons where people can share what they have and benefit from what was donated by others. Whereas most archives stress materials protection and preservation, the Interference Archive promotes access and use: "materials only have meaning when they're in circulation" spreading ideas beyond their boxes and files.
Sources
Collecting the art of protest at Brooklyn's Interference Archive. The Guardian. Accessed February 01, 2018. https://www.theguardian.com/artanddesign/2015/oct/14/art-of-protest-interference-archive-brooklyn.

In the Archives of Interference. The Brooklyn Rail. Accessed February 02, 2018. https://brooklynrail.org/2012/10/local/in-the-archives-of-interference.

Our History. Interference Archive. Accessed February 01, 2018. http://interferencearchive.org/our-history/.

The Activism Files. The New York Times. Accessed February 01, 2018. http://www.nytimes.com/2013/07/21/nyregion/the-activism-files.html?pagewanted=all&_r=0.

Additional Information