Buffalo Transportation/Pierce-Arrow Museum
Introduction
The Buffalo Transportation/Pierce-Arrow Museum preserves the history of automobiles made in Western New York, particularly those made by the Pierce-Arrows company. Displays include Pierce-Arrow and Thomas Flyer cars from 1903 to 1960s. Guided tours highlight the transportation history of Western New York as told through the museum's collection, the museum itself and how pieces were acquired. The museum was the dream of Buffalo-native James Sandoro, who started to have an interest in antique cars beginning at a young age. Over the years he collected many of the cars that are housed at the museum.
Images
The Buffalo Transportation/Pierce-Arrow Museum opened in 2001.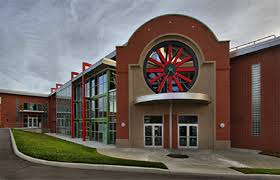 Backstory and Context
In the 1870's, the George N. Pierce Company produced common household items such as ice chests and birdcages. Pierce used his expertise in metal cage work to transition into the transportation field by manufacturing bicycles.
As demand for improved bicycles grew, Pierce met high demands and industry innovation with the introduction of bicycle advancements such as the cushion frame and coaster brake. The George N. Pierce Company built a 75,000 square foot factory on Hanover and Prime Streets on Buffalo's waterfront at Canalside. In 1901, the company produced its first, one single-cylinder automobile and also had a bicycle display at the Pan-American Exposition. The company continued manufacturing bicycles and motorcycles at this location until 1915.
Sources
"About." The Buffalo Transportation/Pierce-Arrow Museum. Accessed June 14, 2014. http://www.pierce-arrow.com/about.
Additional Information