Park Avenue Armory
Introduction
The Park Avenue Armory was constructed between 1877 and 1881. It was originally home to the 7th Infantry Regiment, and later, several other divisions and regiments. The building was designed and constructed by Charles Clinton. However, the magnificent Veteran's Room, influenced by cultures from all over the world, was designed by Louis Comfort Tiffany, Stanford White, Candace Wheeler and Samuel Colman. Today, the building serves as an event venue for visual and performing arts that need an unconventional space to display their work. It was named a National Historic Landmark in 1986.
Images
20th Century Picture of Armory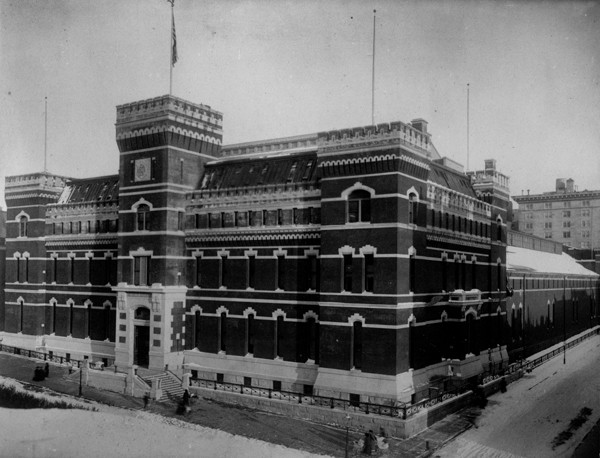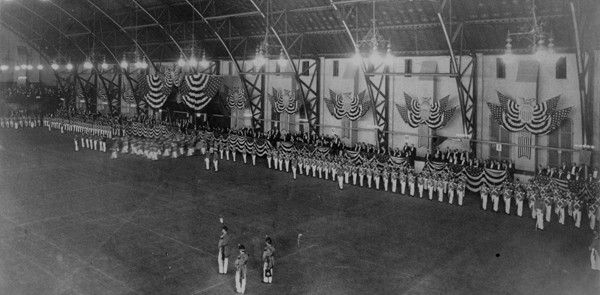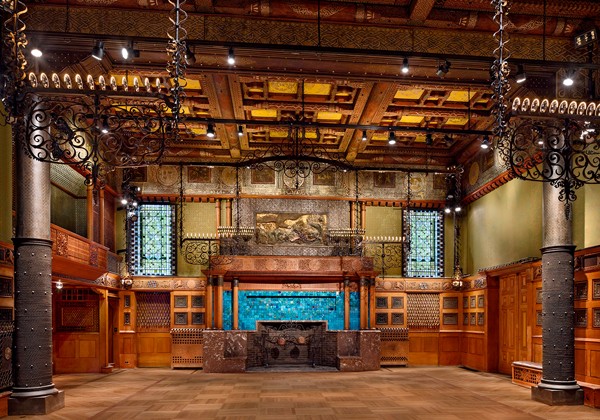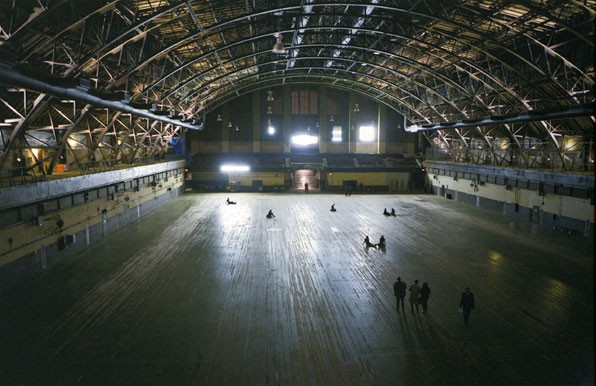 Backstory and Context
The Seventh Regiment Armory, known today as the Park Avenue Armory, was originally constructed between 1877 and 1879 under the guidance of architect Charles Clinton, who was a member of the Regiment. He designed the building in a Victorian style, and it included a 55,000 square foot drill hall. By 1881, the interior was designed by brilliant artist and designers such as Louis Comfort Tiffany, Stanford White, the Herter Brothers, and Pottier & Stymus. Some of their best work was done in the Veteran's Room, which included influences from
Islamic, Chinese, Greek, Celtic, Egyptian, and Persian cultures.

Both the buildings design and its occupants have changed over the years. The 7th Regiment became part of the 107th Infantry in 1921 but still occupied the building. Eventually, the 7th Regiment became part of the
42nd Infantry Division. Additions were added to the building from 1909 until 1914 as it went from three stories to five stories. The belfry was also removed from the central tower during this time.

Eventually, the building fell into disrepair, but a restoration project began in 2009, which was privately funded. The restoration was overseen by
Ascan Mergenthaler, a senior partner of
Herzog & de Meuron. Today, the building is used as a venue for live performance and art exhibitions, particularly for art that has a hard time finding display space because of its size. The Park Avenue Armory was named a National Historic Landmark in 1986.
Sources
"New York City Park Avenue, Seventh Regiment, Armory." New York State Division of Military and Naval Affairs. 7/16/15. Accessed Web, 1/23/18. https://dmna.ny.gov/historic/armories/NewYorkCityParkAvenue7thRegiment.html.

"Building History." Park Avenue Armory. Accessed Web, 1/23/17. http://www.armoryonpark.org/about_us/history.

Kennedy, Randy. "The Gilded Age Glows Again at the Park Avenue Armory's Veterans Room." New York Times. 3/6/16. Accessed Web, 1/23/18. https://www.nytimes.com/2016/03/07/arts/design/the-gilded-age-glows-again-at-the-park-avenue-armorys....

Passikoff, Alexander G. A Facade of Buildings: A Collection of Architectural Styles, Architects, and Their Buildings That Make Up the Face of New York. Bloomington, Indiana. AuthorHouse, 2011.


Additional Information