Doe's Eat Place
Introduction
The original Doe's was opened in 1941 at this location. Over the decades the business has been expanded into a chain across the South.
Images
Doe's Eat Place in Greenville, Mississippi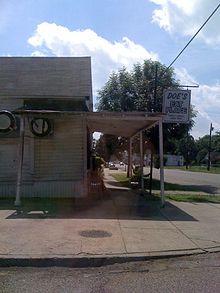 Doe's Eat Place in Greenville, Mississippi
Backstory and Context
In 1903, Dominick "Big Doe" Signa and his family moved to Greenville and operated a grocery store called "Papa's Store." The business was successful until the historic 1927 flood hit; then, Big Doe pursued bootlegging and did well, eventually selling his 40 barrel still for $300 and a Model T Ford.
In 1941, Big Doe's wife, Mamie, obtained a fragmented hot tamale recipe and after tinkering with it created a delicacy worth selling. Thus, Doe's Eat Place was established in the building that was the old grocery store.
According to the restaurant's official website,
At first Signa ran a honky tonk in the front part of the store. It was strictly for Blacks. He had things like buffalo fish and chili. Ironically, the "carriage" trade arrived by the back door, like segregation in reverse. One of the local doctors began coming for a meal between calls. Big Doe would cook him up a steak and feed him in the back. Pretty soon the doctor bro ught another doctor then a lawyer and before he knew it Doe had a regular restaurant in the back. After calling in family and in-laws to help with his thriving restaurant, he eventually closed the honky tonk and focused on the eat place.

Big Doe Signa retired in 1974 and turned the business over to his sons Charles and Little Doe. Today they still carry on the family tradition of greeting customers in the front kitchen that was the original honky tonk. Though time has taken a toll on the building, it only adds to the atmosphere of dining at an old family restaurant where the true authenticity of the 1940s grocery and restaurant remains.
In addition to the Greenville location, the restaurant located in Paducah, Kentucky is family-owned. Doe's Eat Place has franchised out from its original location in Greenville into 11 additional locations across six states. In the 1992 presidential campaign Clinton staffers frequented the Little Rock franchise of Doe's Eat Place. Franchised locations are found in Little Rock, Bentonville, Fort Smith, Fayetteville, and Hot Springs, Arkansas; Manhattan, Kansas; Baton Rouge and Broussard, Louisiana; Springfield, Missouri; Tulsa, Oklahoma; and Bryan, Texas.
The original Greenville location was named to the James Beard Foundation's list of "America's Classics" in 2007. In 2012, the Greenville location was listed in the National Register of Historic Places.
Sources
http://en.wikipedia.org/wiki/Doe%27s_Eat_Place http://www.doeseatplace.com/history.html
Additional Information