Trenholm High School Historical Marker
Introduction
Opening in 1921 within a school system that served African American families that dates back to 1870, Trenholm High School was a center of the African American community within this Alabama community for many decades. The high school was named in honor of educator and principal George Washington Trenholm. Brown vs. Board outlawed school segregation in 1954, but the school continued to operate until 1969. When the community finally enacted a plan for desegregation, the students were transferred to Deshler High School and Trenholm was closed. In 1963, the state authorized the creation of a community college that incorporated the name Trenholm and it opened two years later. This historical marker was dedicated in 2011 thanks to the efforts of former students.
Images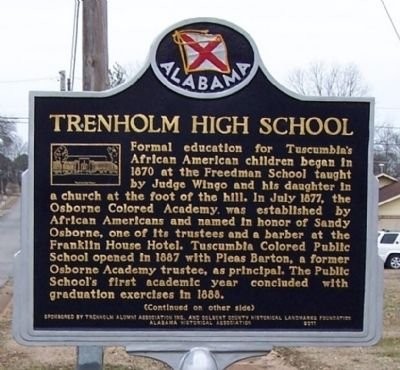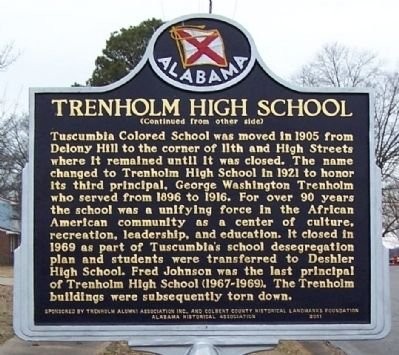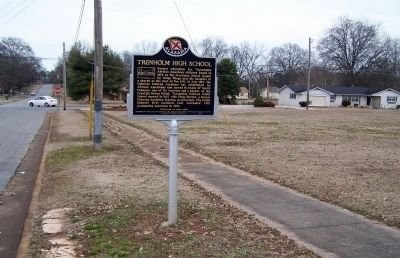 Backstory and Context
The history of Trenholm High School dates back to 1870 with the opening of the Freedman School in a church taught by Judge Wingo and his daughter. As the school grew, graded schools were introduced culminating with the creation of Trenholm High School in 1921. 
Sources
Pam Kingsbury, University of North Alabama, "Trenholm High School ," Omeka at Auburn, accessed February 12, 2018, https://omeka.lib.auburn.edu/items/show/1544.
Gaines, David J. Trenholm High School. THE HISTORICAL MARKER DATABASE. 02/20/2015. Accessed 02/12/2018. https://www.hmdb.org/marker.asp?marker=80944. 
Morris, Vivan Gunn. Morris, Curtis L. Creating Caring and Nurturing Educational Environments for African American Children. Alabama. Bergin and Garvey, 2000.
Image Sources
Photo taken by David J Gaines, February 4, 2015

Photo taken by David J Gaines, February 4, 2015

Photo taken by David J Gaines, February 4, 2015