Trenholm High School
Introduction
Opening in 1887, Trenholm High School was an education school exclusively for the African American children in Alabama. The school stood for many years helping to join in the strength in the African American community and their quest for quality education. The school focused on being the community's center of culture, recreation, leadership, and education. Due to the desegregation plan, the students were moved to Deshler High School leading to Trenholm High school getting shut down. However, a state community college would adopt the Trenholm name authorized by the Alabama State Legislature in 1963 and opening three years later.
Images
Photo taken by David J Gaines, February 4, 2015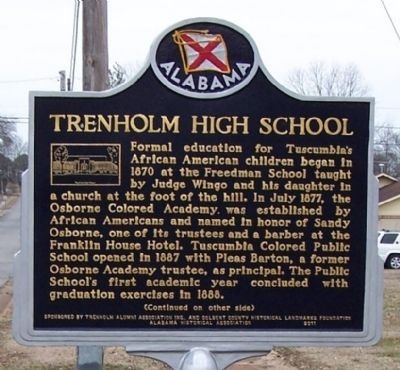 Photo taken by David J Gaines, February 4, 2015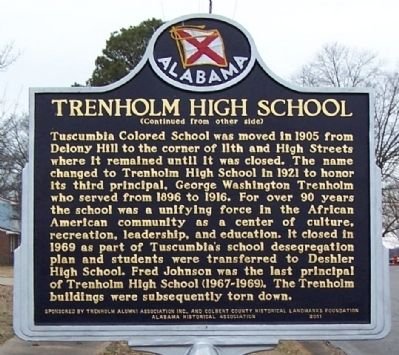 Photo taken by David J Gaines, February 4, 2015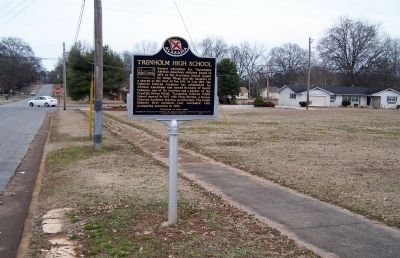 Backstory and Context
Trenholm High School began in 1870 and was one of the last African American exclusive high schools in the nation before Brown v. Board of Education ended desegregation in schools. The school started out by the name of Tuscumbia Colored School. It only took place in a church at the foot of the hill that all African American children attended. The school was taught by Judge Wingo and his daughter. The name was eventually changed to Trenholm High School in 1921. 
Trenholm High School had a big impact on the African American community of Tuscumbia, Alabama. This school was where many African Americans felt free and didn't have to worry about getting judged by the color of their skin. The school started out very small, but then became bigger as time went on establishing a decent student body. Successful African American students have graduated from here and have went on to do good things for their life despite segregation in schools. The Supreme Court case Brown v. Board of Education reversed the verdict on segregation in schools. This would lead to African American students sharing schools with other white children leading to Trenholm High School becoming abandoned and later shut down in 1969.
However, a new community college would soon adopt the Trenholm name after it was established. In 1947, the state legislature passed the Regional Vocational and Trade School Act which helped establish The John M. Patterson State Technical School. It changed to the H. Councill Trenholm State Technical College (later just Trenholm State Community College). It was named after former Alabama State University President Dr. Harper Councill Trenholm. It is a two-year vocational institution and is under supervision by a selected Board of Trustees chosen by the Alabama State Governor. It was authorized in 1963 and opened the doors for beginning classes in 1966 for all students.
Sources
Pam Kingsbury, University of North Alabama, "Trenholm High School ," Omeka at Auburn, accessed February 12, 2018, https://omeka.lib.auburn.edu/items/show/1544.
Gaines, David J. Trenholm High School. THE HISTORICAL MARKER DATABASE. 02/20/2015. Accessed 02/12/2018. https://www.hmdb.org/marker.asp?marker=80944. 
Morris, Vivan Gunn. Morris, Curtis L. Creating Caring and Nurturing Educational Environments for African American Children. Alabama. Bergin and Garvey, 2000.