Richard F. Tyree-John Dunn House
Introduction
This building was originally two houses. The stone part of the structure was built with local stone by Richard F. Tyree in 1805. The stone mason may have been Christopher Foglesong who is credited with building the Old Stone Church and County Jail. John Dunn built the brick portion of the house, now covered with stucco, circa 1834. it has been used as a store, dance hall, boarding house and real estate office.
Images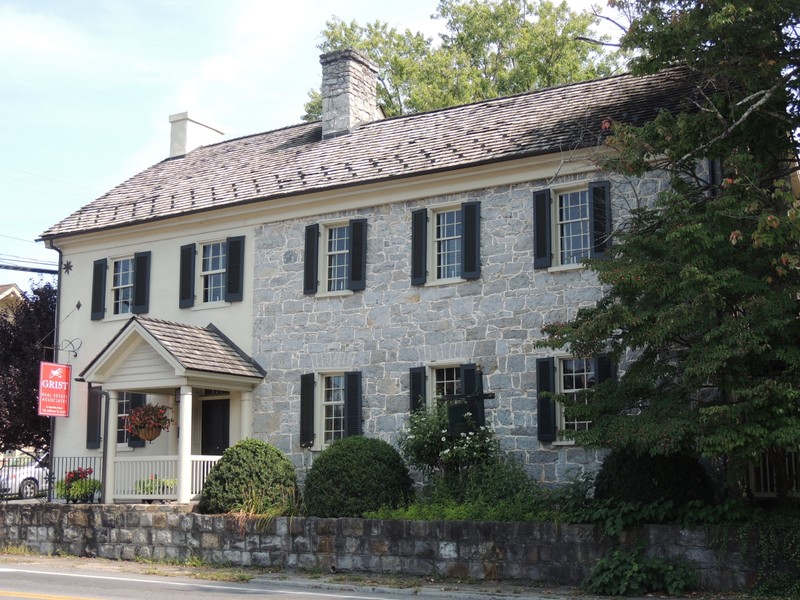 Backstory and Context
Richard F. Tyree was an innkeeper and had the first boot and shoe business in Lewisburg in 1810.

John Dunn was a highly skilled brick mason who built many of Lewisburg's fine homes and the Greenbrier County Courthouse.

Later known as the Renick house, this building was vacant for many years and had deteriorated. In 1999 the building was purchased by Ann and John Wade Bell III. It was expertly restored by Mr. Bell, a local contractor, in 2000-2001 and now houses an interior decorating firm. During the restoration, Mr. Bell determined the roof originally had white oak shingles.
Sources
Bunn, Morgan Donnally. The People of the Old Stone Cemetery: The Burials. Self-published, 2016.

Greenbrier Historical Society archives. John Wade Bell III notes.

Woods Dayton, Ruth. Greenbrier Pioneers and Their Homes. Charleston, WV: WV Publishing Company, 1942.
Additional Information