Tower of the Americas
Introduction
The Tower of the Americas is an icon of San Antonio. It was built as the centerpiece of the 1968 HemisFair. The Tower (including the antenna) rises 750 feet above HemisFair Park and houses an observation deck and revolving restaurant which offer a panoramic view of the San Antonio and the surrounding areas.
Images
During HemisFair the Tower was surrounded by a monorail, a sky-ride, water park and other amusements.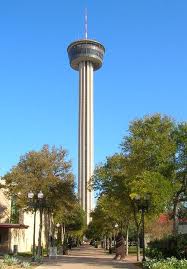 HemisFair postcard featuring Tower of the Americas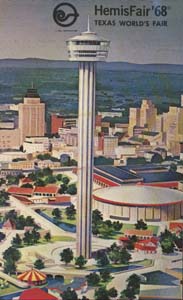 Photograph of painting by Warren Hunter of HemisFair site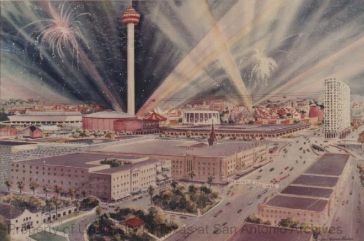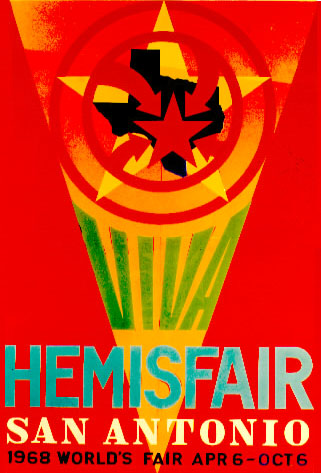 Backstory and Context
Though today the tower is a fixture of the San Antonio skyline, it was the source of much controversy before it was built. In 1966, questions arose about the propriety of the bidding process for the tower construction job. When the first round of bidding elicited only one bid Congressman Henry B. Gonzalez felt strongly that the job be put out for re-bid and until that action was taken he did not actively support an additional Federal appropriation for HemisFair '68. Though no improper conduct was uncovered and all persons involved denied charges of conflict of interest, public pressure and negative publicity surrounding the initial bidding process forced the Executive Committee of HemisFair '68 to put the tower project out for re-bid late in the summer of 1966. With the previously accepted bid by contractor Dan Rheiner withdrawn, the Executive Committee was forced to accept the new lowest bid, which was $336,000 higher than the original bid. However, this price was seen as the necessary price to appease the public and to gain the Federal appropriation of nearly $7 million.

Sources
http://libguides.utsa.edu/content.php?pid=307526&sid=2518265
Additional Information