San Antonio Museum of Art
Introduction
Located on the Riverwalk in San Antonio, the San Antonio Museum of Art features collections of ancient Mediterranean art, Asian art and Latin American art, regional art, European art, Islamic art, and modern and contemporary art. It also includes a large photography collection. The museum is housed in the former Lone Star Brewery complex, which was built between 1895 and 1904 by a group of businessman that included German immigrant Adolphus Busch, the co-founder of the Anheuser-Busch company in St. Louis. Busch served as president of Lone Star Brewery for many years. The brick building, which consists of several buildings of different heights and sizes, features a variety of decorative elements including arched windows, pilasters, and battlements along the roofline that give it a castle-like appearance. It was added to the National Register of Historic Places in 1972.
Images
The San Antonio Museum of Art is located in the former Lone Star Brewery complex, where it has been since 1981.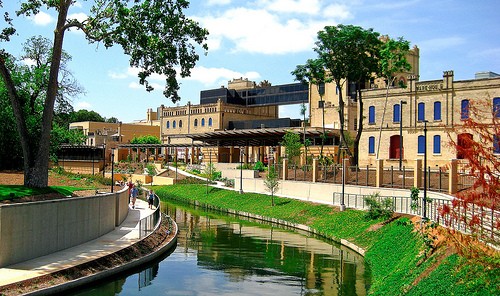 Backstory and Context
San Antonio businessmen John Henry Kampmann and Edward Hope established a stock company in 1883 to build a brewery. Busch joined the effort and owned a large financial interest in the brewery (he had interests in two others as well, independently form Anhueser Busch: the American Brewing Company of Houston and the Texas Brewing Company). The original buildings were made of wood and began to be replaced with the current structures in 1895. Two years later, the company drilled an 800-foot deep artesian well on the property to supply its own source of water. By 1900, Lone Star had become the state's largest brewer with an annual capacity of more than 250,000 barrels of beer. Between 1900-1905, the company expanded the brewery to its present size. Busch, who was president during this period, oversaw this growth.
Unfortunately for the company and other breweries around the country, World War I and Prohibition cut this success short. The demand for grains and other foods for the war effort decreased the supply for breweries and alcoholic beer production all but ended around the country when Prohibition began in 1920. Lone Star started to produce a non-alcoholic beer called Tango but it was not successful. The brewery eventually closed and the building was used for storage and as a warehouse.
In the 1970s, the San Antonio Museum Association purchased the historic Lone Star Brewery complex for conversion into the San Antonio Museum of Art. Following a $7.2 million renovation, the Museum of Art was opened to the public in March of 1981. In 1991, the 7,000 square foot Cowden Gallery was opened for changing exhibitions and, in 1994, the 3,000 square foot Beretta Hops House was renovated providing three classrooms for enriching art education programs. The Luby Courtyard was opened at the same time providing an appropriate outdoor space for family days and other art celebrations. In 1998, the Nelson A. Rockefeller Center for Latin American Art, a 30,000 square foot wing, opened to display Latin American art from all periods. In May of 2005, the new Lenora and Walter F. Brown Asian Art Wing opened. It is a 15,000 square foot addition that makes the Museum the largest center for Asian art in the southern United States.
In May of 2009, the Museum Reach extension of San Antonio's famed Riverwalk was opened. To accommodate the Museum's new riverfront access, the Glora Galt River Landing, a shaded pavilion, esplanade, and terrace along the Museum's north side was built.
Sources
Curlee, Kendall. "San Antonio Museum of Art." Handbook of Texas Online. Last Updated January 4, 2022. https://www.tshaonline.org/handbook/entries/san-antonio-museum-of-art.
Hennech, Michael C. & Etienne-Gray, Tracé. Handbook of Texas Online. Last Updated October 25, 2002. https://www.tshaonline.org/handbook/entries/brewing-industry.
Hume, Gary L. & Kennard, Claude L. "Old Lone Star Brewery." National Park Service - National Register of Historic Places Nomination Form. September 25, 1979. https://s3.amazonaws.com/NARAprodstorage/opastorage/live/1/9712/40971201/content/electronic-records/rg-079/NPS_TX/72001354.pdf.
"Our History." San Antonio Museum of Art. Accessed June 10, 2014. http://www.samuseum.org/about/our-history.
Additional Information