Botanical Museum Memorial
Introduction
The 1867 Botanical Museum was one of the first five buildings situated on the newly established Massachusetts Agricultural College campus. Located near the Durfee Conservatory the museum initially housed President William Smith Clark's office, a recitation/herbarium, and a laboratory on the first floor, as well as the museum proper on the second. According to the college's Tenth Annual Report in 1873, the museum was "supplied with many interesting and useful specimens of seeds, woods, and fruit-models. There is, also, a set of diagrams, illustrating structural and systematic botany, including about 3,000 figures." The Report also notes that the museum was valued at $5,000. In 1967 the Botanical Museum was destroyed by fire; presumably at this time the museum's dedication memorial plaque was obtained for posterity.
Images
Botanical Museum, plaque.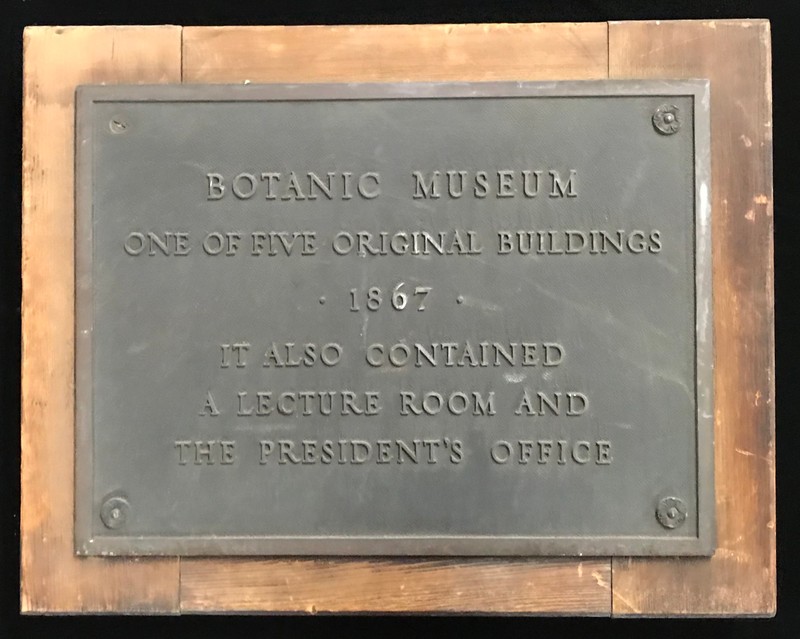 Hugh P. Baker (President, 1933-1947) standing with others in front of the Botanical Museum plaque, photo, ca. 1935.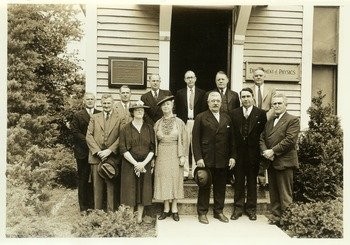 Botanic Museum, postcard, ca. 1910.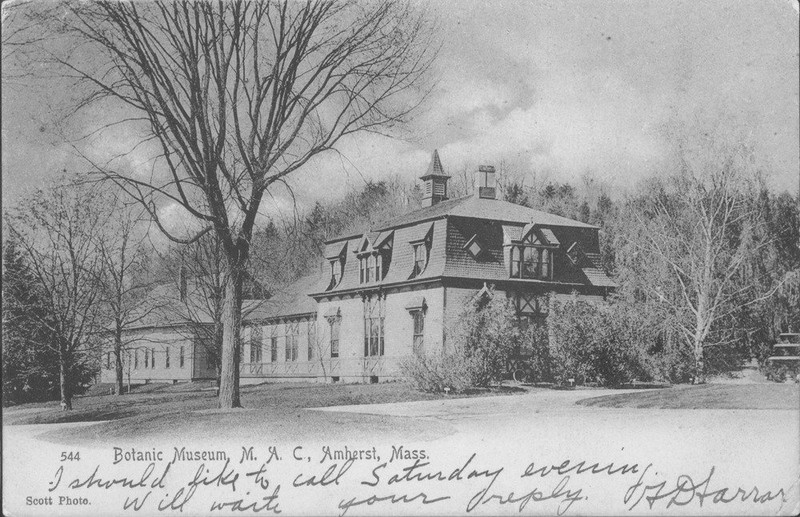 Botanical Museum, Herbarium and Recitation room, ca. 1876.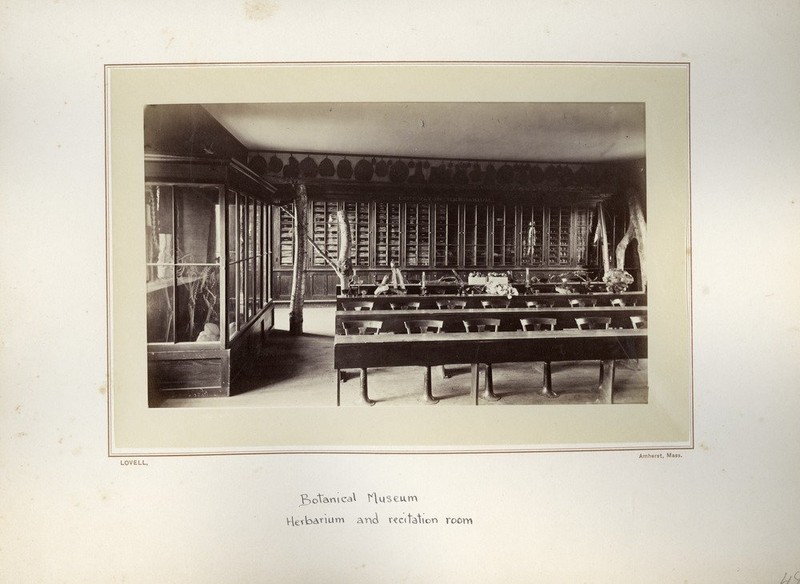 Tenth Annual Report; includes reports on agricultural experiments, the Botanic Garden, College departments, sugar beet machinery, the library and museum, 1873.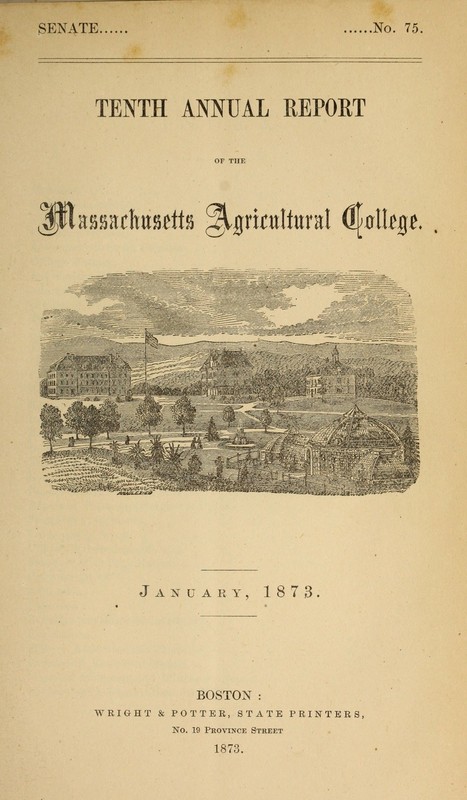 M.A.C. campus map (From the Student's Handbook, 1893-1894), 1893.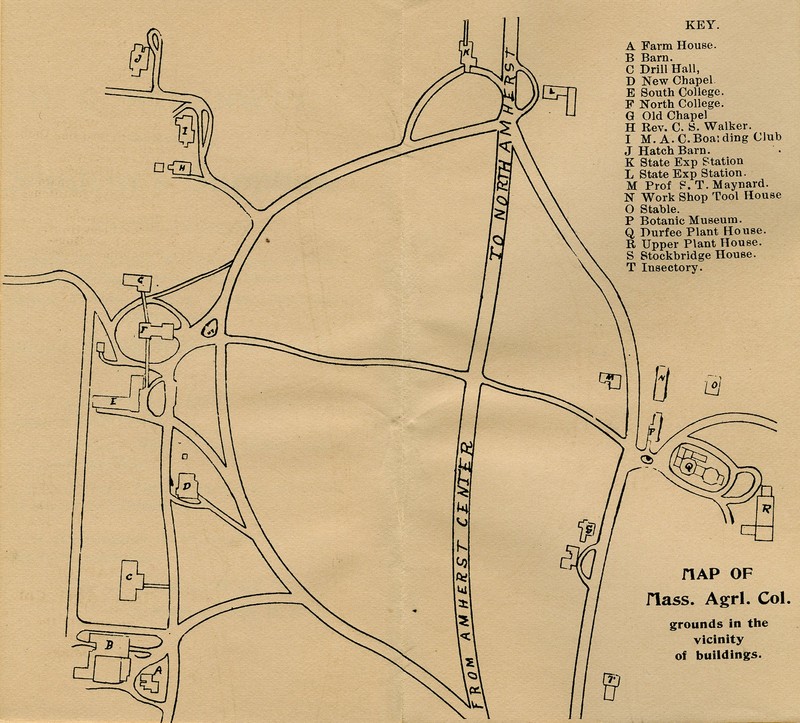 Backstory and Context
Constructed: Planned 1870, never completed
During the earliest, ambitious days of the Massachusetts Agricultural College, the college's planners lavished great care on the design of the hill on the western margin of campus. The President's houseoverlooked the elegant Durfee Conservatory to which it was connected by a "delightful drive."[1]
To lay the groundwork for a thorough botanic education, the Durfee Greenhouses were accompanied by a Botanic Museum and, according to the Trustees' 7th Annual Report, a "working plan" was prepared "for the laying out and planting of the botanic garden and arboretum, which should commenced at the earliest practicable date." Flowing to the south and east of Durfee Conservatory, the garden was laid out on a little over 38 acres of land traversed by an meandering walkways, a small stream, and pond, and to the north of Durfee, were laid out a reserve garden, a vineward, and peach and pear orchards. The garden never came to full fruition.
[1] Seventh Annual Report of the Trustees of the Massachusetts Agricultural College (1870)

See also University Archives (RG 36/101).
Sources
Botanic Garden. YouMass. http://scua.library.umass.edu/youmass/doku.php?id=b:botanic_garden&s[]=museum.

Tenth Annual Report. Credo. 1873. http://credo.library.umass.edu/view/full/murg001_00_04-ar-i1873.


Additional Information