Economic Entomology (Insectary) Memorial
Introduction
In 1889 the Massachusetts Agricultural College erected the Insectary/ Entomology Building for the study of insects, in particular those insects that could further pest management practices in agriculture. The Insectary was built on what would become Stockbridge Road, next to where Fernald Hall is today. After construction of a new Economic Entomology building (Fernald Hall, 1909-1910) was erected the Entomology Building became the Mathematics Building. In 1938 a plaque was adhered to the Mathematics Building (original Economic Entomology Building) to honor the role of the field in the college's history and to mark the 50th anniversary of the arrival of Charles Henry Fernald to MAC for his efforts on its behalf. In 1965 the building was demolished and at some point after its destruction the 1938 dedication plaque was acquired by UMass Special Collections.
Images
Economic Entomology plaque, ca 1938.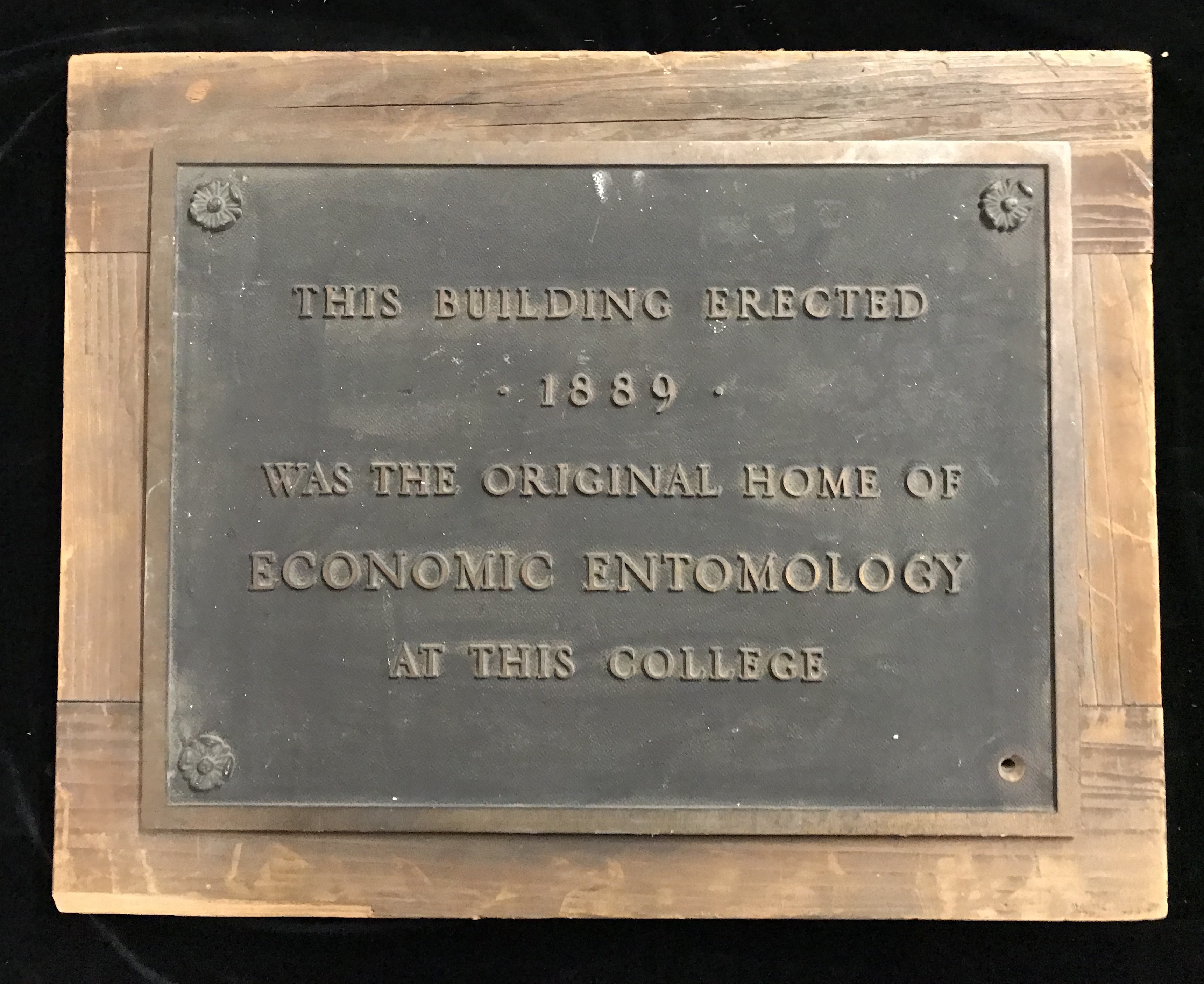 Dedication of plaque commemorating economic entomology at MAC: (l. to r.) Albert Burgess ('95), MAC President Hugh Baker, Charles Alexander, Henry Fernald, and E.P. Felt, October 16, 1938.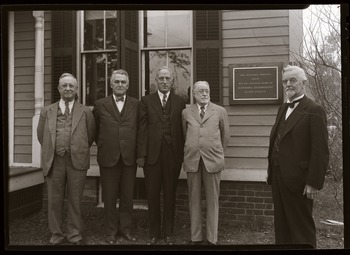 First two graduates in entomology at MAC, gathered at Mathematics Bld. to dedicate plaque in honor of economic entomology at MAC and 50th anniversary of the arrival of Charles Henry Fernald.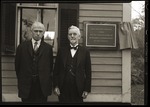 Lovell, J. L. (John Lyman), 1825-1903. Insectary with attached greenhouse, ca. 1890.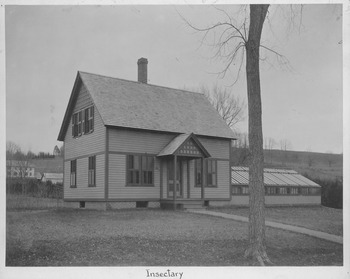 1893 MAC Campus Map. From Student Handbooks, University Archives (RG 30/00/2)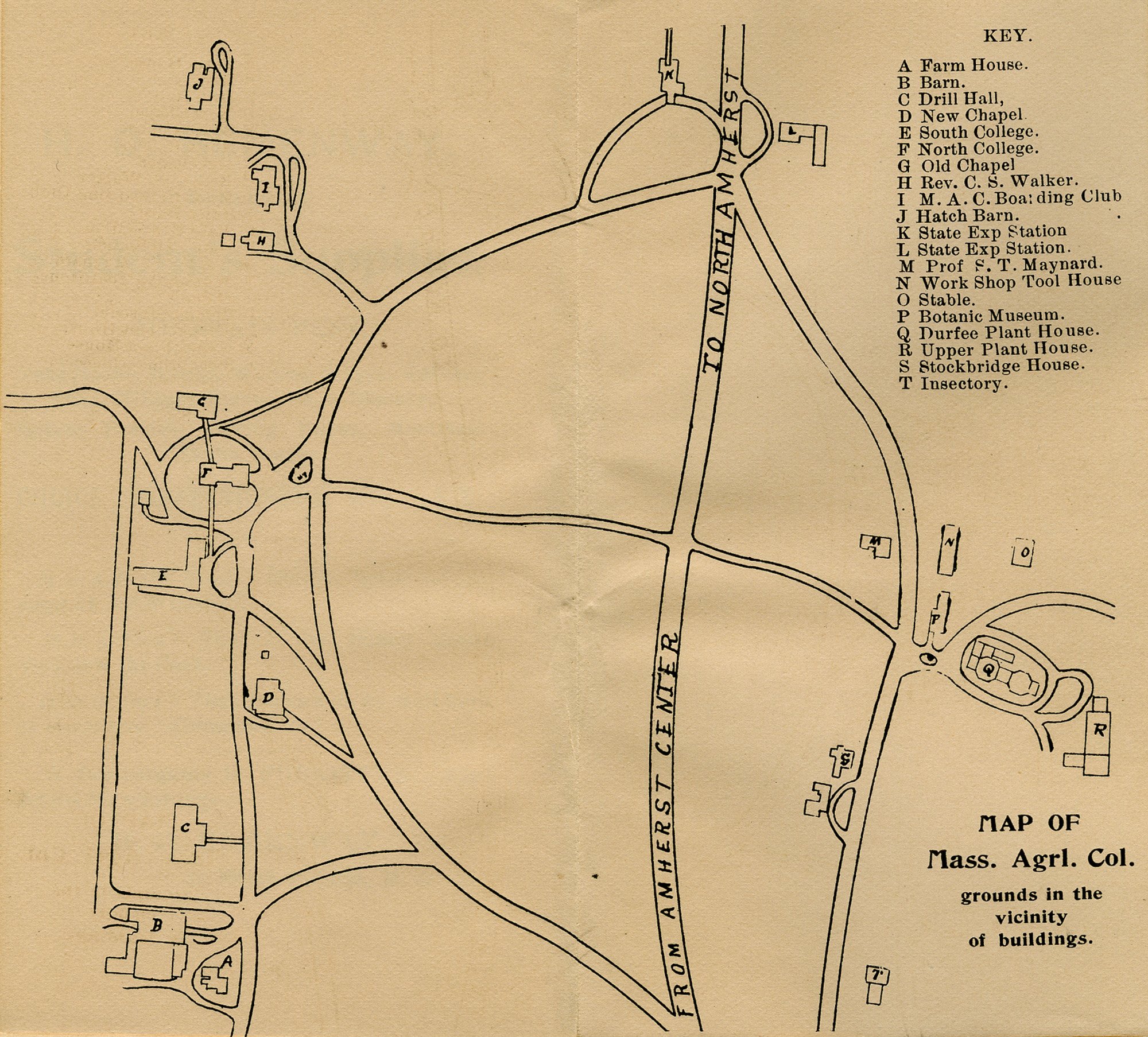 View of the Entomology Building and Insectary (low extension to the right), with attached greenhouse, ca. 1910.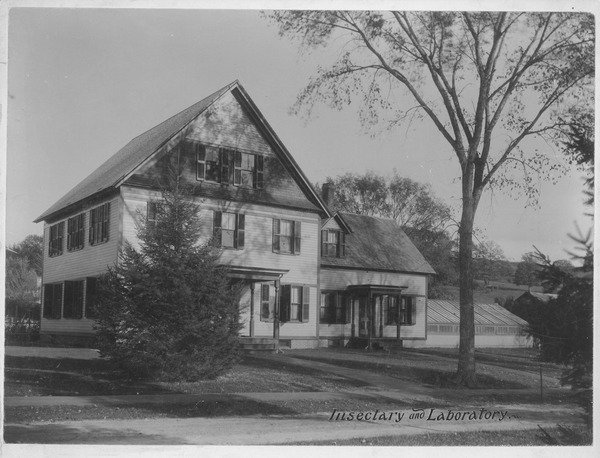 Laboratory bench and chemicals in the Insectary (also known as the Entomological Building), undated.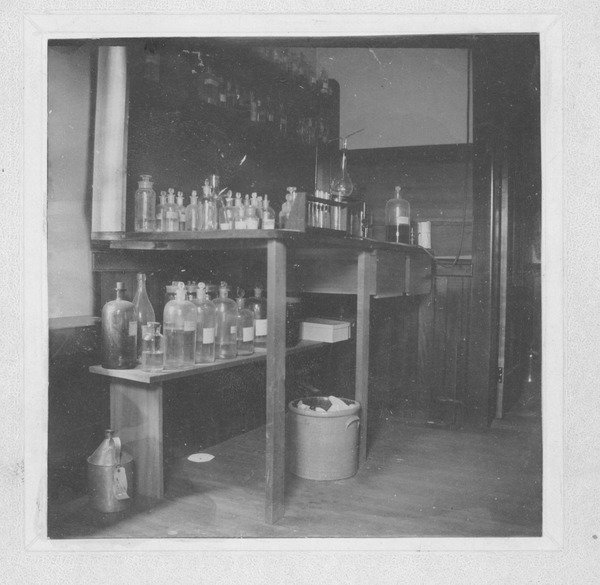 Preparing caterpillars for mounting in the Insectary: woman seated at table with specimens, ca. 1890.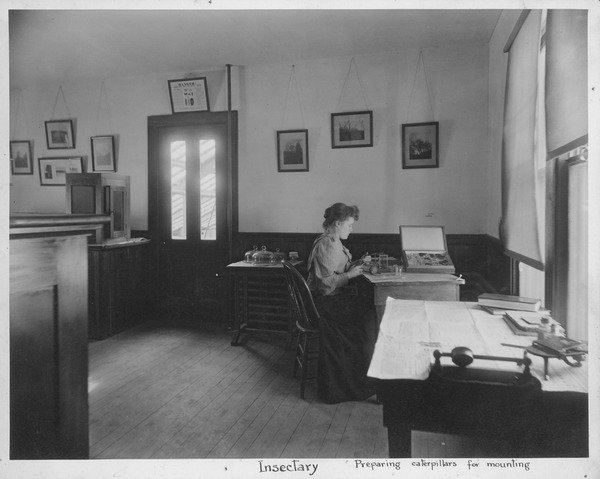 Becker, William B. (photographer). Wrecking of the Mathematics Building (formerly the Entomology Building), ca. 1965.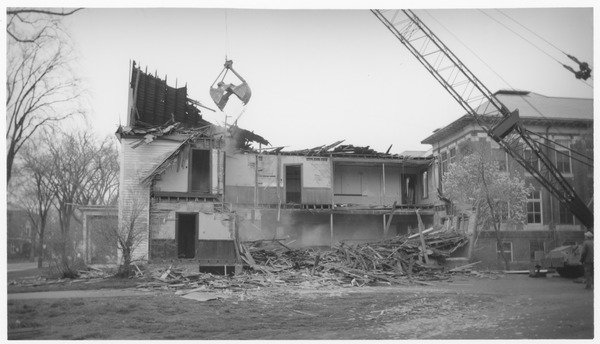 Backstory and Context
Entomology, 1899-1930
Experiment Station, 1899-1930
Director, Graduate School, 1927-1930
b. April 17, 1866, Litchfield, Maine
d. July 15, 1952, Winter Park, Florida
Born at Litchfield, Maine, in 1866, Henry T. Fernald early on in life absorbed the interests of his father, Charles Henry Fernald, and followed in his footsteps into a career in entomology. Educated largely at home while his father was on faculty of the Maine State College in Orono, and receiving his B.Sc. there in 1885, Henry pursued post-graduate work in biology and geology at Wesleyan University, before receiving his PhD in Zoology at Johns Hopkins in 1890 for a dissertation on "The Relationships of Arthropods."
After nine years in the Department of Zoology at Pennsylvania State College in 1890, and summers at Cold Spring Harbor, Fernald received the opportunity to join his father on faculty at Massachusetts Agricultural College in 1899. The two worked side by side to expand both the undergraduate and graduate curriculum in entomology, with the younger Fernald taking primary responsibility for undergraduate instruction. As his father's health began to decline, Henry's responsibilities continuously expanded. In addition to becoming Chair of the Department of Entomology, Fernald followed his father as Director of the Graduate School at Massachusetts Agricultural College (1927-1930) and served as President of the Association of Economic Entomologists (1914).
In addition to his heavy teaching load, Fernald was appointed associate entomologist at the Hatch Agricultural Experiment Station in 1899, succeeding as chief entomologist upon his father's resignation in 1910, and he is credited with overseeing the design and construction of the new Entomology and Zoology building in 1909-1910, which eleven years later was named Fernald Hall in honor of his late father.
Over the course of his career, Henry Fernald published over 100 articles largely on economicentomology and the systematics of the Hemiptera and Hymenoptera. He married Minna R. Simon of Baltimore shortly after completing his PhD. The couple had two daughters and one son. Henry T. Fernald died in Winter Park, Fla., on July 15, 1952.
See Entomology and Zoology at the Massachusetts Agricultural College. Amherst, Mass., 1911 (RG 36/101 Box 6)
Sources
Henry Fernald. YouMass. http://scua.library.umass.edu/youmass/doku.php?id=f:fernald_henry_t&s[]=economic&s[]=entomology.

Insectary. Lost UMass. https://lostumass.omeka.net/items/show/27.


Additional Information