The Pavilion at Villanova University
Introduction
The Pavilion at Villanova University is home to the men's and women's basketball teams. It is used for other sports and recreational use for students. Great teams and players have played in the Pavilion where basketball has become the main attraction. Donors and Villanova alumni have gathered money to support for a renovation and rename the stadium to the Finneran Pavilion.
Images
This image presents a graphical design of what the new Finneran Pavilion will look like when the project is finished (Lane, 2017)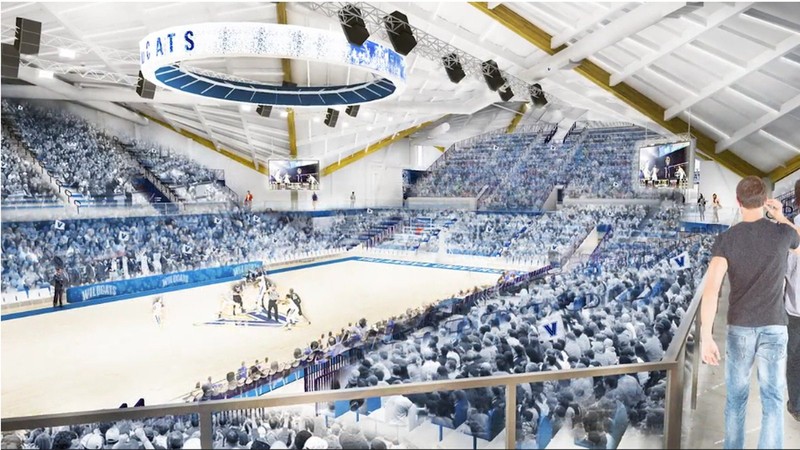 This is an image of a packed Pavilion during a men's basketball game (Facilities, 2017).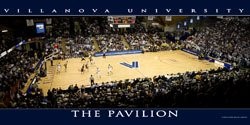 Backstory and Context
In 1842, ten miles outside of Philadelphia, Pennsylvania, Villanova University was founded by the Order of Saint Augustine. The institution provides a liberal arts education and is committed to the community and serving others. In addition, the university values excellence and outstanding performance both in the classroom and during athletic competition (Lane, 2016). Villanova is ranked among the nation's top universities and supports and encourages academic and athletic growth (Lane, 2016). There are 24 varsity sports in which over 500 student-athletes participate in. Villanova University is a member of the Big East Conference, Colonial Athletic Association (football), and the Metro Atlantic Athletic Conference (Women's Water Polo) (Lane, 2016). The Pavilion, home to the Men's and Women's basketball programs, was built in 1985. Its architecture, internal features, as well as the events held there, have all contributed to the well-known impact it has had on those who have attended, played in, and funded the Pavilion.
The Pavilion was originally known as the John Eleuthere du Pont Pavilion. He was the main funder of the building. In 1997, his name was removed from the facility after he was convicted of the murder of Dave Schultz, an Olympic, gold medal wrestler (The Pavilion, 2017).
The Pavilion was built as a multipurpose arena that sits 6,500 people (The Pavilion, 2017). From the outside, it stands out with its hyperbolic paraboloid roofline (The Pavilion, 2017). The inside is spacious and features multiple different athletic uses to the center. Although most people are familiar with the way the Pavilion looks during a basketball game, it may also be used for tennis, volleyball, indoor track and field training, baseball and softball batting practice, and for rowing practice. The courts are lined for basketball, tennis, and volleyball (Facilities, n.d.). There is also a five lane, 200 meter track, a jump pit with sand, pole vault pit, and batting cages (Facilities, n.d.). The game court for varsity men's and women's basketball was replaced in 2002 and is now a portable maplewood surface (Facilities, n.d.). In addition to the courts and practice facilities inside the Pavilion, there is also a press room, an athletic department lounge, a VIP box, and convocation center with a stage, curtains, drapings, and folding chairs. Despite all the Pavilion has to offer for the student-athletes, it is most known for its large student section that takes up a third of the seating. However, it is considered only the 5th best arena in the Big East due to the awkward layout, high ceilings that prevent good acoustics, and a large empty space behind the student section for baseball (McQuade, 2017).
Villanova University's Pavilion is known to be an exciting venue in which more than 1.9 million people have passed through, just for men's basketball. Not only is the Pavilion used for Villanova athletic events, but for many other reasons as well. The entire city of Villanova, Pennsylvania has benefitted from the Pavilion and its large arena floor that measures 23,016 square feet (The Pavilion, 2017). It has been the hosting venue for Commencement events, recruiting events, concerts, conventions, trade shows, Special Olympics, Relay for Life, the Advanta International Tennis Championship, NCAA Championship events, and Law School graduation. It is also the home court of the Philadelphia Freedoms of World Team Tennis (The Pavilion, 2017). Not only is the Pavilion important to the student athletes and faculty at Villanova, but also to the surrounding community.
Throughout the years, the Villanova Wildcats have been extremely successful. They have an all-time record of 293-62 (.825) for the men's basketball team and 262-140 (.651) for the women's team (The Finneran, 2017). All-time attendance at the Pavilion is 2, 270,190 people and 92% of games played were with sold out crowds (The Finneran, 2017). Men's Head Basketball Coach, Jay Wright, has a "career record of 161-20 (.890) at the Pavilion, including a 93-5 (.949) record against non-conference opponents and a 68-15 (.819) record versus BIG EAST" programs (The Finneran, 2017). The men's basketball team has won the regular season 8 times, the Big East Conference Championship 3 times, appeared in the NCAA tournament 36 times, and has 2 NCAA national championship titles (Villanova Wildcats, 2017). It is obvious that the Pavilion plays a large role in the positive atmosphere that the teams get to compete in and has a true impact on the attitudes and mindset of the athletes.
In addition to building a well-rounded, liberal arts, education for all of its students, Villanova has produced several men's and women's professional basketball athletes. There is a total of 46, both retired and current players, who have played in the NBA and 1 in the WNBA (Villanova Players, 2017)(Villanova University, n.d.). Villanova basketball continues to be a top team both in the Big East and in the nation year after year.
Over the last 31 years, there have been several donations to Villanova's athletic department and programs such that a complete remodel of the Pavilion was approved. The updates will help to benefit Villanova's elite basketball programs and will further honor the history of basketball at the Pavilion (The Finneran, 2017). It was scheduled to begin in June of 2017 and finish before the 2018-2019 basketball season (The Pavilion, 2017). This renovation is solely funded by donors. A major donor was William B. Finneran, and to honor him, the building will be renamed, the "Finneran Pavilion" (Board of Trustees, 2017). He was a member of the class of 1963 and made a $22.6 million donation in the Spring of 2016 (The Pavilion, 2017). The university has hired several industry leaders to plan and build this renovation. They will use the "architecture firm, EwingCole,as well as Legends which is a holistic planning, sales, and hospitality provider in sports and entertainment" (Board of Trustees, 2017). This design team is attempting to transform the Pavilion into a vision of continued and enhanced success and entertainment.
There are several goals of the Finneran Pavilion renovation that aim to contribute to the creation of an even more exhilarating home-court advantage. The designers have incorporating designs that will implement a "high-quality, game-day experience for fans, strengthen Villanova's ability to recruit and train the nation's best and brightest students, and will elevate fan experience through improved seating and other amenities, enhance operations, and provide VIP seating" (Lane, 2016). The renovations will include a brand new main entrance, a 360 degree concourse with concessions and merchandise stands, more comfortable seating, enhanced audio-visual capabilities, a new Hall of Fame exhibit, a Court One hospitality room in which the actual court from the 2016 Championship is the flooring, courtside seating options, and upgraded Wi-Fi technology (The Finneran, 2017). In addition, there will be improvements to the locker room, recruiting room, a VIP club, and a renovated walkway outside the arena to welcome students and fans (Craig, 2017).
Despite a total renovation budget of $60 million, the seating capacity of the Pavilion will remain the same. Limitations of this opportunity not only include zoning ordinances and longer delays of progress, but also funding. A full tear down of the building and additional seating would cost over $125 million and additional parking space is not available (The Finneran, 2017). Despite this, the Finneran Pavilion will be a more enjoyable experience for students, faculty, athletes, and fans while the teams will hopefully benefit from an increased electrifying, home-court advantage.
The Pavilion renovation aims to properly honor and show appreciation for not only William Finneran and his donation, but those who have contributed to Villanova basketball success. Creating a new and enhanced home court atmosphere will continue to foster a positive and exciting environment to help show support for their elite basketball programs. In return, it may also have a greater impact on recruitment and will be another aspect that draws talented student athletes to Villanova University.
Sources
Board of Trustees Approves Pavilion Renovation - The $60 million renovation is

scheduled to begin in June. (2017, February 14). Retrieved December 04, 2017, from http://www.villanova.com/genrel/021417aac.html
Craig, D. (2017, March 09). Villanova gives sneak peek of Pavilion renovations.
Retrieved December 04, 2017, from
http://www.phillyvoice.com/villanova-gives-sneak-peek-pavilion-renovations/
Facilities - The Pavilion. (n.d.). Retrieved December 04, 2017, from
http://www.villanova.com/facilities/nova-facilities-pavilion.html
Lane, C. (2016, October 13). Villanova announces William B. Finneran Pavilion.
Retrieved December 04, 2017, from
https://www.vuhoops.com/villanova-basketball/2016/10/13/13280302/villanova- basketball-new-arena-pavi...
McQuade, D. (2017, February 16). Villanova Plans $60 Million Makeover of Pavilion.
Retrieved December 04, 2017, from
http://www.phillymag.com/city/2017/02/16/villanova-pavilion-renovation-basketball-gym/
The Finneran Pavilion. (2017). Retrieved December 04, 2017, from
http://www.finneranpavilion.com/
The Pavilion. (2017, November 25). Retrieved December 04, 2017, from
https://en.wikipedia.org/wiki/The_Pavilion
Villanova Players in the NBA 2017. (2017). Retrieved December 04, 2017, from
https://basketball.realgm.com/ncaa/conferences/Big-East-Conference/59/Villanova/76/nba-players
Villanova University Wildcats. (n.d.). Retrieved December 04, 2017, from
https://www.draftsite.com/school/villanova-university/basketball-wnba/321/
Villanova Wildcats Men's Basketball. (2017, November 26). Retrieved December 04,
2017, from https://en.wikipedia.org/wiki/Villanova_Wildcats_men%27s_basketball