Harold Washington Library and Historical Marker
Introduction
This marker commemorates Harold Washington, the first African American mayor of Chicago. Washington ibuilt a diverse coalition and served two terms The plaque is located just outside the entrance to the Harold Washington Library, which was named in his honor.
Images
Picture of the marker outside of the library.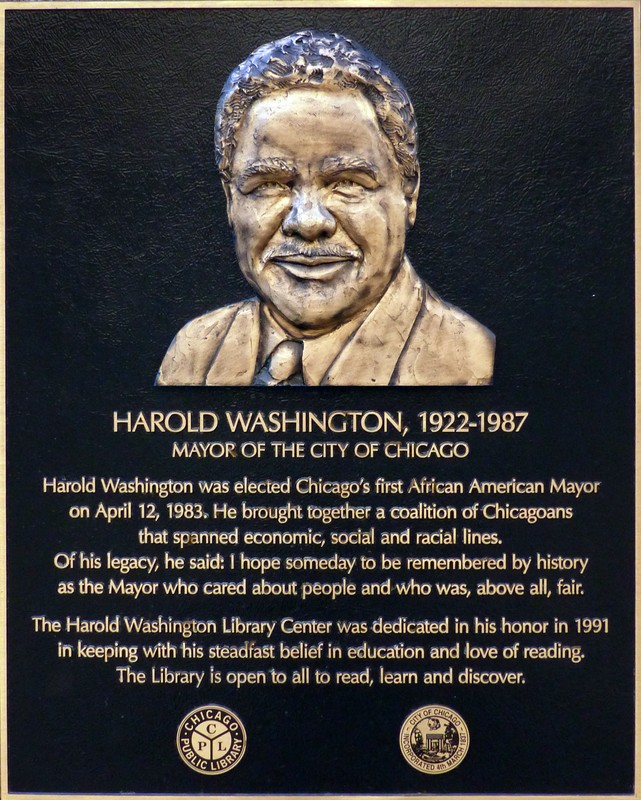 Photo inside the library of the Mayor.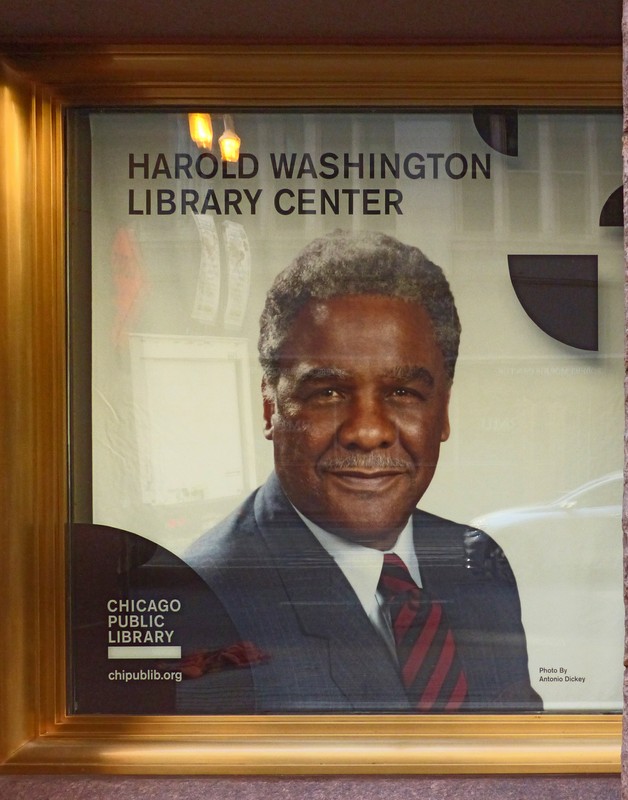 Backstory and Context
Washington was born in Chicago in 1922. His father was an educated man, practicing law in the city and his mother came to the city in hopes of finding a music career. Washington would grow up in Bronzeville, a Black neighborhood that was home to many educational and cultural institutions in the era of segregation. Washington attended DuSable High School and was a standout in track and field. Soon after leaving high school, he met his wife Dorothy.
Washington was drafted and served in an all-Black unit of the U.S. Army Air Corps in 1942. Washington would rise in ranks rather quickly, becoming a First Sergeant before the end of the war. After the war ended, Washington would enroll at Roosevelt University. Roosevelt was one of a handful of truly integrated educational facilities in the city.
While in college, Washington led a committee that fought against racial discrimination in the housing sector. He was active in protesting his state legislators. During such protests and engagements, Washington maintained the reputation for being calm and deliberate and working for compromise, an essential skill for most politicians.
Washington continued his education at Northwestern University where he studied law. While a student, he and his wife separated, adding to the difficulties of being the only African American student at the school. Washington started his political career after graduating from Northwestern. He served in the Illinois House of Representatives from 1965 to 1976 and was elected to the Illinois Senate from 1977 to 1980 before moving to the U.S. House of Representatives where he served from 1981 to 1983. During these years, Washington focused on equality and civil rights among many local and state issues.
Washington became the first African American mayor of Chicago in 1983 in a close race where determined by a margin of 3.7%. Washington won because he had gathered a large following of minorities in the city while also securing enough white voters to defeat his opponent. His first term as mayor saw many conflicts with the city council as many members opposed his plans. Despite this opposition, he was reelected in 1987. Soon after his victory, Washington suffered a fatal heart attack.
Sources
Browne, Allen. Harold Washington. The Historical Marker Database. February 18, 2017. Accessed December 02, 2017. https://www.hmdb.org/marker.asp?marker=99684.

Rivlin, Gary. Fire on the Prairie: Harold Washington, Chicago Politics, and the Roots of the Obama Presidency. Edition Revised Edition. Philadelphia, PA. Temple University Press, 2016.

Davis, Robert. The Death of Mayor Harold Washington. Chicago Tribune. Accessed December 08, 2017. http://www.chicagotribune.com/news/nationworld/politics/chi-chicagodays-haroldwashingtondeath-story-story.html.


Additional Information