Lane Stadium & Worsham Field
Introduction
Lane Stadium is located in Blacksburg, Virginia and hosts the Virginia Tech Hokies football squad. At 2,057 feet above sea level, it is the second highest Division I Football Bowl Subdivision school stadium in the eastern United States. Its field is known as Worsham Field. Lane Stadium is billed as the toughest venue for opponents to play in all of college football. On the west side of the stadium is Virginia Tech's Hall of Fame museum, a two-story exploration of the history of Hokie sports featuring galleries, display cases, and interactive screens.
Images
Aerial view of Lane Stadium and Worsham Field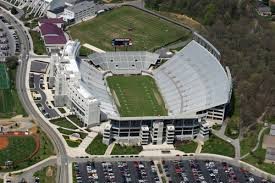 Graphic of Lane Stadium's southwest corner as seen from Beamer Way; image by Rick C - https://www.flickr.com/photos/hitman23vt/17297397623/, CC BY 2.0, https://commons.wikimedia.org/w/index.php?curid=44769464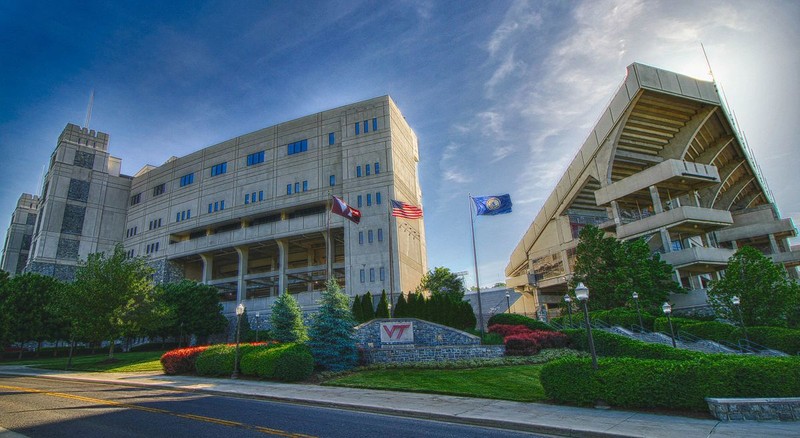 Lane Stadium upper stands; image by Campaigner444 at the English language Wikipedia, CC BY-SA 3.0, https://commons.wikimedia.org/w/index.php?curid=2507117
The Marching Virginians tuba section performing the Hokie Pokie in the north end zone; image by By RadioFan (talk) - Own work, CC BY-SA 3.0, https://en.wikipedia.org/w/index.php?curid=24415216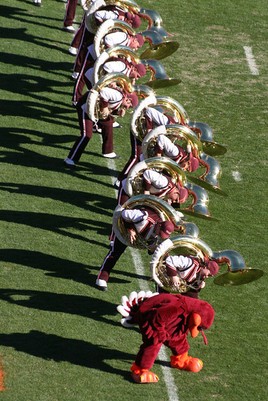 Backstory and Context
The history of football at Virginia Tech dates back to the 1900s, during which time the team played at Miles Stadium. By the early 1960s, Stuart Cassell proposed a plan to build a new stadium to replace Miles owing to the latter's insufficient size and unideal location on campus. Construction began on the new stadium in April 1964. Named after Edward H. Lane, a former student who helped raise $3 million for the project, the stadium opened to the public on September 24, 1965. Worsham field is named for Wes Worsham, a longtime Hokie supporter who pledged $1 million to the university's Second Century Campaign.

Built at a total cost $3.5 million, the sports venue was the work of two architectural firms: Carneal and Johnston and Smithey and Boynton. The general contractor was Dobyns, Inc. Lane Stadium boasts an impressive 65,632 seating capacity. Since its construction, the venue has expanded four times and renovated in 2006. Through it all, it has been highly regarded as one of the finest places to observe a college football game.

Lane Stadium is also known for its distinct home field advantage. In 2005, Lane Stadium was rated the number one home field advantage in all of college football by Rivals.com. In 2008, Lane Stadium was ranked #2 on ESPN.com's "Top 10 Scariest Places To Play." It also carries the distinction as being one of the loudest stadiums in the country.

On October 2, 1965, Virginia Tech played their first game in the stadium against William and Mary, winning by a margin of 9-7. Their first televised game came on October 29, 1966, when they beat Florida State 23-21. Their first ESPN game occurred on November 24, 1990, in a win against in-state rivals Virginia 38-13. The Hokies have gone 196-69-6. During the last 19 seasons, however, the Hokies have gone 105-18.

Many NFL players have played for the Hokies over the years at Lane Stadium. Some great offensive players include Logan Thomas, Tyrod Taylor, Michael Vick, Brandon Ore, David Wilson, Ryan Williams, Jarrett Boykin, Danny Coale, Josh Morgan, Eddie Royal, Jake Grove, Matt Lehr, and Derek Smith. Some defensive players include Jayron Hosley, Cody Grimm, Victor Harris, Brandon Flowers, Jimmy Williams, Darryl Tapp, DeAngelo Hall, Willie Pile, Rashad Carmichael, and Rick Razzano.

Sources
"Lane Stadium - Facts, Figures, Pictures and More of the Virginia Tech Hokies College Football Stadium." College Gridirons - Your Guide to College Football Stadiums. Accessed February 12, 2017. http://www.collegegridirons.com/acc/LaneStadium.htm.

"Lane Stadium/Worsham Field." Virginia Tech. Accessed February 12, 2017. https://www.vt.edu/about/buildings/lane-stadium-worsham-field.html.

"Lane Stadium/Worsham Field." Virginia Tech Athletics. Accessed February 12, 2017. http://www.hokiesports.com/football/lanestadium.html.

"Lane Stadium." Wikipedia, the Free Encyclopedia. Accessed February 12, 2017. https://en.wikipedia.org/wiki/Lane_Stadium.

Additional Information