Dr. Lathrop Russell Charter House
Introduction
Still standing where it was built in 1877, the Charter House stands proud next to many other historical buildings found in the small town of West Union, WV. Since its construction, it has been unaltered from its original Italianate style. It boasts a unique T-shaped floor plan that was enjoyed greatly by Dr. Lathrop Russell Charter and his family who lived in the house for many years and give it its namesake.
Images
The Lathrop Russell Charter House that stands at the highest point in the town of West Union, West Virginia.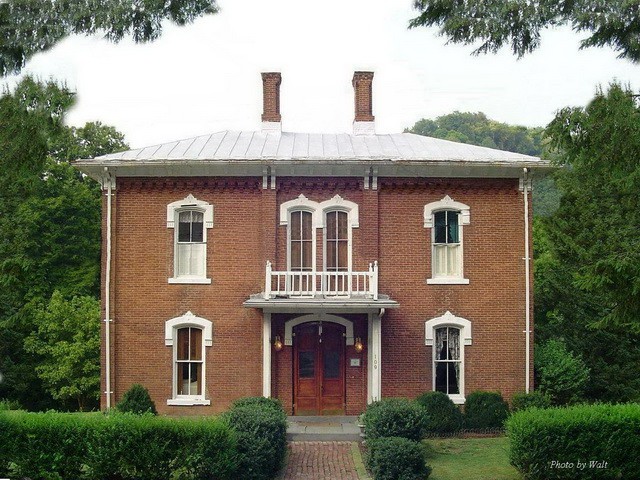 Headstone of Lathrop Russell Charter and his second wife Elizabeth Fraser at Blockhouse Hill Cemetery in West Union.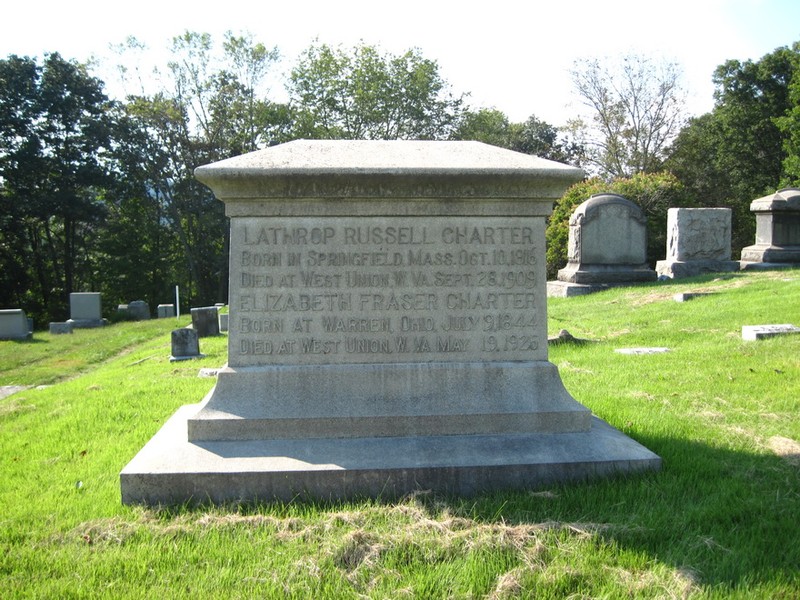 Backstory and Context
Named a National Historic Place in 1993, the Lathrop Russell Charter house is one of many historical homes in West Union, WV. Sitting across from the locally famous W. Scott Stuart Mansion, the Charter house looks plain in its shadow, but it provides plenty of history in the town.
Built in 1877 as a single-family home with a stone foundation and brick walls on the end of High Street, the Charter house remains unaltered from its original appearance when the Charter family lived in it. The house still boasts its tall and crowned windows as well as its two-story side porch. The house is also located on prominent grounds, sitting on the town of West Union's highest point. There is also a small house on the property which once housed the city's surveyor's office. The current residence uses it as a guest house.
Dr. Lathrop Russell Charter, the namesake of the house, was born to a wealthy family in 1816 in Massachusetts. After studying medicine and practicing it in New England, Charter decided to move to West Union, WV. He first lived in West Union alone to set up everything for his family. After a few months, he went back to New England to move his family to West Virginia. In total, it took him three trips to retrieve his family and their belongings.
While in West Union, Charter was a travel physician and surgeon. In addition, he also regularly attended the Methodist Episcopal Church, was the 3rd superintendent of schools, mayor, magistrate and an US Pension Examiner. During his life, he accomplished many things professional as well has being a husband and father. Between the two wives he had throughout his life, he fathered 13 children. In between the two wives, it is also said to believe that he fathered a child with an African American slave. On reports of this, it is only said that there was a female born in 1858. On the birth certificate, the date of birth as well as the mother's name were left blank. In addition, at first, the race of the child was listed as "W", for white. After a few years, the report was changed and "W" then became "CS" to stand for colored slave.
In 1909, Dr. Lathrop Russell Charter passed away. He is buried with his second wife at the Blockhouse Hill Cemetery in West Union. Even though he is gone and most of his legacies have moved away from the small town, his house where he made so many memories and where he did work to better the small community still remains. 
Sources
Lythgoe, Darrin. Lathrop Russell Charter. Doddridge County Roots. Accessed December 05, 2017. http://www.doddridgecountyroots.com/tng/getperson.php?personID=I52075&tree=dcr.
Doddridge County Historical Society. Facebook. Accessed Decemeber 5, 2017. https://www.facebook.com/doddridgecountyhistorical/. 
Sone, Stacy. National Register of Historic Places Inventory/Nomination Form. 1992.
Additional Information