Elephant Hotel
Introduction
Somers, New York, is regarded as the "cradle of the American circus," largely because of one man and his elephant. In roughly 1805, Hachaliah Bailey brought an elephant to the town. The animal drew so much attention that Bailey began touring with the elephant, which he named Old Bet. Because of the popularity of Old Bet, Bailey developed the idea of a traveling menagerie, which eventually led to the modern idea of a circus. Bailey built the hotel in honor of Old Bet between 1820 and 1825.
Images
Close-up of the elephant replica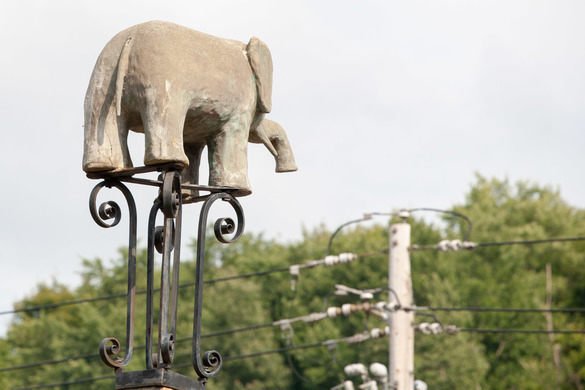 Backstory and Context
The Elephant Hotel in Somers, New York, was built between 1820 and 1825 by Hachaliah Bailey. Bailey purchased an elephant to perform farm work, but found that the animal attracted a lot of attention from his neighbors (it was only the second elephant brought to the United States). He named the elephant Old Bet and began touring with her, eventually adding other animals to his show.
Bailey's success with Old Bet and the other animals in his menagerie led others in the area to adopt similar career paths for themselves—touring the country with a variety of wild animals—and the idea of the modern circus was born. Hachaliah Bailey became the founder of the Bailey Circus, and for that reason, Somers is considered to be the birthplace of the American circus.
Bailey built the Elephant Hotel to serve as a meeting place for other menagerie owners as they traveled through the region. The property is emblazoned with the words "Elephant Hotel" across the building's edifice and a gilt replica of an elephant is mounted on a tall shaft in front of the hotel.
Old Bet died on one of Bailey's tours and is rumored to be buried in front of the hotel. The building now serves as the Somers Town Hall and is listed on the National Register of Historic Places.
Sources
History of the Elephant Hotel. Somers Historical Society. Accessed December 04, 2017. http://www.somershistoricalsoc.org/elephanthotel.html.


Additional Information