James Madison Building
Introduction
The process of erecting this building began in 1957 by L. Quincy Mumford, who was the Librarian of Congress. After congress made plans to fund the construction in 1960, it wasn't until five years later that they received approval of 75 million dollars for building. The foundation was laid in June of 1971, and superstructure was completed in 1976. The building did not officially open until May 28, 1980, twenty-three years after plans were made to construct the building
Images
Outside view of the James Madison Building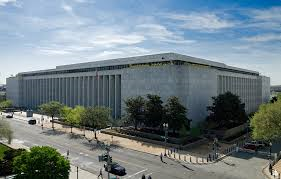 Backstory and Context
The building is named after our fourth president, James Madison. As a founding father of the United States, he composed drafts of the Constitution and the Bill of Rights. He oversaw the Louisiana Purchase as secretary of state for Thomas Jefferson. During Madison's presidency, he led the U.S. into the War of 1812.
The James Madison Building is the biggest library structure in the world with its impressive 1.5 million square feet of space. This makes it one of the three biggest building in Washington D.C. The building was designed under the architecture firm of Roscoe DeWitt, who was a Monuments Man during WWII. The statue of Madison that sits inside the building was sculpted by Walker K. Hancock, who was a fellow Monuments Man. The Monuments Men was a special forces group of American and British museum directors, curators, and art historians who preserved European artwork from being destroyed during the Nazi reign in Europe. Since this building was designed to help preserve our nations cultural treasures, it makes it fitting for these two men to be involved with the experience they had doing the same for Europe's culture.
There are many sights to see inside and out of the building. Over the main entrance is a four story bronze relief of falling books. Madison was a man of books which played a major role in how he formed important American documents and coming up with the idea for a Library of Congress. Inside you find the statue as mentioned above, Madison as a young man, holding a copy of the eighty third volume of Encyclopedie Methodique. At the end of the hall there are two medallions showing Madison in different ways. One being his profile, and the other showing him at work.
Long before Madison became president, he was born in Port Conway, Virginia on March 16, 1751. He was raised on the family plantation, but left for the College of New Jersey when he turned 18. After he graduated his interest peaked in what was about to become the Revolutionary War. He was given the rank of Colonel in the Orange County militia, but gave up his military role for a political one. In 1776, he represented Orange County in the Virginia Constitution Convention and organized a new state government not under British rule. During this time he met lifelong friend Thomas Jefferson, and grew farther into politics, essentially leading him to become the fourth President of the United States.
Sources
James Madison Memorial Building - Online Tours | Library of Congress. (n.d.). Retrieved December 04, 2017, from https://www.loc.gov/visit/tours/online-tours/james-madison-memorial-building/

Home | Library of Congress. (n.d.). Retrieved December 04, 2017, from https://www.loc.gov/
Additional Information