Old Clifton Jail
Introduction
The old Clifton Jail, a rock bastille blasted out of the side of the mountain was built in 1878. Many of the West's real badmen were incarcerated in it at one time or another. It is one of the State's most famous jails. The old stone jail was the only one in Clifton for several years. Over time, it housed many criminals, including Augustine Chacon, who was captured in 1895 after a gunfight in nearby Morenci. The jail was closed eleven years later in 1906, when a large flood nearly submerged the building. The water was so deep that the prisoners had to be pulled out by ropes through a small window high up in the roof. After the flood the jail was filled with mud and debris, and so it was abandoned. The building went unused until 1929, when Mayor Peter Riley of Clifton started the process of having it restored. Now it serves as another interesting reminder of law enforcement on the American frontier.
Images
The jail looks pretty much the same today as it did in 1881. It's located across the street and a short distance north of the old railroad depot on Highway 191 as it passes through Clifton.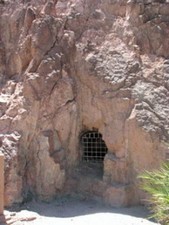 Backstory and Context
Before the building of the jail, evildoers were punished by being sentenced to work in the mines. Many of them escaped before they completed their sentence leaving the county. The Lesinskys decided to have a jail built to hold them.
The job of cutting the stone jail was given to Margarito Varela, a stone worker. Varela worked away at the face of the cliff with pick and drill and blasting powder. A small room was made to hold the more dangerous criminals. A larger one, 8 feet wide and 20 feet long was built for those whose offenses which were of a milder nature. Both of the cells were fitted with massive iron bars which were 2 inches wide and 3/4 of an inch thick. The doors were of the same material, pivoting on two-inch solid iron rods. The two windows of the jail were 10 feet above the floor. Although it didn't look like much, it was absolutely escape-proof. It was said that no men ever escaped from the jail.