First & Franklin Presbyterian Church
Introduction
The spire of the First & Franklin Presbyterian Church, the tallest in Baltimore, towers over the northern part of the city. The church itself (on neither First nor Franklin streets) was renamed after the historic First Presbyterian merged with the nearby Franklin Presbyterian in 1973. The church building, begun in 1854 (the spire was finished in 1874), is one of several notable Gothic Revival churches in north-central Baltimore. It was listed in the National Register of Historic Places in 1973.
Images
The spire of the First & Franklin Presbyterian Church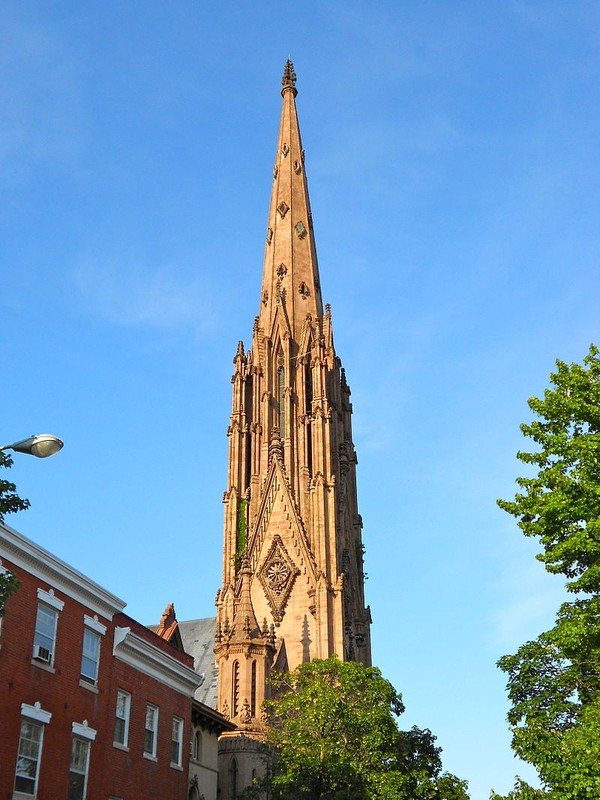 The Gothic Revival church was added to the National Register of Historic Places in 1973.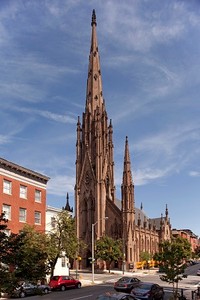 The addition of the central spire required additional support inside the church.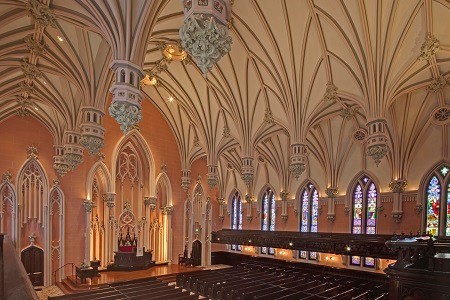 Backstory and Context
The First Presbyterian Church was originally founded in 1761 by dissenting Presbyterians fleeing the French and Indian War on the Pennsylvania frontier. The church's first Minister, the Rev. Dr. Patrick Allison, was a personal friend of George Washington, and the church supported the Revolutionary cause when the colonies broke from Great Britain.

The church moved uptown to its new building in 1859. To support the weight of the huge central spire (completed in 1874), the architects designed massive stone piers with cast-iron columnns at their centers. These columnns were a "marvel of engineering," as one historian wrote. A contemporary observer described them as "the most massive and scientifically arranged cast iron framework ever done in this country or in any other."

Adjoining the church is a building known as the Manse or the Backus House; it was the residence of the Rev. John C. Backus, who organized the relocation of the church. In 1861, Backus was instrumental in the passage of the controversial Gardiner Spring Resolutions, which, in the patriotic fervor surrounding the opening of the Civil War, required pastors to swear allegiance to the federal government.
Sources
"Our History," First & Franklin Presbyterian Church, http://www.firstfranklin.org/index.php/about/history/, accessed Decc 4, 2017.

Lois Zanow, Sally Johnston, Monuments to Heaven: Baltimore's Historic Houses of Worship (Bloomington, IN: AuthorHouse, 2011), 87.

Bill Wierzalis, John P. Koontz, Mount Vernon Place (Mount Pleasant, SC: Arcadia Publishing, 2006), 40.
Additional Information