Oak Hill Cemetery
Introduction
Oak Hill Cemetery is located just east of Olivet Cemetery on Paskell Hill Drive. Unmarked graves have been discovered dating back to 1800, highlighting its contemporary establishment with Olivet Cemetery. Oak Hill occupies just over two acres and was utilized by African American families during the era of segregation.
Images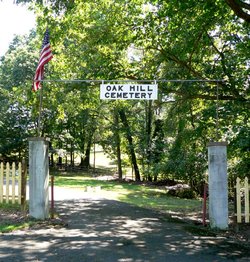 Backstory and Context
The small cemetery retains huge virgin oak trees which predate European colonization of the area. The cemetery was officially deeded in 1903 with specifications of separation from Olivet by Paskell Hill Drive. After it was deeded, a sign for the exit gateway was carved by Ed Cole, whose family is interred in the graveyard. 
In the 1930s members of the board of directors fenced the cemetery with a rustic wooden plank fence. Instrumental in the construction of the border were William G Washington, Burns Smith, Orpheus Shook, G Peck, and Dabney Scott. With the help of Allen Crites of Petersburg, the fence has since been updated.
Veteran's Day is still observed with locals such as Carlton Hilliard, Conway Turner, and Jim Cole volunteering to place American flags on the graves of veterans in the cemetery. Even after Olivet Cemetery was integrated in 1987, Oak Hill has continued to be utilized by members of the Black community. 
Additional Information