Friendship Cemetery
Introduction
Located on Fourth Street South just south of the City of Columbus, Mississippi, Friendship Cemetery is situated on a bluff overlooking the Tombigbee River. This historic burial ground was founded May 30, 1849, on a five-acre parcel of land owned by the Union Lodge No 35 of the Independent Order of Odd Fellows. The cemetery contained over 22,000 graves in 2015 and had expanded to include 70 acres of land.
Images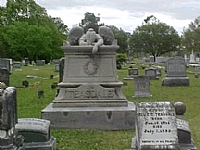 Confederate Graves inside Friendship Cemetery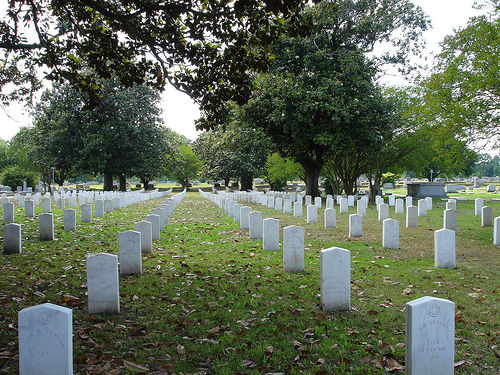 The monument to an unknown Confederate soldier located within Friendship Cemetery
The monument to the Confederate dead within the cemetery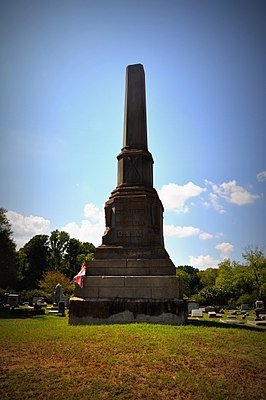 Backstory and Context
Friendship Cemetery is a well known cemetery located in Columbus, Mississippi. It was founded in 1849 by the Independent Order of Odd Fellows. Established on a 5 acre plot of land, the original cemetery was laid out in three interlocking circles, representing the emblem of the Odd Fellows. The City of Columbus acquired the cemetery in 1957, after the grounds had increased to 35 acres. In 1980, the cemetery was listed on the National Register of Historic Places and was designated a Mississippi Landmark in 1989.

Friendship Cemetery has been a popular burial ground in Columbus for many years and features many historic graves. There are four Confederate generals buried in the cemetery, as well as more than 2000 Confederate soldiers. The cemetery also contains the graves of famous authors, legislators, and veterans from every war the United States has been involved in. There are also graves of past citizens of Columbus dating back to the cemetery's founding. In 2015, the cemetery was said to contain 22,000 graves stretching over 70 acres.

Friendship Cemetery is the location of the first Decoration Day, en event that was the inspiration for Memorial Day later on. Decoration Day was the result of a group of women in Columbus, Mississippi who met weekly for a sewing club. At the meeting on April 26, 1866, the women decided to travel to Friendship Cemetery and decorate the graves of the Confederate soldiers who were laid to rest there. When the women had decorated all the Confederate graves, they proceeded to decorate the Union graves as well, something that was unheard of at the time. The women's choice decorate the graves of men who had been their enemies inspired many across the United States, and news of their act of respect reached far and wide. Today, Columbus is recognized as the first place in the United States where Union and Confederate soldiers were honored side by side. This act, which is known as Decoration Day, was the original inspiration for Memorial Day, a national holiday that is celebrated today.
Sources
1. Friendship Cemetery. Visit Columbus MS. Accessed August 01, 2019. http://www.visitcolumbusms.org/places-to-visit/friendship-cemetery-c-1849/.

2. Friendship Cemetery. Wikipedia. Accessed August 01, 2019. https://en.wikipedia.org/wiki/Friendship_Cemetery.

3. Friendship Cemetery. American Battlefield Trust. Accessed August 01, 2019. https://www.battlefields.org/visit/heritage-sites/friendship-cemetery.

4. Twelve Gables: How four women and a simple southern home unified a nation. Alabama. Accessed August 01, 2019. https://www.al.com/sponsored/2016/06/twelve_gables_how_four_women_a.html.

5. http://www.thecityofcolumnbusms.org/primary.asp?t=9&p=68
Additional Information