Three Sisters Springs
Introduction
A natural inlet on the east side of Kings Bay. They contain three spring areas that contain many sand boils and vents. The land surrounding the springs is privately owned property and there is no landfall or boat tie-up permitted; the only access to the springs is blocked by concrete posts to stop the boats from entering. Only kayaks, canoes, and swimmers are permitted in the area. Three Sisters Springs is also home to many manatees and is one of the Crystal River's sanctuaries
Images
This is actually a picture that i took when i went in the beginning of June. It was an unforgettable moment to be able to experience such a beautiful spring!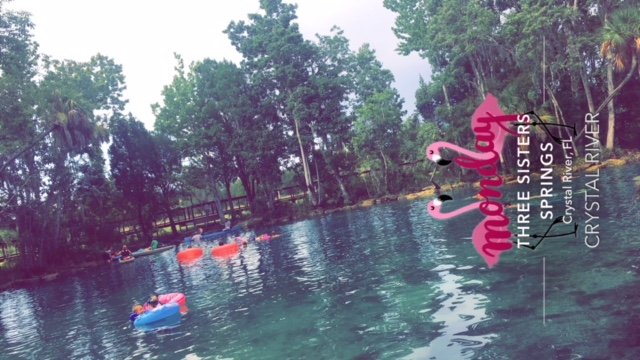 Backstory and Context
The amazing Three Sisters springs brings such joy to so many tourists that visit it. Located on the Crystal River, in Citrus County, they are in a natural inlet on the East side of Kings Bay. The 3 springs contain sand boils and vents. The land that surrounds the springs is property owned, and they don't allow people to walk on the rocks or land and or tie-up kayaks or canoes on them due to erosion. It can also be accessed by land. Three Sisters Spring is a historical site of significance by being the largest spring on the St. Johns River, and Jacques Cousteau filmed his "Forgotten Mermaids" episode there in 1971. It overall focused on the importance of the manatees which then led to the state's decision to purchase the land. A Tale of two springs is exactly related to the Three Sisters Spring with the same owner. The U.S. Fish and Wildlife service has great information and sources to the park. The Three Sister's springs was actually documented in a 1944 aerial photography prior to its development.
Manatee season falls through November 15th through March 31st. My experience when I visited the Three Sisters Spring was phenomenal. It took about 10 minutes kayaking to reach the actual springs. It is very fun during the ride there because there are normally plenty of people on little boats, paddle boards, kayaking, canoeing, diving, etc. It's pretty neat how I got to access the actual spring that can only be entered through swimming, diving, canoeing, or kayaking. Another huge thing about getting to experience such fun activities is getting to interact or see wild manatees roam all around you. They normally roam all year long, but they tend to stay in the springs in high numbers from about mid-November till about late March
A little bit more about the spring is that it contains 3 main spring areas, but only about 20 spring vents make up the entire spring group. In March of 1995 the flow rate of water from the vents, range between 15-20 million gallons of water a day. It amazes me each and every time that I get to think about how lucky I was to experience this wonderful family friendly park. It sure is worth every drop of your time and it will leave you with such unforgettable memories.
.
Sources
Threesistersspringsvisitor. Accessed November 30, 2017. http://www.threesistersspringsvisitor.org/.

fws.gov/northflorida/manatee/manatees. April 12, 2017. Accessed November 30, 2017. https://www.fws.gov/northflorida/manatee/manatees.htm.

History, Acquisition and Current Partnership. Accessed November 30, 2017. https://www.fws.gov/uploadedFiles/Springs.pdf.