Spring Hammock Preserve
Introduction
Once known as "Devils Bend", the Spring Hammock Preserve is a Seminole County land site located in Longwood, Florida. Providing several natural environmental benefits such as the natural filtration systems, habitats and resources to the environment this site is also host to several recreational activities and facilities including picnics, board walks, pavilions and parking. Also located on the preserve is the Seminole County School Board's Environmental Studies Center, which annually provides roughly 10,000 students with an outdoor learning destination!
Images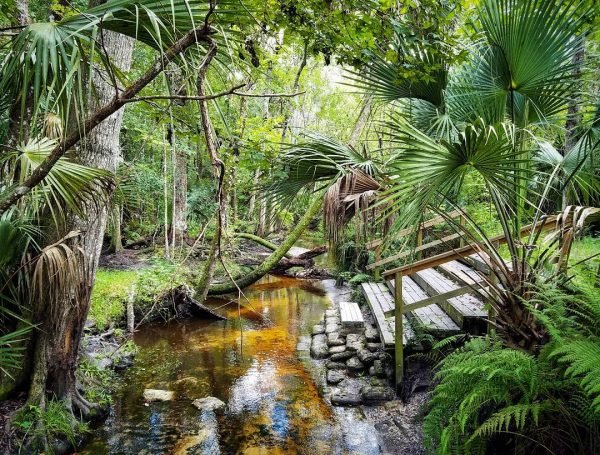 Backstory and Context
The preserve features an abundance of resources within its 1500-acre natural area. According to the the land mgmt. plan of 2010 the "preserve is part of an elongated depression that extends west approx. 5 miles from Lake Jesup, central Florida's largest lake, along the Soldiers Creek drainage basin. Once known as devils bend, the preserve was home to Indians around 1830-1850 and was much different than the area we know to this day.

Much development since has taken place including commercial, industrial, agricultural, residential and recreational. However most of the preserve remains in a natural state and just recently year the newly redeveloped $7.5 million Soldiers Creek park was opened to the public the end of May 2017. It includes six new softball fields, bullpens, batting cages, lights, a playground and a 3,500 square-foot bldg. for offices, concession sales and in which communities can come together and create opportunities for growth.

The preserve is home to a variety of plants, animals and wildlife communities including educational and cultural significance as well. Based on the land mgmt. plan some of the wildlife and plants include the bald eagle, eastern indigo snake, gopher tortoise, American alligator...etc.Two archaeological sites have been recorded within the preserve as well as the Seminole County School Board's Environmental Studies Center which provides multi-disciplinary environmental education to more than 10,000 students annually.

In 1927, the area known as Big was donated to Seminole County after the death of land owner and state senator M.O. Overstreet. The "Senator", a 3,500 year old tree located in Big Tree Park is named in honor/remembrance of his legacy.

In 1980, the preserve was designated as a priority acquisition project of the dept. of Natural Resources Conservation and Recreational Lands Program(CARL).

In 1990 and 2000 the residents of Seminole County passed voter referendums est. the county's natural lands and trail programs. This provided approx. $45million in funding to purchase environmentally significantly lands and the design, acquisition and development of a countywide trail system. This would be later known as the "Cross Seminole Trail". The Cross Seminole Trail is part of a larger county wide trail system and is a great opportunity for any visitors or locals to experience the environment in a natural setting. The County has provided multiple uses for recreation on the property including an environmental education program, unpaved hiking trails, a paved trail, sports fields, mountain bike trail, and community park with restrooms, pavilion, playground and boardwalk. The Preserve contains two existing county-owned parks: Big Tree Park and Soldier's Creek Park. These parks provide trails, boardwalks, picnicking facilities and fishing access for public useAnother natural feature, which increases the hammock's uniqueness, is the presence of flowing artesian wells. The wells, creeks, and Lake Jesup create the Spring Hammock Preserves aesthetic value, visual interests, and opportunities for positive experiences.

Sources
Spring Hammock Preserve Land Management Plan 2010. Spring Hammock Preserve - Seminole County. 12/15/2010. Accessed 11/30/2017. https://www.google.com/url?sa=t&rct=j&q=&esrc=s&source=web&cd=1&ved=0ahUKEwjzw52OyebXAhVBKiYKHZBcBGIQFggpMAA&url=http%3A%2F%2Fwww.seminolecountyfl.gov%2Fcore%2Ffileparse.php%2F3187%2Furlt%2Fshp-landmanagementplan.pdf&usg=AOvVaw0vW0b0oONLMtmalp2YRL4a.

Comas, Martin E. Seminole County hopes upgrades to Soldiers Creek Park will be financial home run. Orlando Sentinel. 01/16/2016. http://www.orlandosentinel.com/news/seminole/os-seminole-county-soldier-creek-softball-20160116-story.html.


Additional Information