Vernon Alley Historical Marker
Introduction
This historical marker honors musician Vernon Alley, a jazz pioneer who came to San Francisco as a young boy. Alley played with a number of legendary musicians like Dizzy Gillespie, Billie Holiday, and Ella Fitzgerald. Despite discrimination, Alley managed became a household name within the San Francisco community at midcentury. This marker was placed by fellow musicians and LNR Partners in 2003 to commemorate Vernon's impact on Jazz and African American history.
Images
Vernon Alley Marker in an alley on Delancey St. San Francisco, California.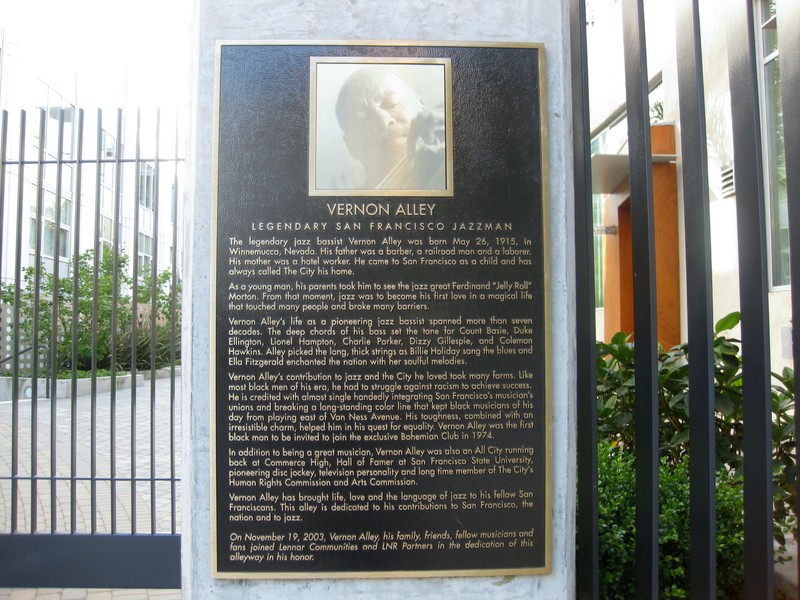 Alley gate that contains the Vernon Alley marker.
Backstory and Context
Born on May 26, 1915, in Winnemuca, Nevada, Vernon Alley was raised by his mother (hotel worker) and father (barber). When he moved into the San Fransisco area, he quickly discovered his passion for Jazz music after his parents took him to a local show featuring Ferdinand "Jelly Roll" Morton, a prominent Jazz pianist. While Alley's 70+ years in the Jazz business, he played bass for many notable musicians. such as Charlie Parker, Count Basie, Dizzy Gillespie, Billie Holiday and Ella Fitzgerald.

Vernon Alley was the first Black man to join the Bohemian Club, a private club in San Francisco, in 1974. While Vernon was great at playing the bass, he was also recognized for his athletic potential in football. He was an All-City running back at Commerce High School, as well as a Hall of Famer at San Francisco State University. Not only that, Vernon also took part in many committees and commissions around the area, including the Art Commission and the Human Rights Commission. The Vernon Alley marker place built in 2003, and he died on October 3, 2004.

Sources
Ruppenstein, Andrew. HMdb.org. The Historical Marker Database. July 21, 2009. Accessed November 26, 2017. https://www.hmdb.org/marker.asp?marker=20985.


Additional Information