Simon Eggertsen House
Introduction
The home of Simon Eggerstsen, Sr., was constructed in 1876. Eggertsen was a Danish immigrant who came to Utah in 1857 as part of the handcart migration. Eggertsen eventually became wealthy as a farmer and freighter, and at the time of its construction, his home was one of Provo's largest. The home is listed on the National Register of Historic Places.
Images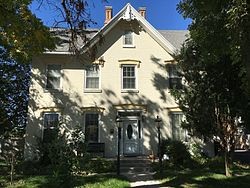 Backstory and Context
Simon Eggertsen, Sr., a Danish immigrant, arrived in the United States in 1857, the same year that he and hundreds of other Mormons migrated to Utah, their belongings piled onto handcarts. Known as the "handcart pioneers," many of these devout Mormons traveled more than 1,000 miles while pulling two-wheeled carts.
Eggertsen married Johanne Thomson in 1858, shortly after his arrival in Salt Lake City. The same year, he was involved in the "Utah War," a bloodless conflict between federal authorities and Mormons in Utah. During the conflict, Brigham Young ordered the evacuation of many of Salt Lake City's residents to Provo, and Johanne Eggertsen was among them. Eventually her husband followed and the couple settled there.
The family lived in a one-room log house for a number of years. During that time, Eggertsen became a successful farmer and businessman and eventually built the 2.5 story brick house that bears his name. Eggertsen constructed the home with help from several of his Danish friends on land for which he traded a coat and vest upon his arrival in Provo.
The Eggertsen home was added to the National Register of Historic Places in 1977.
Sources
Accessed November 16, 2017. https://npgallery.nps.gov/pdfhost/docs/NRHP/Text/77001321.pdf.


Additional Information