Brandeis–Millard House
Introduction
The Brandeis–Millard House, built in 1904 and located at 500 South 38th Street in the Gold Coast Historic District is an early example of the Jacobethan style of architecture. Successful department store owners Arthur and Zerlina Brandeis had the house built, but it's mostly known for its second resident, Senator Jessie H. Millard (and his dauther) who moved in 1909. Among many of his pursuits, Millard served as city mayor, a U.S. Senator, president of the Omaha National Bank, and on the board for the Union Pacific Railroad.
Images
By PhotoMary - Own work, CC BY-SA 3.0, https://commons.wikimedia.org/w/index.php?curid=16992763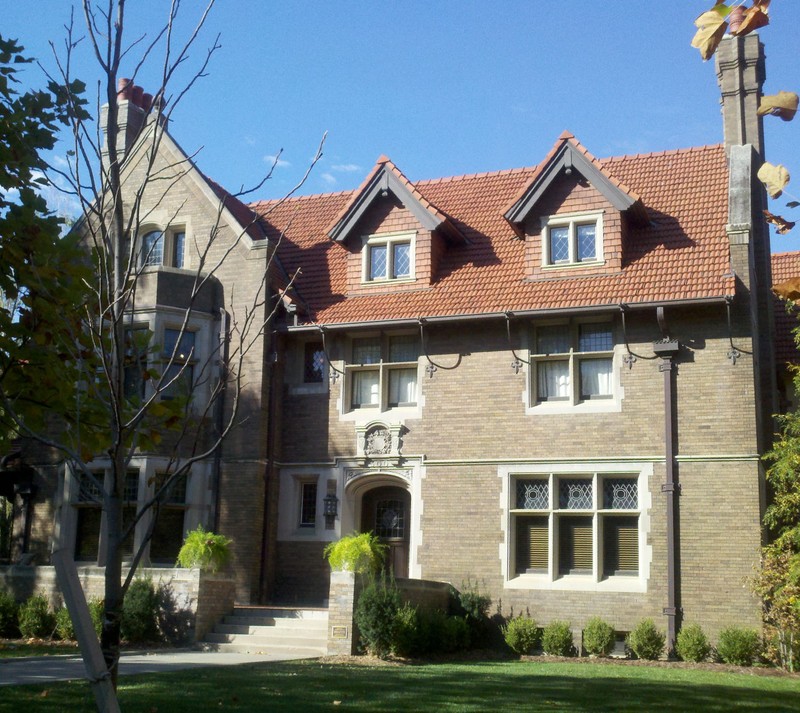 Backstory and Context
The house, built in 1904 for Arthur and Zerlina Brandeis, members of the family that operated downtown Omaha's J. L. Brandeis & Sons Department Store, owes most of its historical value to its second resident, Senator Joseph H. Millard, who moved into the residence with his daughter in 1909.
Joseph H. Millard (1836-1922), born in Hamilton, Ontario, moved to Omaha in 1856, only two years after the town's official founding (the Omaha Indians still owned that land as of 1853. The passage of the 1854 Kansas-Nebraska Act and an agreement with the Omaha Indians in the same year allowed for the creation of modern-day Omaha). Millard first became involved with a land company, and then took that financial success and invested it into banking ventures. However, his first banking interests led him away from Omaha; he opened a bank in Virginia City, Montana, in 1864. It wasn't until 1866 that he returned to Omaha and became the president of the Omaha National Bank.
The arrival of the Trans-Continental Railroad, with Omaha serving as a hub, along with broader aspects of U.S. history aided in helping Omaha enjoy a rapid population and economic boom from the Civil War through the 1880s; Millard benefitted from that growth. In addition to his banking prowess, he was an incorporator of the Omaha and Northwest Railroad and the Chicago, St. Paul, Minneapolis, and Omaha Railroad; served with a group that financed the construction of the Millard Hotel; and organized the Omaha and Council Bluffs Street Railway and Bridge Company. Also, for fifteen years, he directed the Union Pacific Railroad Company including six years in which he served as its Government director.
Millard's familiarity with the government can also be attributed to his brief role as Omaha's Mayor (1871-72) and as a U.S. Senator from 1901-1907, where he served as Chairman of the Inter-Ocean Committee. According to a 1922 Omaha Morning World-Herald article, Millard was highly instrumental in the decision to use the lock-level type of canal building used for the Panama Canal.
Millard also helped secure a $400,000 appropriation for the rebuilding of Fort Omaha and the establishment there of the chief training station for the Army Signal Corps
After leaving the Senate, his focus again returned to private business ventures. As well, he purchased the house at 500 South 38th Street where he and his daughter, Jessie, resided for the last thirteen years of his life. Millard passed away in 1922 after suffering a stroke during a board meeting of the Nebraska Power Company. Jessie remained in the house until 1950.
Sources
Johannsen, Robert W. "The Kansas-Nebraska Act and the Pacific Northwest Frontier." Pacific Historical Review 22, no. 2 (1953): 129-141


Kidd, Daniel. "Nomination Form: Bradeis-Millard House." National Register of Historic Places. October 28, 1980. https://npgallery.nps.gov/GetAsset/38718466-430b-45f6-b877-4b1c520a4358


Larsen, Lawrence H. and Cottrell, Barbara J. The Gate City: A History of Omaha. Conclusion by Harl A. Dalstrom. Lincoln: University of Nebraska Press, 1997.


Leighton, George R. Five Cities: The Story of Their Youth and Old Age. New York: Harper and Brothers Publishers, 1939.


Additional Information