Gillette Castle State Park (Seventh Sister)
Introduction
Overlooking the Connecticut River, this castle, named Seventh Sister after the hills in the area, was designed as a home for William Gillette, an American actor best-known for his stage portrayals of Sherlock Holmes. He lived here from 1919 until 1937. In his will, Gillette implored his executors to keep the castle in good hands and not allow it to pass to "some blithering saphead who had no conception of where he is or with what surrounded." The State of Connecticut purchased the property in 1943, and it is now Gillette Castle State Park, attracting hundreds of thousands of visitors every year.
Images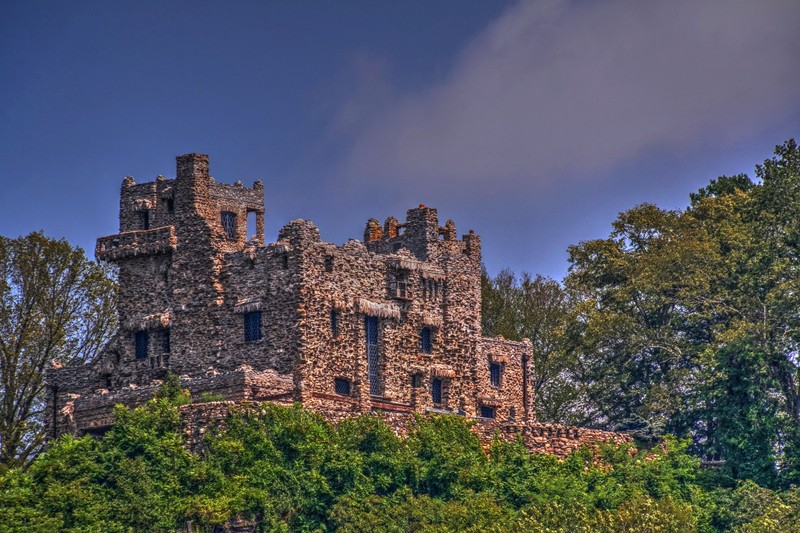 Interior of the castle, c. 1985 (Mary McCahon, NPS)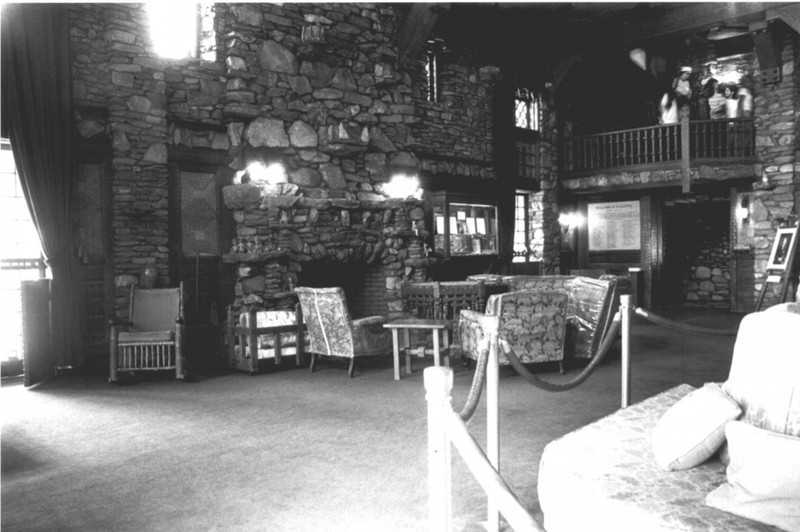 Backstory and Context
William Hooker Gillette (1853-1937) was a notable actor and playwright. He had a compelling and charismatic onstage presence and gained fame for his understated portrayal of Sherlock Holmes. Between 1899 and 1929, he played Sherlock Holmes more than 1300 times, proving influential in shaping the detective's image in the public imagination. We owe the familiarity of Holmes' deerstalker cap and pipe to Gillette rather than to author Sir Arthur Conan Doyle. In addition to acting, Gillette wrote and directed multiple plays, such as The Professor, which debuted to popular acclaim in 1880.

Gillette began work on Seventh Sister with an eye toward creating a retirement estate for himself. Between 1914 to 1919, he took an active role in designing it and supervising its construction. The castle is made of fieldstone and boasts 24 rooms, set on over 100 acres along the shore of the Connecticut River. Its asymmetrical layout and imposing presence evoke the picturesque Gothic ruins of Europe.

Inside, the castle features a more Arts and Crafts aesthetic with customized woodwork, furniture, and lighting fixtures--Gillette had an unwavering attention to detail that led him to create numerous personalized touches. The castle has 47 doors in total, and no two are exactly alike. There's a small secret room with a fireplace. A series of mirrors allowed Gillette to spy on guests. He had a miniature train line installed on the estate. He also had an impressive collection of cat toys, meant to keep his 17 cats happy. According to architect David H. Barkin, "There's nothing typical about this building. Everything about it is unique" (quoted in the NYT).
Sources
Da Silva Richmond, Michelle. "William Gillette: King Of His Castle. " Hartford Courant, August 20, 1998. Accessed November 12, 2017. http://articles.courant.com/1998-08-20/entertainment/9808180089_1_william-gillette-connecticut-river....

"Gillette Castle State Park: Overview." State of Connecticut. Accessed November 12, 2017. http://www.ct.gov/deep/cwp/view.asp?a=2716&q=325204&deepNav_GID=1650%20.

Leff, David. "William Gillette's Ghost Revived At His Castle." Hartford Courant, November 12, 2015. http://www.courant.com/opinion/op-ed/hc-op-leff-gillette-castle-1112-20151111-story.html.

McCahon, Mary. "National Register of Historic Places Inventory Nomination Form: Seventh Sister (Gillette Castle)." U.S. Dept. of the Interior, NPS. January 1986. Accessed November 12, 2017. https://npgallery.nps.gov/GetAsset/3f1d424e-684f-4eaf-b04e-6b2537a53eb1.

Ofgang, Erik. "Gillette Castle, Once Home of 'Sherlock Holmes', Opens Season of Tours." Connecticut Magazine. November 26, 2014. http://www.connecticutmag.com/history/gillette-castle-once-home-of-sherlock-holmes-opens-season-of/a....

Woodside, Christine. "A Castle Restored, Including the Quirks." New York Times, June 02, 2002. http://www.nytimes.com/2002/06/02/nyregion/a-castle-restored-including-the-quirks.html.



Additional Information