Aquila Court Building (Magnolia Hotel)
Introduction
Built in 1923, the Aquila Court Building (Magnolia Hotel) resembled early twentieth-century U.S. urban life. Omaha's population had expanded substantially from 1900-1920, both from immigrants and domestic migrants. The U-Shaped building and its Italian-style courtyard plays on both its European and Chicago influence, and it functionally served to provide respite from the urban ills found outside the building's walls. The building was designed by the Chicago architectural team of Holabird and Roach, who were significant in the entire Chicago-school movement that dominated the early part of the 20th century.
Images
By Ammodramus - Own work, CC0, https://commons.wikimedia.org/w/index.php?curid=27397567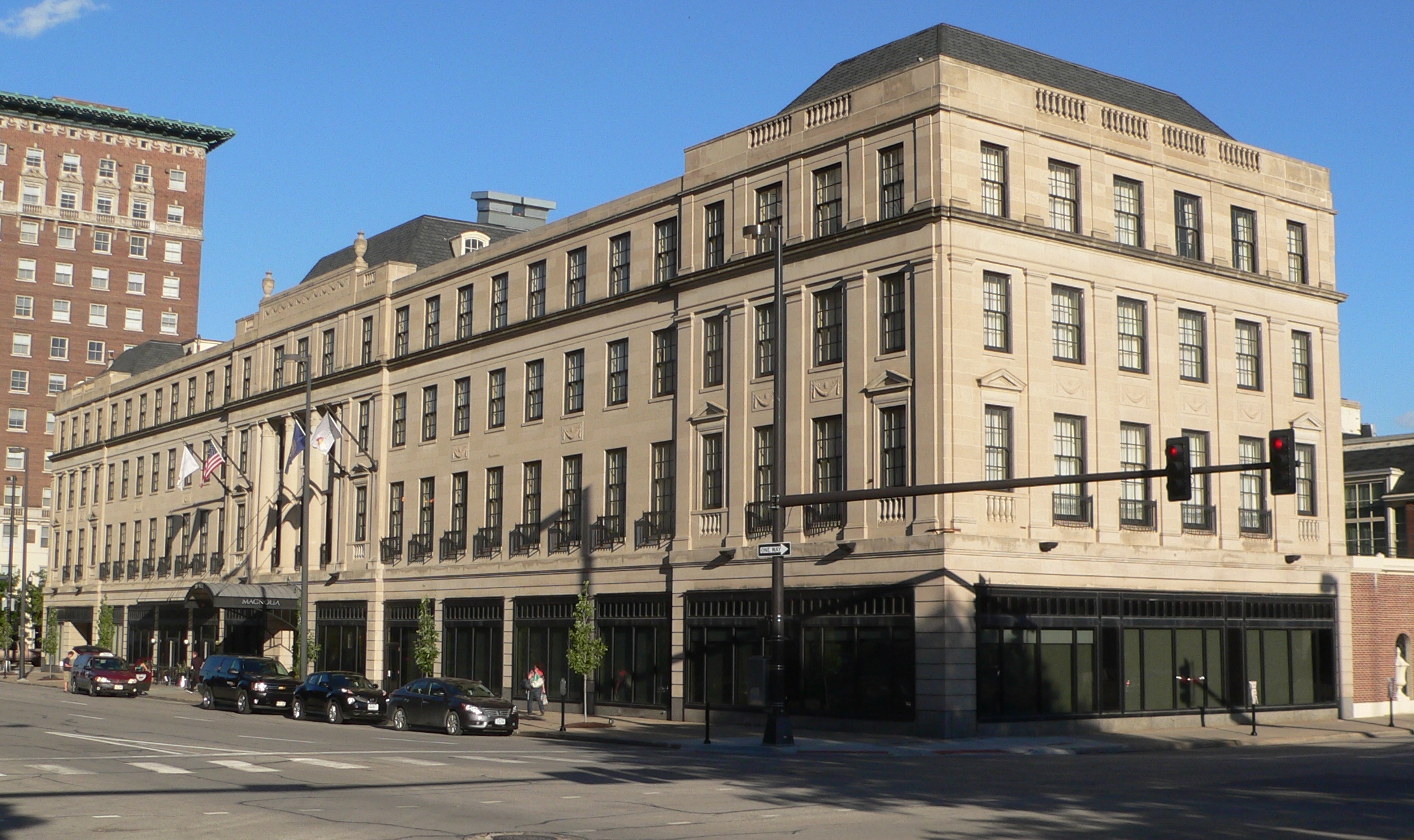 Backstory and Context
After a slight population decline during the late nineteenth century, nearly 80,000 new residents arrived in Omaha from 1900-1920, many of whom were immigrants to the United States. In fact, by the 1920s, Omaha saw its peak of ethnic diversity (after World War I, and the resultant immigration laws, U.S. immigration growth slowed considerably). The Aquila Court Building represents that influx of people. Constructed in 1923 by two Chicago capitalists, Chester and Raymond Cook, the structure's design sought to mimic the Bargello, a palace found in Florence, Italy as an homage to Chester's grandfather Aquila.
The U-Shaped building includes an inner courtyard filled with Italian-style features, as well as amenities intended to provide an escape from the urban life, which Raymond had seen in Chicago. For instance, a gold-fish pool, small moving waterways and stone paths, as well as numerous plants and flowers filled the courtyard. In 1927, modernized fountains and an ornate waterwheel replaced the tiny pools and streams.

The building also enjoys ties to a rich architectural history as it was designed by the Holabird and Roach architectural firm. The Chicago firm helped forge the "Chicago School" movement by developing many of the world's first skyscrapers, beginning with their time apprenticing for the seminal architect William Le Baron Jenney. The two of them built numerous skyscrapers and modern buildings in Chicago and throughout the U.S.. The primary attribute of the new towers (of that era) involved the reliance on steel skeletons and fireproof terra cotta exteriors, features somewhat inspired by the Great Chicago Fire.

The building initially contained apartments and businesses, but it has undergone several major renovations since the 1920s. In 1972, marble slabs and fountains replaced many of the gardens. In 1996, the building enjoyed a transformation into a hotel, owned by Sheraton. In 2006, the Magnolia Hotel purchased the building, and it continues to operate the facility.
Sources
"Holabird and Roche." Chicago Architecture Foundation. Accessed November 9, 2017. http://www.architecture.org/architecture-chicago/visual-dictionary/entry/holabird-and-roche/

Kolberg, Persies. "Nomination Form: Aquila Court Building." National Register of Historic Places. https://npgallery.nps.gov/GetAsset/48ac9ed9-0ebe-4205-b940-f2bcd320e794

Larsen, Lawrence H. and Barbara J. Cottrell, Gate City: A History of Omaha. Lincoln: University of Nebraska Press, 1997.

Nebraska State Historical Society. https://history.nebraska.gov/





Additional Information