Max Steinke Barn
Introduction
Round barns were adopted by a number of farmers in the late 1800s and early 1900s. They were never as widely used as the traditional rectangular barns, and a number were demolished over the years. In Washington, a few still remain, such as the Max Steinke barn. The barn was built in approximately 1916 and is listed on the National Register of Historic Places.
Images
The Max Steinke Barn is one of the best-preserved round barns in Washington.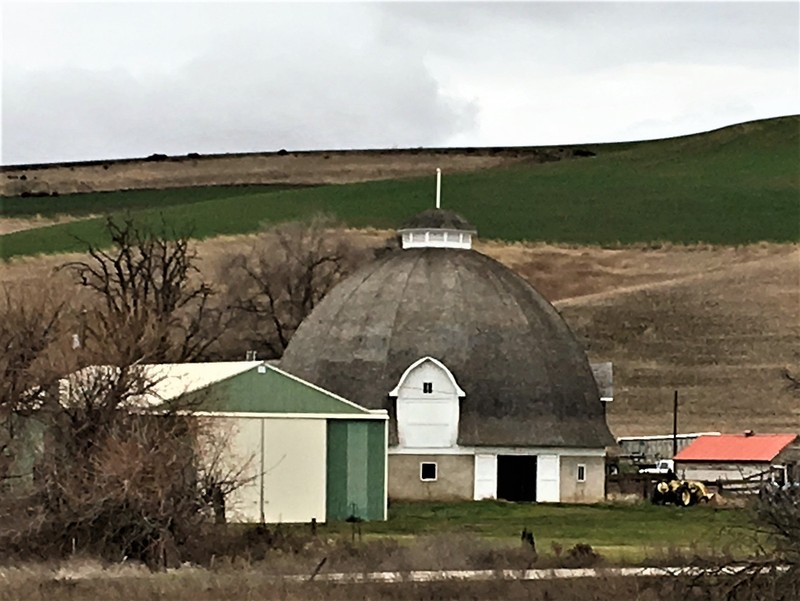 Backstory and Context
The Max Steinke barn is one of several extant round barns in Washington state. Though the idea was not a new one (George Washington built his own round barn at Mount Vernon), farmers in the West began building round barns in the late 1800s and early 1900s. Round barns were seen as more efficient, since a greater volume could be stored in the space with fewer materials used. It was also believed that livestock could be moved in a round barn more easily than in a building with corners and that round buildings would be better able to resist strong winds. While most farmers continued to use the traditional rectangular barns, there were a number of round barns constructed in Washington. Of those, only a few remain, and the Steinke barn is one of the best examples of the style.
Max Steinke was the son of a German immigrant, Theodore Steinke, who settled in Minnesota before acquiring land in the West. Among the land he purchased was the land in St. John on which the barn now stands. The elder Steinke apparently lived on the land and farmed it for a number of years before leasing it to his son, Max. Max enlarged the residence, and built several other structures on the property, including a wind mill, a milk house, and a granary. He began building the round barn in 1915-1916, tearing down an older, rectangular barn and used some of the wood in construction of the new building. 
Steinke left the farm in 1919, became involved in other business ventures, and never again farmed the place. The farm remained in the Steinke family, however, and although many of the buildings Max built look different today, the barn remains largely unchanged
Sources
Holstein, Craig. "Max Steinke Barn." National Park Service - National Register of Historic Places Nomination Form. Accessed November 06, 2017. https://npgallery.nps.gov/NRHP/GetAsset/f2facd7e-6dab-47ba-89f1-07e7c71a1dbe?branding=NRHP.
Additional Information