William Swain House
Introduction
William Swain is arguably one of Pullman's most influential citizens. He was one of the area's leading architects and designed some of Pullman's most important buildings. He was also involved in politics, and the home was built in 1917, the same year that Swain was elected mayor of Pullman. The home is listed on the National Register of Historic Places.
Images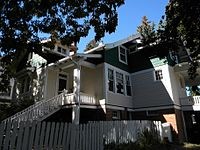 Backstory and Context
Born in England, William Swain moved to the United States at the age of eighteen, and eventually made his way to Pullman in 1891. Swain quickly established himself as the "pioneer architect" for his work on some of the most important buildings in the growing town. Among the Swain-designed buildings that still stand in Pullman are the Greystone Church and the Flatiron Building. Numerous other Swain buildings did not survive the passage of time.

When Swain arrived in Pullman, the town was bustling and optimistic about its future. The town was recovering from a devastating fire and in 1891, the state decided to build Washington's first land-grant college in Pullman, so there was a flurry of activity in Pullman when Swain arrived.

The home that Swain built for himself is located on Sunnyside Hill. It was built in the Craftsman style and was one of the first and largest of that style to be built in the neighborhood. Swain chose an excellent spot that overlooks much of the city that he helped to build. From his porch, Swain could see some of the downtown buildings that he designed. He lived in the home with his wife, Penelope, until her death in 1920.
Sources
Accessed November 04, 2017. https://npgallery.nps.gov/pdfhost/docs/NRHP/Text/94000801.pdf.