Saratoga Park War Memorial
Introduction
This statue was commissioned in 1920 by the Citizen's Memorial Committee to honour those from the neighbourhood who died in combat during World War I. The statue honours 105 men who died overseas, and one woman who died at a local recruitment station (Lillian Patterson). The statue depicts a woman holding a shield in one hand and a palm frond in the other to represent war and peace. The statue is lined on either side by plaques containing an honour roll casualties. The entire statue is mounted on a rectangular concrete base.
Images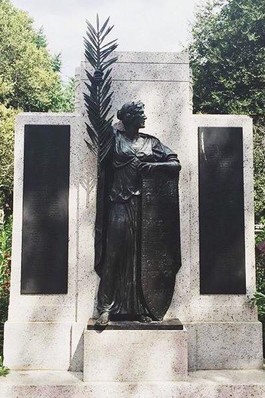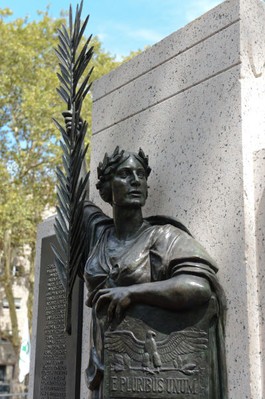 Backstory and Context
The memorial was made by James Novelli, an Italian-American sculptor who is also known for creating other war memorials. 
The entire statue and plaques were originally mounted on rectangular granite stones, however in 1970 the original plaque honour rolls were stolen, and the statue itself stolen in 2000. In 2013 the City funded a project to recreate the stolen pieces, and were put up on a concrete foundation and unveiled in 2014. The project cost $350,000.
Sources
Saratoga Park War Memorial." New York City Department of Parks & Recreation, NYC Parks, www.nycgovparks.org/parks/saratoga-park/highlights/10822.
Corcoran, Cate. "Restored Saratoga Park War Memorial Unveiled." Brownstoner, 11 Sept. 2014, www.brownstoner.com/brooklyn-life/restored-saratoga-park-memorial-statue-unveiled/.
Kuhn, Jonathan. "Historic War Memorial In Bedford Stuyvesant At Last Restored." New York City Department of Parks & Recreation, NYC Parks, 30 Sept. 2014, www.nycgovparks.org/parks/saratoga-park/dailyplant/23226.
Image Sources
New York City Department of Parks & Recreation https://www.nycgovparks.org/parks/saratoga-park/highlights/10822

New York City Department of Parks & Recreation https://www.nycgovparks.org/parks/saratoga-park/highlights/10822