Pennsylvania State Capitol Building
Introduction
Designed by Joseph Miller Huston in a Beaux-Arts style, the Pennsylvania State Capitol was dedicated in 1906. It is the third capitol built in Harrisburg and is home to the state's House of Representatives, Senate, Supreme and Superior Courts, and offices of the Governor and Lieutenant Governor. The four-story, 475-room building features a large, central rotunda and large east and west wings. Thirty-minute guided tours are offered Monday through Friday from 8:30-4:00. The capitol was added to the National Register of Historic Places in 1977 and designated a National Historic Landmark in 2006. The grounds and associated buildings that make up the Capitol Complex also achieved NHL status in 2013.
Images
Construction on the Pennsylvania Capitol began in 1902, but it was not dedicated until 1906.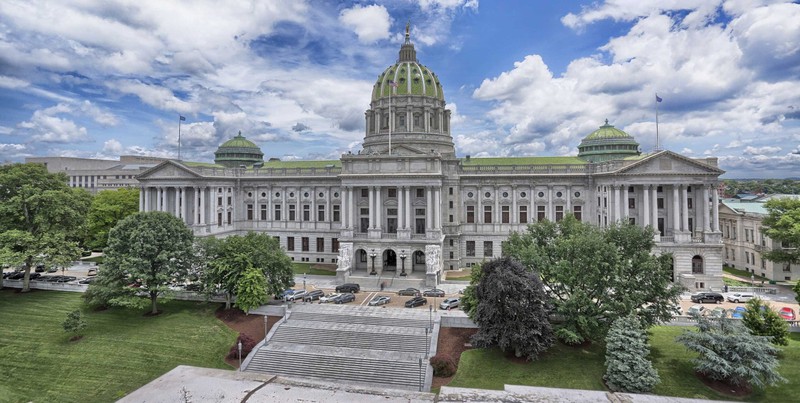 The massive imperial staircase within the capitol's rotunda.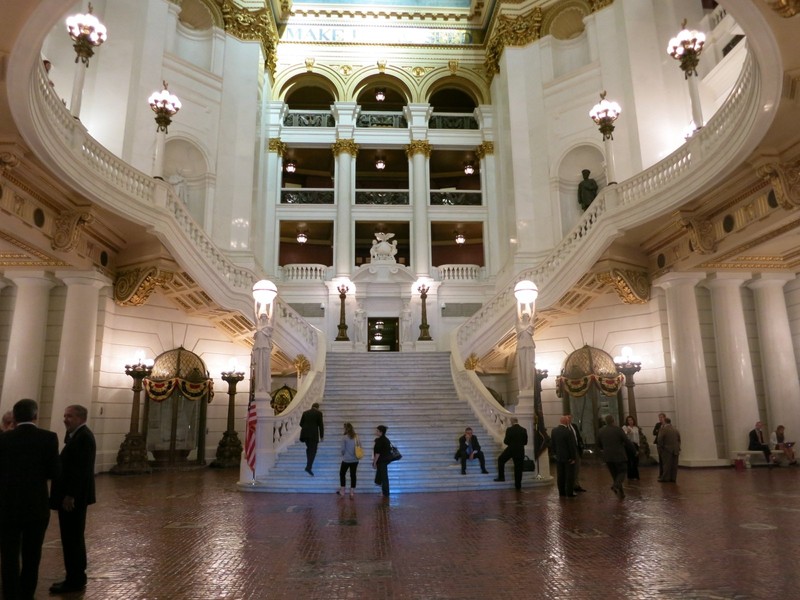 The ornate Senate chamber features murals by Violet Oakley...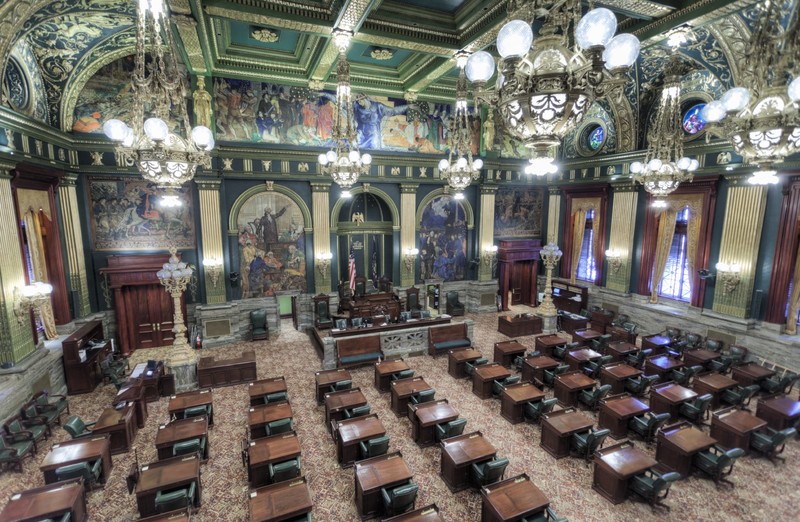 ...while the House chamber is dominated by a large mural by Edwin Austin Abbey.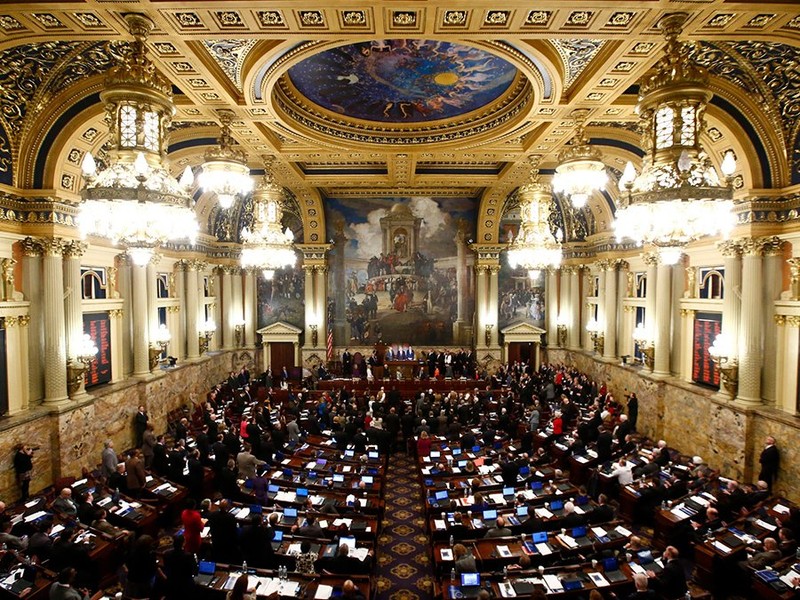 One of the entrance sculptures. In this case, "Burden of Life."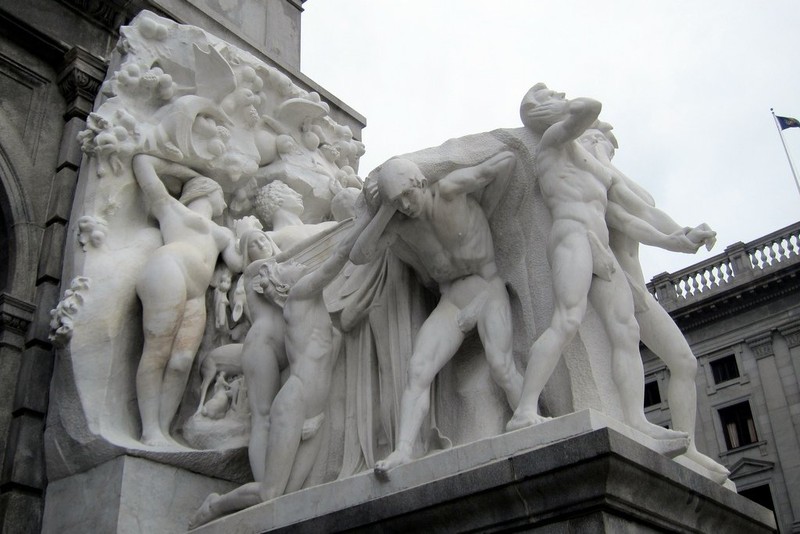 Backstory and Context
When the capital of Pennsylvania moved to Harrisburg, from Lancaster, in 1812, the legislature met in the old Dauphin County Courthouse until the first capitol (known as the Hills Capitol after its architect, Stephen Hills) was completed in 1822. Unfortunately, it was destroyed by fire in 1897. The state government then met in a local Methodist church until Pennsylvania's second capitol, the Cobb Capitol, was partially completed in 1898. This capitol went unfinished due to a lack of funds to create the ornate structure designed by Henry Ives Cobb. However, its existence prevented the state capital from moving back to its original home, Philadelphia.
In 1901, Governor William Stone created a Capitol Commission to explore the feasibility of designing and building a new home for the state government. A design contest was established, which was won by Joseph Miller Huston, and funds were secured for the new capitol. However, its construction was mired in scandal and thirteen officials, including Huston, were convicted of various crimes associated with fraud. Regardless, the new capitol was dedicated in 1906 by Governor Samuel Pennypacker with President Teddy Roosevelt in attendance.
Despite Huston's crimes, he designed a magnificent building made from Vermont granite and centered around a rotunda capped by a 94-foot diameter dome inspired by St. Peter's Basilica in Rome. Standing atop the dome is a 14-foot tall bronze statue of "Commonwealth," designed by Roland Hinton Perry. The large bronze doors that open to the rotunda were designed by Huston and display scenes from the history of the state. The entrance sculptures, "Love and Labor" and "Burden of Life" by George Grey Barnard, were added in 1911. A grand imperial staircase within the rotunda leads to a mezzanine between the second and third floors and four lunette (half-moon) murals by Edwin Austin Abbey grace its walls. Finally, 16,000-square feet of the rotunda are covered in tiles hand-crafted by Henry Chapman Mercer which comprise 377 mosaics that represent 254 scenes.
The House chamber is decorated with an Italian Renaissance theme and includes stained-glass windows by William Van Ingen and additional murals by Abbey. The interior of the Senate chamber was completed with a French Renaissance style and features murals by Violet Oakley and additional Ingen stained-glass windows. As for the court chamber, it features Greek and Roman themes with murals by Oakley that depict the history of law and it is capped by a stained-glass dome.
Sources
Ellis, Christopher. "Pennsylvania State Capitol Building National Historic Landmark Nomination Form." United States Department of the Interior/National Park Service. January 16, 2006. Accessed October 23, 2017. http://www.dot7.state.pa.us/CRGIS_Attachments/SiteResource/H000515_04J.pdf
"The History of Pennsylvania's Early Capitols." Pennsylvania Capitol Preservation Committee. Accessed October 23, 2017. http://cpc.state.pa.us/history/the-history-of-pennsylvanias-early-capitols.cfm
The Pennsylvania General Assembly. "The Pennsylvania Capitol: A National Historic Landmark." PA Capitol. Accessed October 23, 2017. http://www.pacapitol.com/Resources/ViewFile.cfm?File=%2FResources%2FPDF%2FEducational%2FThe%2DPennsy...
McDonald, Skye. "Pennsylvania State Capitol." Harrisburg Magazine. May 2, 2016. Accessed October 23, 2017. http://www.harrisburgmagazine.com/City-Beat/April-2016/Pennsylvania-State-Capitol/
Additional Information