Historic Reno Arch
Introduction
Reno's most recognizable symbol, its arch, has gone through many incarnations. It was built in 1926 to promote the 1927 Nevada Transcontinental Highways Exposition. It was originally located at the intersection of Commercial Row and Virginia Street. A new arch was built
Images
The arch as it appears today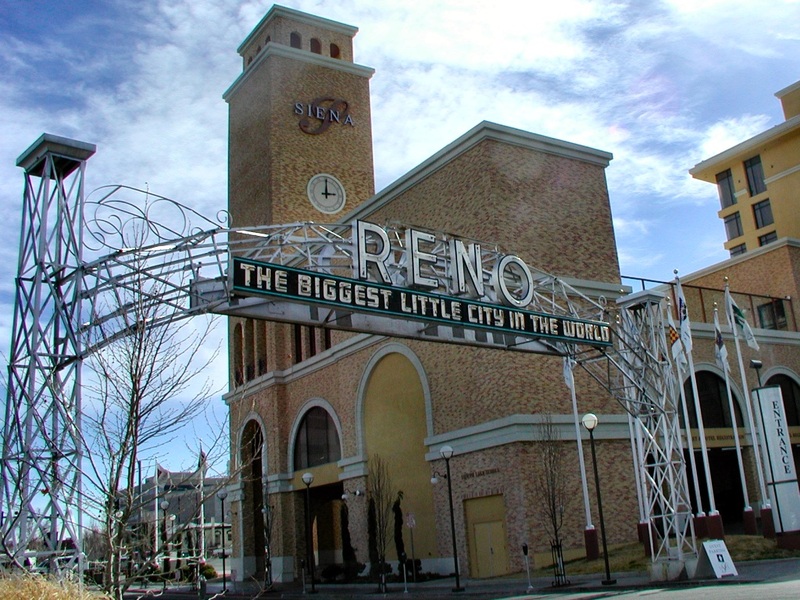 Backstory and Context
The Reno arch is arguably the most recognizable symbol of the city. It was built in 1926 in preparation for the 1927 Nevada Transcontinental Highways Exposition, which commemorated the completion of the Lincoln and Victory highways. Light bulbs spelled out "Reno" and "Nevada's Transcontinental Highways Exposition, June 25-Aug 1, 1927."

Once the exposition ended, the Reno City Council voted to keep the arch as a permanent fixture and a contest was held for a new slogan. A Sacramento man won $100 for his slogan, "Reno, Biggest Little City in the World." The slogan was briefly removed in 1934 following the switch to neon lighting. At the time, the arch simply spelled out "RENO" in bright green lighting, but locals objected and the original slogan was restored.

In 1963, bigger cars meant that the arch needed to be reconfigured. The original was moved to Idlewild Park, the site of the 1927 exposition. In the 1980s, it was placed in storage because of its deteriorated condition.

In 1994, during the filming of "Cobb," filmmakers wanted the arch to be shown in the movie and paid for its restoration. When filming was complete, the newly restored arch was placed at Lake Street. Young Electric Sign Company built a new arch, complete with a spinning star at its top, which now resides at North Virginia Street.
Sources
AInsworth, Cindy. Historic Reno Arch. Reno Historical. Accessed October 22, 2017. http://renohistorical.org/items/show/106.