Hinchliffe Stadium
Introduction
This concrete stadium holds ten thousand and was built between 1931 and 1932 thanks to the efforts of the mayor of Patterson John Hinchliffe. The stadium hosted many local events and teams and was the home stadium of the New York Black Yankees, a leading Negro League team, from 1933 to 1945. The stadium also held several historically significant boxing bouts and auto races in addition to barnstorming teams and performances of leading actors and musicians. Prior to hosting the home games for the New York Black Yankees, the stadium hosted a game known as the "Colored Championship of the Nation," against the top two finishers of the Negro Leagues. During the era of segregation, this game was similar to the World Series for Black baseball teams. After baseball's integration, the stadium became home to high school athletics for the Paterson area until 1997. In that year, Hinchliffe was listed as one of New Jersey's Ten Most Endangered Historic Sites by Preservation New Jersey.
Images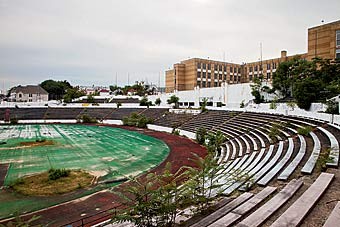 Backstory and Context
The stadium could seat up to 10,000, having an athletic field and running track, covering about 5.7 acres. It is one of only a few stadiums still surviving that was home to one of the baseball teams of the Negro Leagues. Following in 1934, the New York Black Yankees made Hinchliffe their home stadium, which lasted a little over seven years until 1945, having a two years gap from 1937 to 1939. The stadium played host to some of the future Hall-of-Fame baseball players from the Negro Leagues including Monte Irvin, Oscar Charleston, and Cool Papa Bell.
In 2002, the Friends of Hinchliffe Stadium was established to support renovation and restoration of the historic stadium. The formation of the group was urged by backing pressure of the Paterson School district with the threat of demolition. Hinchliffe Stadium became a National Historic Landmark in March of 2013. Restoration is currently being considered as part of a redevelopment program for this area of Paterson.
Sources
Jonathan D. Salant, "Paterson's Hinchliffe Stadium, where Negro League stars played, may be preserved in defense bill," NJ Advance Media, accessed 2/13/19 https://www.nj.com/politics/index.ssf/2014/12/paterson_national_historical_park_likely_to_include_hinchliffe_stadium.html
Additional Information