Gower Cemetery
Introduction
The community served by Gower Cemetery was settled by free African Americans after the Civil War, when many freedmen and women moved west seeking land and respite from discrimination. African American homesteaders John and Ophelia Gower established the cemetery in 1889, the same year the Unassigned Lands and the Oklahoma District were opened to settlers. As the last physical remnant of a nineteenth-century African-American-founded rural community in Oklahoma, Gower Cemetery is listed on the National Register of Historic Places [1; 2].
Images
Gates to Gower Memorial Cemetery (image from Find a Grave)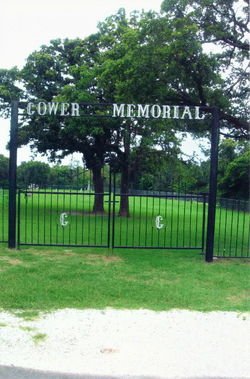 Marker on the history of the cemetery (image from Oklahoma Cemeteries)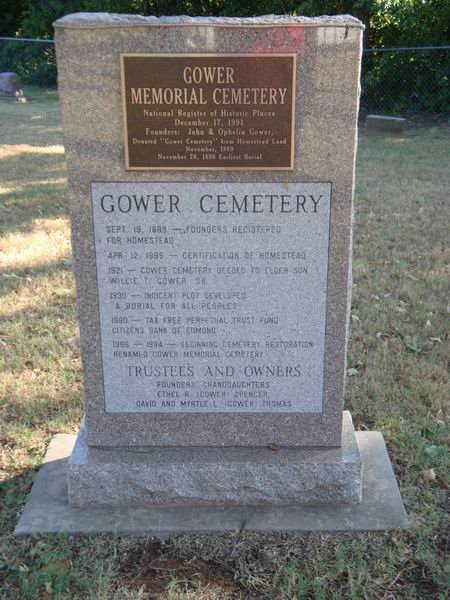 Backstory and Context
After the Civil War, the integration of freedmen and women was complicated by discrimination. Encouraged by leaders in the African American community and by politicians, many moved west, particularly during the land rush when the Unassigned Territories were opened up to settlers wishing to stake claims in the spring of 1889. Hoping to leave behind the prejudice they had faced in the east, many African American settlers chose to self-segregate by forming new Black townships--around twenty-five such towns were formed in the state of Oklahoma prior to statehood and the establishment of Jim Crow laws in 1907. One of these communities, known as Nonsey, was home to John and Ophelia Gower [1; 2].
John Gower, a stonecutter, was born in Tennessee; he and his wife Ophelia, born in Louisiana, moved first to Kansas and then to Oklahoma, where they were among the original homesteaders in Oklahoma County. Ophelia served as a midwife to area families, and John donated part of his 160 acres to establish a cemetery for communities in the surrounding 56 square miles in November of 1889. Though Nonsey's church, school, and farmsteads no longer exist, the cemetery and associated records (collected in 1964) preserve at least part of the history of this African American town. From 1896-1933, Mt. Olive Baptist Church (on land donated by homesteader Augustus Reece) served the community, as did the Pleasant Grove School (on land donated by Mattie and Willie Kurley) from 1903 until sometime in the early 1940s. In the 1930s, the Gower's eldest son, Willie T. Gower, set aside an area in the cemetery for the burial of paupers, homeless, and indigents [1; 2].
Markers in Gower Cemetery range from hand-lettered local sandstone and concrete to professionally made metal, granite, and limestone markers, its earliest interment dating to November 20, 1896. Burials include at least six men who settled in the community before 1890: John Gower, Anderson Harris, Henry B. Miller, William O'Kelley, Isaac Samuels, and Reverend Walton Owens, the founder of Mt. Olive Baptist Church. At least seven veterans of the "Colored Cavalry" and "Colored Infantry" are buried on the grounds [2].

Sources
1. Edmond Historical Society and Museum. "The Gower Cemetery." Accessed October 13, 2017. https://www.edmondhistory.org/the-gower-cemetery/.
2. Meacham, Maryjo. "Gower Cemetery." National Park Service, National Register of Historic Places. October 5, 1991. Accessed October 13, 2017.

Additional Information