St. Nicholas Hotel (now known at St. Nicholas Apartments)
Introduction
Built in 1855, the hotel was located near the final railway link that connected New York to the Mississippi River. Functionally, the building served incoming politicians and visitors to the Illinois State Capitol for more than a century. Presidents visited, deals were made and a shoebox filled with huge sums of money in politician's room uncovered a scandal -- many went to jail.
Images
By Teemu08 - Own work, CC BY-SA 3.0, https://commons.wikimedia.org/w/index.php?curid=19538177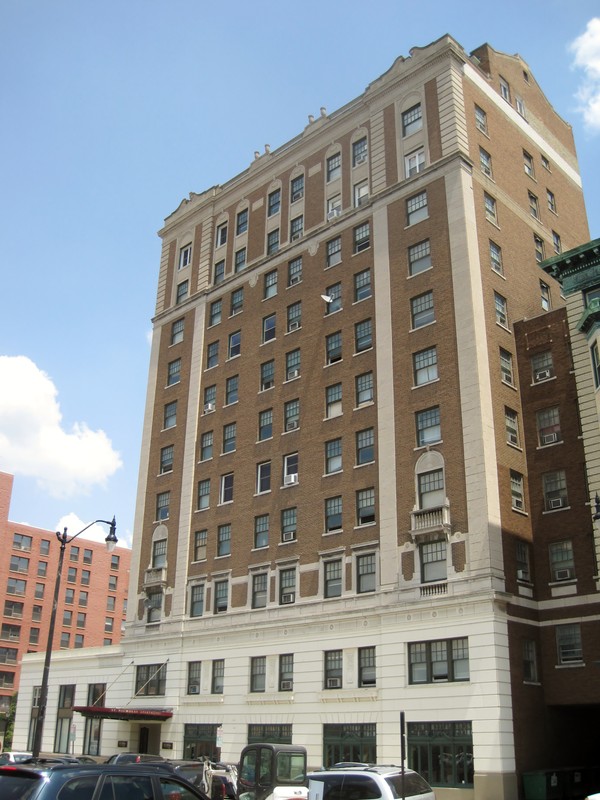 From H.R. Barker's Souvenier of Springfield (1890): https://library.uis.edu/files/archives/pdf/localhistory/souvenir%20of%20springfield%201890.pdf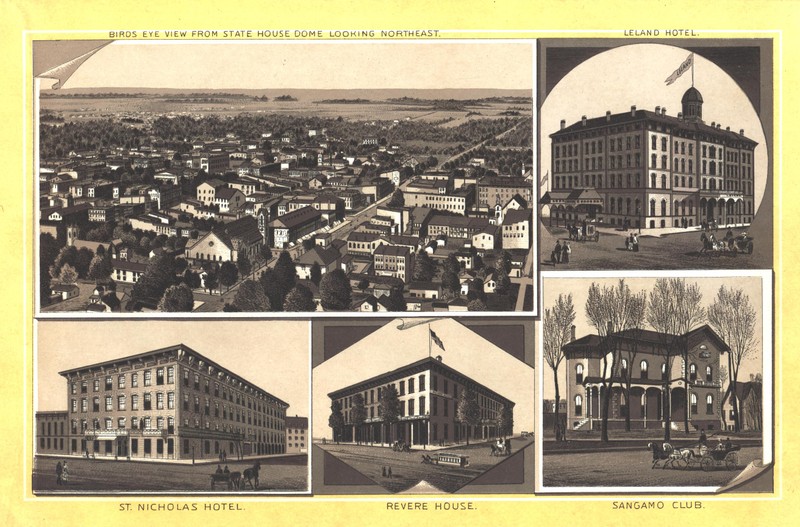 Backstory and Context
Located a few hundred feet from the Chicago and Alton railroad station, the location of the final link between New York and the Mississippi River (completed in the early 1850s). The hotel served as a striking feature that greeted newcomers to Springfield and later many prominent political figures, such as Dwight D. Eisenhower, Harry Truman, John F. Kennedy, Carl Sandberg, and Chicago Mayor Richard J. Daley.
Given Springfield, Illinois' status as a capital city for the state, many politicians stayed at St. Nicholas when the assembly was in session. Thus, many political deals occurred at the hotel, as well as a few scandals. For instance, in 1970, $750,000 --- more than $4 million in 2017 terms -- was discovered inside a shoe box found in Secretary of State Paul Powell's room shortly after he had deceased. A subsequent investigation revealed he had taken many bribes, which led to arrests and several convictions of many state contractors.
Before World War I (1910) and during the 1920s when the country enjoyed a robust economy, St. Nicholas enjoyed many renovations intended to help draw tourists and conventions to Springfield, notably tied to the many Abraham Lincoln memorials found in the city. However, by the 1960s, after the Great Depression, World War II and a changing economy and culture, downtown Springfield no longer remained significant, outside of politicians who continued to use the facilities.
Today it's an apartment complex that recently enjoyed extensive remodeling and renovations. Rooms range from inexpensive studio apartments to luxury penthouses.
Sources
Grossman, Ron. "From Hero to Bum in a Flash." Chicago Tribune. (December 21, 1970). http://articles.chicagotribune.com/2013-02-24/news/ct-per-flash-paul-powell-0224-20130224_1_shoe-box.... Retrieved December 25, 2013.

Russo, Edward J. "St. Nicholas Hotel: Nomination Form." National Register of Historic Places. July 8, 1981. http://gis.hpa.state.il.us/pdfs/201223.pdf



Additional Information