Sacramento City Cemetery and Daniel Blue Historic Marker
Introduction
New Helvetia Cemetery, which was originally Sutter's Burial Ground, was established by John Sutter in 1849. It was Sacramento's first cemetery. After a few years, the plot was turned into a park and in the 1950s, the remains were exhumed and reburied at this location. Among the noteworthy Sacramento residents buried there is Daniel Blue, a founder of St. Andrew's African Methodist Episcopal Church and an early leader of the city's African-American community.
Images
A marker identifying the reburied remains West Lawn Memorial Park.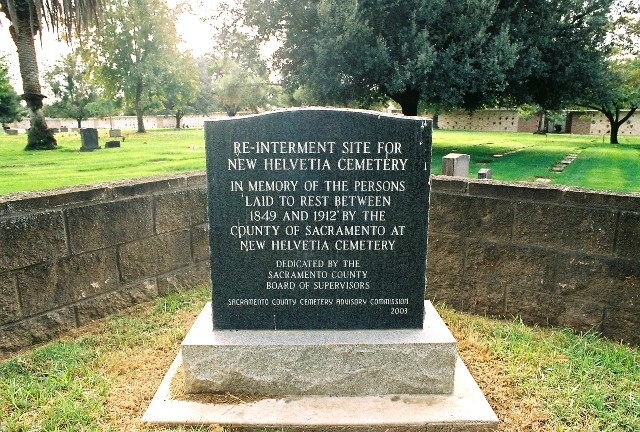 Daniel Blue historic marker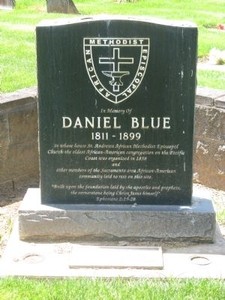 Backstory and Context
A historic marker near Sutter Middle School identifies the location as the site of Sutter's Burial Ground, which was founded by John Sutter in 1849. It was Sacramento's first cemetery, located on land donated by Sutter to the city. It was renamed New Helvetia Cemetery in 1850 and in 1857, it was purchased by an undertaker, J.W. Reeves. Following Reeves's death soon after the purchase, his widow continued to operate the cemetery, but by the early 1900s, it was closed to additional burials and in a state of pronounced neglect.

Not surprisingly, given its history, the cemetery was the final resting place of some of Sacramento's pioneer citizens. The victims of the 1850 cholera epidemic were also buried there, as were roughly one thousand Chinese residents. In 1916, when the area was converted into a park, the remains of Chinese residents were disinterred and repatriated to China.

In the early 1950s, the city offered the land for the construction of Sutter Junior High School, now Sutter Middle School. In 1955 and 1956, the remains of more than five thousand people were disinterred and removed to their present location at West Lawn Memorial Park at 43rd Street and Folsom Boulevard. The vast majority of those remains were of "unknowns," their identities lost in the passage of time. In the process of relocation, many markers were lost or discarded. The reburied remains, among which were many of the city's earliest citizens, were forgotten in unmarked graves until the 1980s, when a large marker was placed in the cemetery in their memory.

Among the prominent early citizens who are buried in the cemetery is Daniel Blue. Blue was one of the founders of St. Andrew's African Methodist Episcopal Church, which originally met in his home and was the first AME church on the West Coast. Blue was a former slave who arrived in the area in 1849 and became a leader in the African-American community. The marker placed in honor of Blue was erected by St. Andrew's African Methodist Episcopal Church.
Sources
Stapp, Cheryl Ann. Sacramento Chronicles: A Golden Past. Charleston, SC. The History Press, 2013.

Pioneer Cemetery Once Sat at the Site of East Sacramento's Sutter Middle School. Valley Community Newspapers. July 08, 2011. Accessed October 08, 2017. http://www.valcomnews.com/?p=4583.