Burial Ground of Congregation Ahavath Achim
Introduction
This section of Oakland Cemetery was established in 1892 to be the burial ground for Congregation Ahavath Achim, which was chartered in 1887 (the very first congregation was founded in 1862 but it did not last long). Congregation Ahavath Achim was composed of mainly Jews of eastern European descent. There is also a small section of burials of Russian Jews from an organization called the Kadish Lodge, whose purpose was to take care of the sick. Many prominent Jewish figures are buried here, some of which have elaborate tombstones with writing in English and Hebrew.
Images
Congregation Ahavath Achim established this burial plot in 1892, a few after it was founded.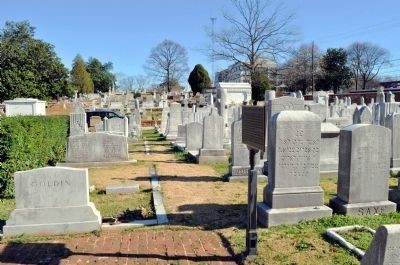 The historical marker describing the Jewish section of the cemetery.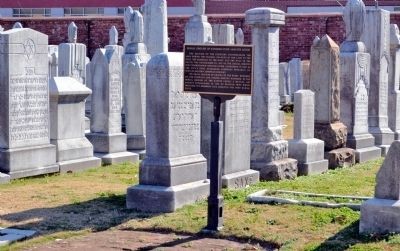 Backstory and Context
Jews played an important role in Atlanta's development beginning in the early 1850s. At that time there there were only 26 Jews in the city but they owned 10% of the retail businesses. As more Jewish immigrants arrived in the city (lured by the prospects there), their role in bolstering the city's economy continued to grow, solidifying their place in the city's history.
Sources
Bauman, Mark. "Jewish Community of Atlanta." New Georgia Encyclopedia. March 15, 2004. Updated October 11, 2016. http://www.georgiaencyclopedia.org/articles/history-archaeology/jewish-community-atlanta.

"Burial Ground of Congregation Ahavath Achim." The Historical Marker Database. Accessed October 5, 2017. https://www.hmdb.org/marker.asp?marker=53310.

Photos: David Seibert, via The Historical Marker Database
Additional Information