Mount Tabor Missionary Baptist Church and the Campground Historic District of Mobile Alabama
Introduction
Placed on the National Register of Historic Places on July 7, 2005, this historically African American Neighborhood was named for the Old Camp Ground, a military encampment that used the area during the Civil War.
Images
Mount Tabor Missionary Baptist Church is one of the buildings in the Campground historic district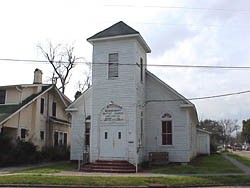 Backstory and Context
The Campground District is about 370 acres, extending from Martin Luther King Jr. Avenue to Rylands Street and St.Stephens Roads to Ann Street. The covering acres includes about 166 buildings, ranging from shotgun houses to bungalows, dating as early as the late 19th century to the middle 20th century.
The Campground District has a vital role in the historical development of the predominately Black community of Mobile, Alabama. It received its name from the encampment of Confederate soldiers during the confrontation with advancing Union troops during the Civil War. Outnumbered and facing dwindling supplies, the Confederate army abandoned the area in April 1865.
The area grew larger throughout the 20th century and was home to a working-class neighborhood. While battling discrimination and a degree of informal but still pervasive segregation, prosperous members of the community still achieved a degree of economic autonomy by owning businesses. Today, plans are in place to commemorate and preserve the historic neighborhood.
Additional Information