Tootsies Orchid Lounge
Introduction
Author-Uploaded Audio
Established in 1960 by Hattie Louise "Tootsie" Bess, and her husband, Tootsies grew into one of the world's most famous honky-tonk joints. The bar is named in honor of the original proprietor who operated the bar until retiring from the business in 1978. The "orchid" in the name is the result of a mistake as the establishment was accidentally painted purple and Tootsie decided to make this the bar's signature color. Tootsies is situated right behind the Ryman Auditorium (once the Grand Ole Opry) and has hosted singers such as Patsy Cline, Faron Young, Roger Miller, Willie Nelson, and more. Today, Tootsies is one of the most visited places in Downtown Nashville.
Images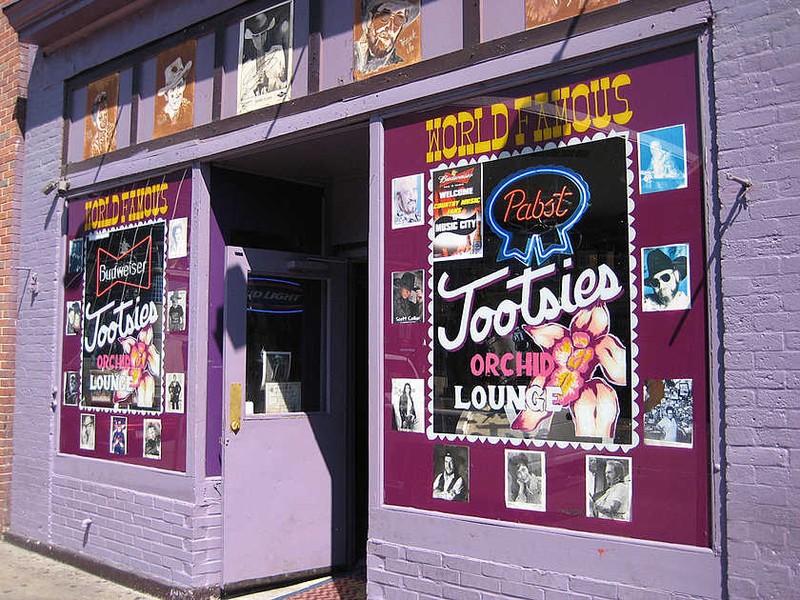 Tootsie Bess Inside Tootsies Orchid Lounge, 1971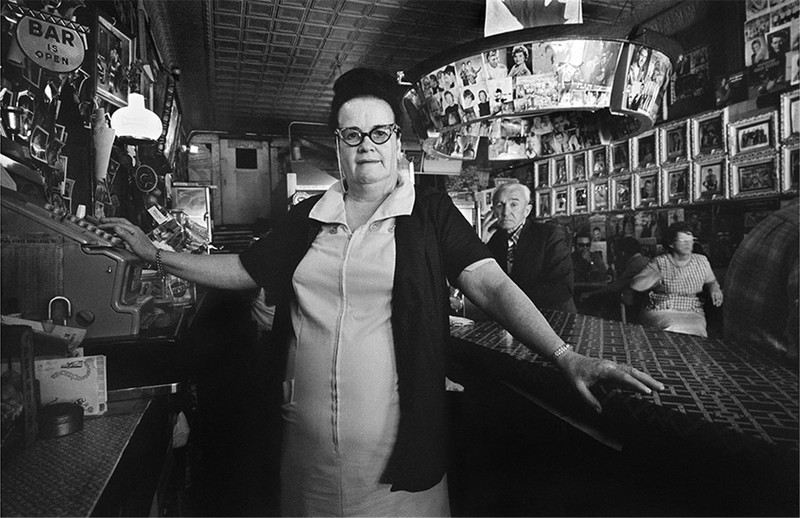 Patsy Cline in Tootsies Shortly Before Her Death in 1963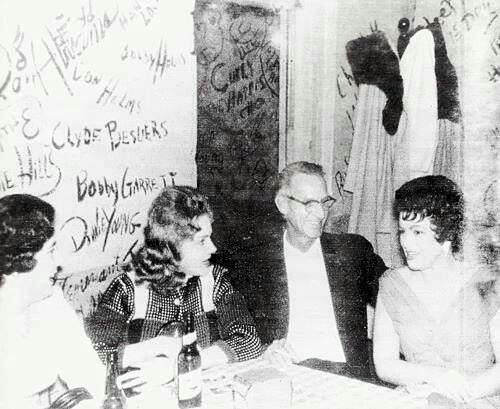 The Sign at the Back Door Entrance to Tootsies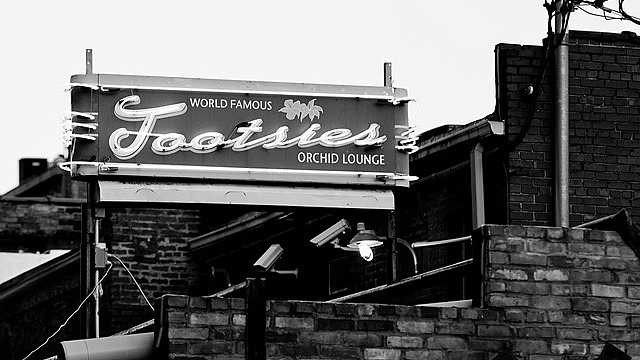 Tootsies in the Fall of 1983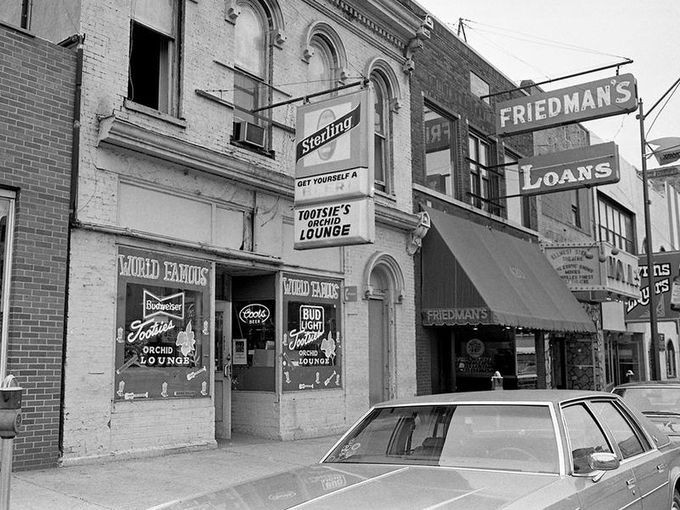 Tootsies As Seen in Downtown Nashville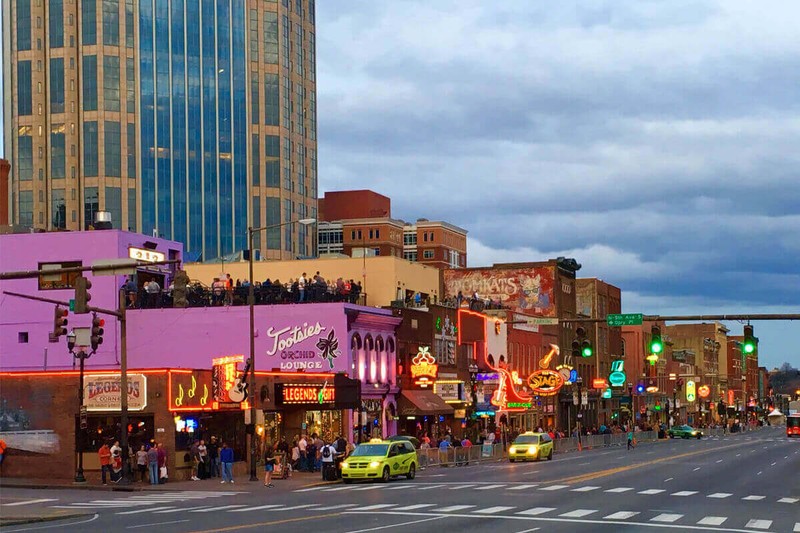 Backstory and Context
Author-Uploaded Audio
Tootsies Orchid Lounge is the most well-known honky-tonk in Downtown Nashville. The joint was known as "Mom's" when Hattie Louise "Tootsie" Bess (1914-1978) purchased the place in 1960. It became Tootsies Orchid Lounge when Tootsie discovered the painter she hired to paint the building had painted it an orchid color. Tootsies is conveniently located behind the Ryman Auditorium, which was home to the Grand Ole Opry until it moved in 1974. Performers on the Grand Ole Opry would walk from Tootsies to the Opry to perform, then come back afterwards for another drink. Occasionally, a few would sneak-in in-between sets.
Tootsie Bess became just as beloved as her famous honky-tonk. She was known to hire struggling artists, feed them for free, and even put money in their pockets. According to local legend, Tootsie kept a cigar box under the counter strictly for IOUs, and every year, performers would come together to pay off the IOUs. Tootsie also had little patience for unruly customers and was known to use a hatpin that singer Charley Pride gave her to get their attention. Many singers and songwriters have credited much of their success to Tootsie Bess including Willie Nelson, who gained his first songwriting job after he performed at Tootsies. For a brief time, Tootsie Bess even allowed Nelson to live upstairs. Over the years, Tootsie began to collect photographs with entertainers' signatures on them and hung them up on the walls.The list of legendary performers include: Patsy Cline, Kris Kristofferson, Waylon Jennings, Roger Miller, and many more. Tootsies has inspired songs such as "The Wettest Shoulders In Town" and "What's Tootsies Gonna Do When They Tear The Ryman Down?" The famous honky-tonk has even been featured in movies The Nashville Rebel, and, most notably, the Loretta Lynn biopic Coal Miner's Daughter.
In the mid 1970s, Tootsies was one of the most popular places in Nashville, but after the Opry moved, Tootsies began a steep decline. When Tootsie Bess died in the late 1970s, the whole downtown strip in Nashville was becoming desolate. By the early 1990s, many historic buildings downtown sat vacant and the area mainly consisted of strip clubs and pawn shops. Crime got so bad in the area that tourists rarely came. Finally, Steve Smith came to the rescue. He had been renting Tootsies for a number of years, but, in 1997, he purchased the iconic honky-tonk and saved it from closing. Over time, and with the opening of Bridgestone Arena, the area regained its popularity and Tootsies again became a hot-spot for musicians and tourists.
Today, Tootsies is one of the most popular joints in Downtown Nashville, with all three levels being packed every night with people coming to hear up and coming musicians play, as well as some of the legends who stop by. Musicians are still crediting Tootsies for helping establish their names, just as Tootsie Bess did in the early days. All over the honky-tonk, visitors can still see historic photos known collectively as the "Tootsies Wall of Fame" that Tootsie Bess started decades ago. The Country Music Hall of Fame honored Tootsies with an exhibit in 2011 titled, "Tootsies Orchid Lounge: Thirty-Four Steps and Fifty Years." The legendary Tootsies Orchid Lounge is forever cemented in Nashville history.
Sources
Tootsie's Orchid Lounge. Downtown Nashville. Accessed 10/1/2017. http://www.nashvilledowntown.com.
Tootsies Orchid Lounge in Nashville, TN. Vacations Made Easy. 2001. Accessed 10/01/2017. www.vacationsmadeeasy.com.
Hight, Jewly. How Tootsie's Orchid Lounge helped change country music and Nashville, in just 50 years. Nashville Scene. 11/04/2010. Accessed 10/01/2017. www.nashvillescene.com.
Gibson, Jamesha. Tootsies World Famous Orchid Lounge , National Trust for Historic Preservation. February 18th 2015. Accessed July 18th 2020. https://savingplaces.org/stories/historic-bars-tootsies-world-famous-orchid-lounge#.XxNNqShKhPY.
Music City Walk of Fame: Tootsie Bess, Visit Music City. Accessed July 20th 2020. https://www.visitmusiccity.com/walkoffame/stars/tootsie-bess.html.
The Legacy, Tootsies. Accessed July 20th 2020. http://www.tootsies.net/theLegacy.
Burchard, Jeremy. How Tootsie's World Famous Orchid Lounge Saved Downtown Nashville, Wide Open Country. March 29th 2017. Accessed July 20th 2020. https://www.wideopencountry.com/tootsies-world-famous-orchid-lounge/.
Image Sources
National Trust for Historic Preservation

Morrison Hotel Gallery

Pinterest

National Trust for Historic Preservation

Tennessean

Old Town Trolley Tours

Additional Information