Elizabeth Keckley Residence in 1844
Introduction
Born a slave in Dinwiddie County, Elizabeth Hobbs Keckley (1818–1907) purchased her freedom in 1855 and supported herself as a seamstress, first in St. Louis and then in Washington, D.C. Her skills brought her to the attention of Mary Todd Lincoln, who hired Keckley in 1861. She became Mary Lincoln's favorite dressmaker and later her personal companion, confidante, and traveling companion. It was a remarkable friendship between two very different women, but it ended with the publication of Keckley's memoir in 1868.
Images
Elizabeth Keckley residence in 1844 while slave to Garland Family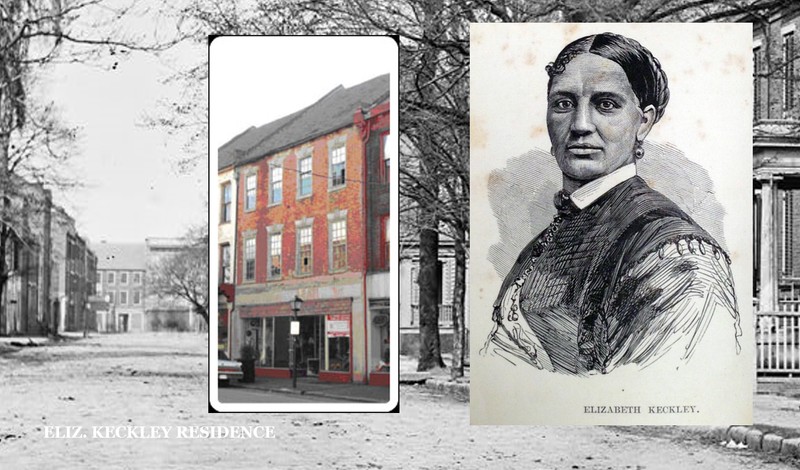 Backstory and Context
In 1844, she lived at 314 North Sycamore Street while a slave to the Hugh A. Garland family who had been forced to move to rental quarters due to major debts. It is reported that "[I]f Lizzy ever experienced something like happiness as a slave, it was with the Garlands." (Fleischner, p. 120). Garland never recovered from financial difficulties and set out for St. Louis in late 1846 where he set up a small law practice. There, Lizzy began to sew for well-to-do women, creating a profitable enterprise. She purchased her and her son's freedom in 1855.
During her White House years, Keckley organized relief and educational programs for emancipated slaves with the help of Frederick Douglass. Her only son enlisted in the U.S. Army and was killed at the battle of Wilson's Creek, Missouri.
Keckley published her autobiography, Behind the Scenes, Or, Thirty Years a Slave and Four Years in the White House, three years after Lincoln's assassination. Although Keckley apparently thought her revealing book would help restore her former employer's reputation, it had the opposite effect, and Mrs. Lincoln felt betrayed by the woman she described as "my best living friend." The two women never spoke again, and Keckley's successful dressmaking business declined. She died in Washington in 1907 at the National Home for Destitute Colored Women and Children.
Sources
Hugh Garland and Elizabeth Keckley: A Curious Coincidence by C. Wayne Tucker. (2011). Hampden-Sydney College: The Esther Thomas Atkinson Museum of Hampden-Sydney College.
Behind the Scenes, Or, Thirty Years a Slave and Four Years in the White House by Elizabeth Keckley. (Re-printed - New York: Oxford University Press, 1989).
Jennifer Fleichner, Mrs. Lincoln and Mrs. Keckley (New York: Broadway Books, 2003).
Additional Information