Petersburg Hustings Courthouse
Introduction
The Courthouse, constructed between 1838-1840, is a Classical Revival structure that is of both architectural and historical importance to the City of Petersburg and to the State of Virginia. The Petersburg Courthouse houses one of the five remaining hustings courts in Virginia and, for that matter, in the entire United States. Historically, the courthouse played a major role during the 1864-1865 Siege of Petersburg. Union troops used the tower for a sighting mark and spared the structure from the bombardment. Both sides relied upon the clock in the tower as an accurate timepiece.
Images
Petersburg Hustings Courthouse. Photo by John A. Rooney, Jr.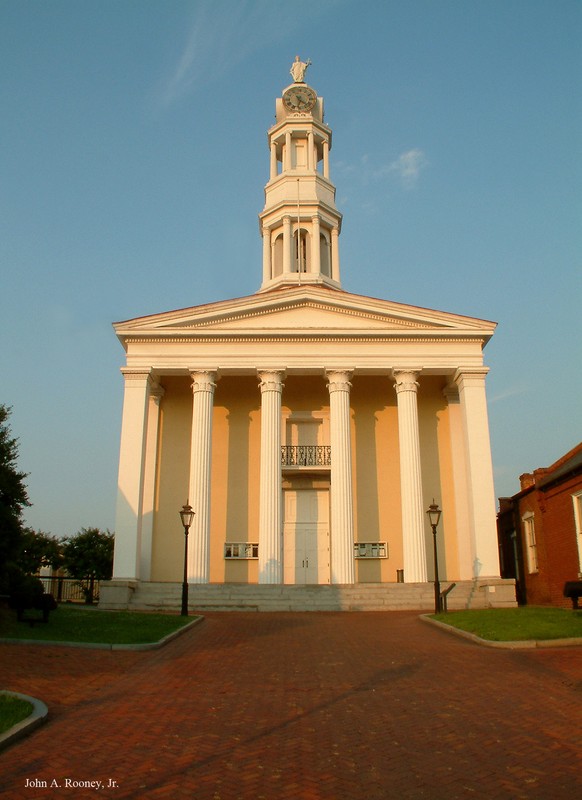 Petersburg Hustings Courthouse, historical photo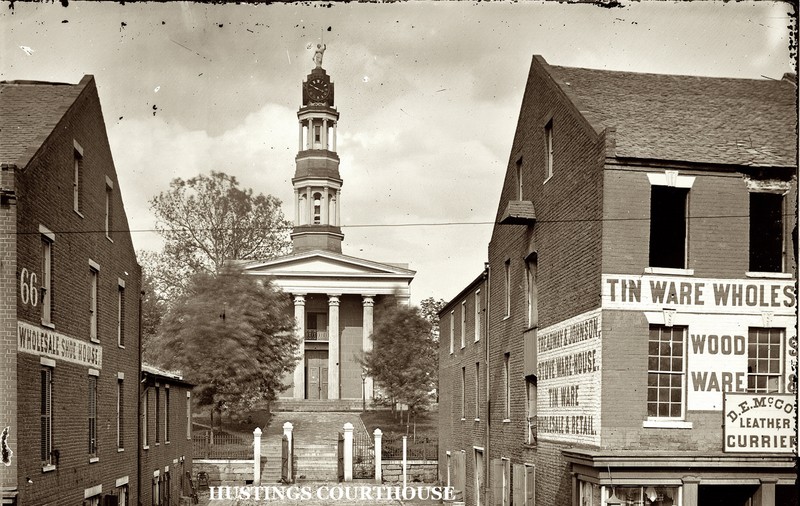 Backstory and Context
After a design by Calvin Pollard of New York, the structure is best described as Classical Revival with Greek and Roman detailing. Pollard was the architect of many prominent buildings including mid-nineteenth century New York townhouses, the National Theatre in New York (1833), and St. Paul's Episcopal Church in Petersburg, Virginia, constructed in 1838 and burned in 1854. His design improvisations and combinations of different classic motifs on the exterior of the building are unique in the area.
The clock and bell tower combination and location is most interesting architecturally and the hung plaster ceiling in the second floor courtroom is noteworthy. The tower was not anticipated in the original design and is positioned in an unusual manner on the plan. Its graceful double-tiered bell and clock tower looms high above the ridgeline of the facade's pediment. Parts of the tower are modelled, in a modified octagonal form, after the choragic Monument of Lysicrates in Athens and employing the Ionic and Tower of the Winds orders. Generally, when a tower was built on a temple type building, the tower base projected onto the portico, giving the effect of supporting the tower. Being set back from the pediment, the Courthouse tower appears to be supported by, the roof. It is surmounted by four circular clock faces and a symbolic figure holding the scales of justice.
As there are no high-rise structures in its immediate vicinity, the building still dominates the Petersburg skyline as it was intended to do. Courthouse Avenue lies approximately 100' from the portico of the building. At this point, there are large stone pillared gates through which one passes to get to the series of steps that lead up to the embankment directly in front of the portico. There are two small nineteenth century brick structures located to the south and southwest of the Courthouse that serve as Sheriff's offices.
Sources
Scott, James G. & Wyatt, Edward A., IV. Petersburg's Story: A History. Petersburg: Titmus Optical Co., 1960.
"The Courthouse of the Hustings Court of Petersburg, Virginia," (September 1966). Files of Virginia Historic Landmarks Commission.
National Park Service. "Petersburg Husting's Courthouse." National Register of Historic Places Inventory-Nomination Form. Prepared by Virginia Historic Landmarks Commission staff. Washington, D.C.: National Park Service, 1980. www.dhr.Virginia.gov/registers/Cities/Petersburg/123-0103_Petersburg_Courthouse_HD_ 1990_Final_Nomination.pdf
Additional Information