Valvoline World Headquarters
Introduction
Constructed in May of 2017, Valvoline World Headquarters is the base of operations for Valvoline as well as Valvoline Instant Oil Change as they extend their business to an international level. The new building is located in Lexington, Kentucky, the city that has become the home of Valvoline since they've distanced themselves from their parent company, Ashland Oil. The World Headquarters was designed and built by Solomon Cordwell Buenz and takes up 162,000 square feet across four stories of floors. The construction of the building cost 35 million dollars to complete and hosts 600 employees as of opening.
Images
The Valvoline World Headquarters was created on the premise that the corporation goes international and expands overseas.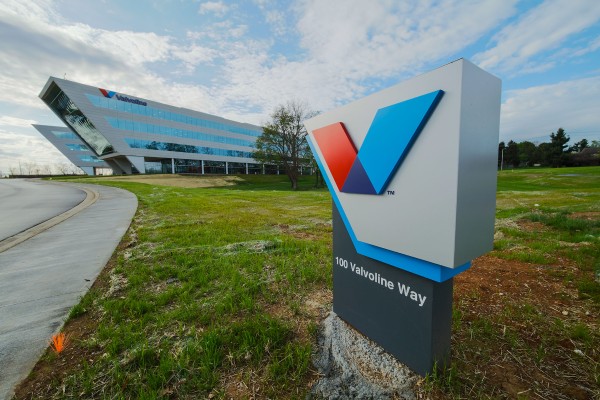 Lexington media scrambles to cover the newly opened headquarters.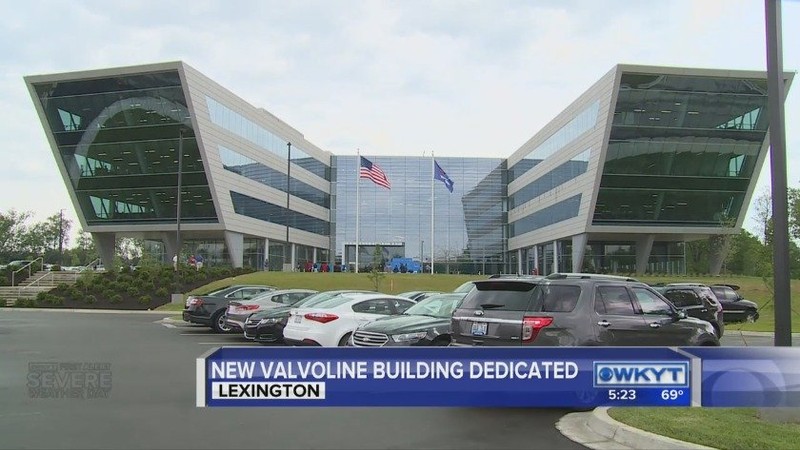 The headquarters is styled as a "V", matching the company's logo as a stylistic choice to stand out.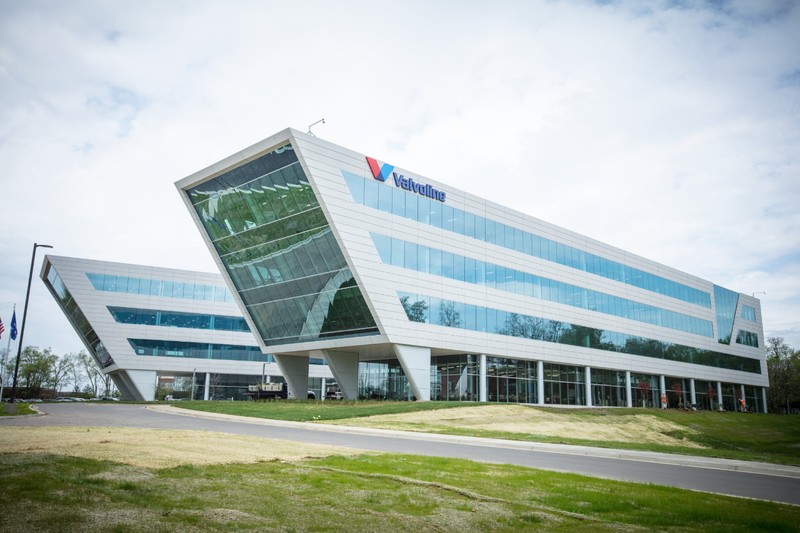 Backstory and Context
In 1866, Dr. John Ellis created a new petroleum-based lubricant for the steam engines of the time. Ellis trademarked the name Valvoline for his new product seven years later and continued to develop and perfect his invention and company. As the demand for motor oil began to grow as automobiles were developed, Ashland Inc became the primary manufacturer of Valvoline motor oil.

Valvoline expanded from motor oil to also formulating other fluids of automobiles, such as antifreeze, gear-oil, and transmission fluid, but by far their greatest marketing escapade that has allowed them to split from Ashland Inc and become their own identity was the founding of Valvoline Instant Oil Change in 1992. The idea behind these service centers is that they would be a convenient drive-through center where one could go in and have their car-serviced with an oil change or other services in a short amount of time without the need of buying products and putting forth the labor.

Valvoline Instant Oil Change has flourished over the past 25 years, with over 900 stores across the United States. CEO Sam Mitchell and other corporate representatives travel across seas marketing for the spread of their service centers to other countries which may be interested in Valvoline's service centers. This spread of the business from regional to international is what called for the construction of the new headquarters.

The completion of the World Headquarters building at 100 Valvoline Way in Lexington also marked the day Valvoline completely parted ways with Ashland Inc. The new corporate office was engineered and constructed by Solomon Cordwell Buenz. The four-story office building occupies 162,000 square feet. The building cost 35 million dollars to construct and hosts 600 employees as of completion.
Sources
Motor Oil FAQ. (n.d.). Retrieved September 25, 2017, from https://www.valvoline.com/about-us/faq/our-business-faq


Staff, W. N. (n.d.). Dedication held for new Valvoline headquarters in Lexington. Retrieved September 25, 2017, from http://www.wkyt.com/content/news/Dedication-held-for-new-Valvoline-headquarters-in-Lexington-4220206...


Valvoline. (n.d.). Retrieved September 25, 2017, from http://www.scb.com/project/valvoline/
Additional Information