Charleston Women's Club
Introduction
Constructed in 1928-29 for the growing Charleston Women's Club, this stunning French Chateau style building continues to serve the city of Charleston as an event venue and the ongoing activities of the Women's Club itself. The building was designed by Walter Martens, who was also the architect of the West Virginia Governor's Mansion. The Women's Club is part of Charleston's Historic East End and listed on the National Register of Historic Places.
Images
The Woman's Club as it appears today. Photo by Kyle Warmack.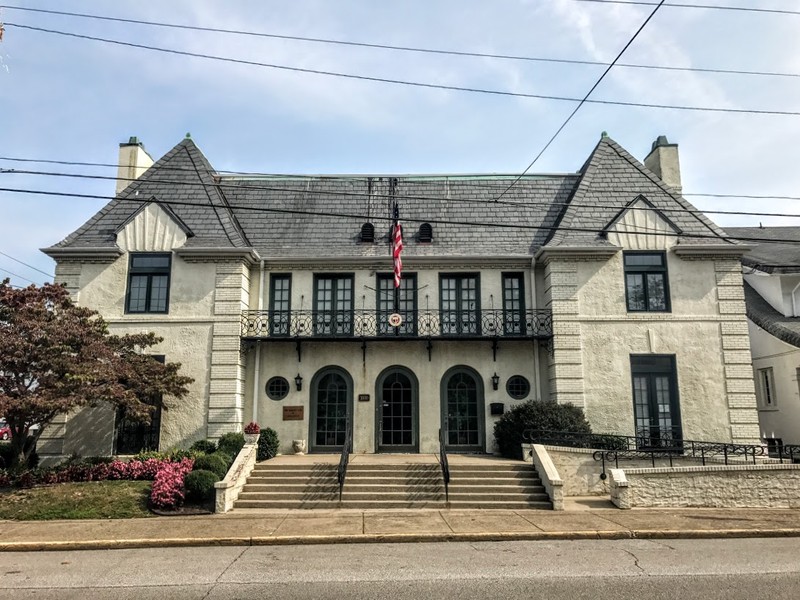 Jane Cunningham Croley, founder of the General Federation of Women's Clubs (GFWC). Courtesy of the GFWC.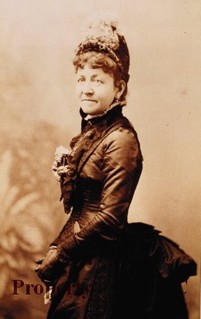 An early GFWC magazine circulated to its members. Courtesy of the General Federation of Women's Clubs.
Women's clubs contributed to national efforts during both World Wars in a huge variety of ways, including a drive to donate wedding dresses to newly-married British servicewomen. Here, actress Mary Pickford donates her dress. Courtesy of the GFWC.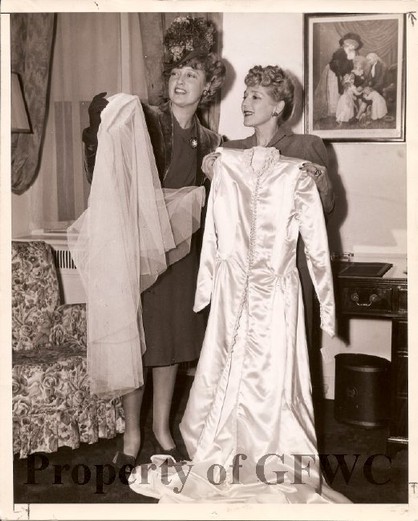 An American B-24 bomber is used to illustrate the "Buy A Bomber" campaign in a GFWC publication advertising war bonds. Courtesy of the GFWC.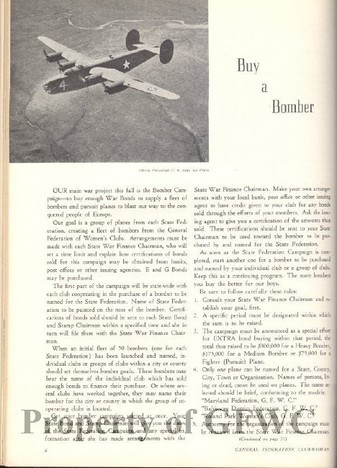 Backstory and Context
In the late 19th and early 20th Centuries, clubs and societies for women were organizing across the nation. Denied for so long the right to vote and lacking other avenues to effect change in America, a wave of educational and career opportunities for women combined with growing political interest to forge a network of active women's societies reaching the far-flung corners of the United States--including small towns in West Virginia. When Mrs. W.B. Shober and eight other women met in her home on March 5, 1909, it was for the express purpose of forming a Charleston chapter of the General Federation of Women's Clubs (GFWC).
By that time, there were already at least fifteen GFWV chapters across West Virginia. At this time, the Women's Christian Temperance Union, Association of Collegiate Alumnae, and American Association of University Women also had chapters throughout West Virginia. Like the WCTU, the GFWC pursued a broad agenda of social change. Just as the WCTU had 39 departments that focussed on a variety of women's issues beyond the prohibition of alcohol, the GFWC addressed numerous issues and supported philanthropy efforts from the construction of public libraries to crating home economics classes in public schools. The GFWC also worked to support the creation of an Industrial Committee to "
improve the condition of both women and children in industry." A West Virginia Child Labor Committee comprised of the local clubs even investigated the substantial local glass industry and took them to task for child labor law violations.


During World War I, West Virginia women of GFWC clubs performed about 75 percent of war-related work done by women in the state. "
They chaired committees on "War Savings, Home Service, Liberty Loan, Conservation, [and] Council of Defense," gave club programs on the nations at war and the war's progress, sent "care packages" to soldiers and knitted for them, and learned to conserve food by gardening and canning."1


By 1920, the Charleston Women's Club had grown to 329 members and was too numerous for its meetings at the Kanawha Hotel. In 1921, the Club purchased the present plot of land upon which the iconic structure would be built for $16,000 (nearly $200,000 in modern currency).

The land had been Wehrle Park until 1917, home field of the Charleston Statesmen, the city's first professional baseball team. The team moved to a new field at Kanawha Park across the river (later Watt Powell Park, which was demolished in 2005). The Charleston Women's Club acquired the vacant lot and commissioned Walter Martens to design their new home. Martens had completed the new Governor's Mansion only three years before, a huge commission for the young architect who had only just moved to the state in 1921. Martens would go on to have a significant impact on the architecture of the state, designing many of its iconic homes and structures, the Charleston Civic Center notwithstanding.

Ground was broken in 1928, and the Charleston Women's Club was completed in 1929. It is an excellent example of the French Chateau Style, and indeed architect Martens later came to be considered a master of various Revival styles.

Though membership in women's clubs across the country declined during the 1930s as the Great Depression took a toll on the economic welfare of their constituents, the Charleston Woman's Club has remained active since its 1909 inception. To this day, the club continues its proud tradition of service to West Virginia communities as part of the
General Federation of Women's Clubs.
Sources
1. Howe, Barbara J.. "West Virginia Women's Organizations, 1880s-1930 or "Unsexed Termagants . . . Help the World Along"." West Virginia History. West Virginia History, 81-102. http://www.wvculture.org/history/journal_wvh/wvh49-7.html

2. Woman's Club of Charleston. Charleston Area Alliance. Accessed September 28, 2017. http://charlestonareaalliance.org/list/member/woman-s-club-of-charleston-charleston-3437.

3. History of Professional Baseball in Charleston. West Virginia Power. Accessed September 28, 2017. http://www.milb.com/content/page.jsp?ymd=20090211&content_id=40999236&sid=t525&vkey=team4.

4. Agsten Jr., Carl. Walter Martens. West Virginia Encyclopedia. Accessed September 28, 2017. https://www.wvencyclopedia.org/print/Article/1541.



Additional Information